Ole Miss
vs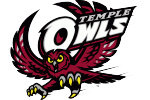 Temple Prediction
In an exciting matchup between the Temple Owls and the Ole Miss Rebels, the BetQL model gives a slight advantage to the Owls with a 52.1 percent probability of winning. Shooting stats show that both teams have been fairly consistent, with the Rebels shooting 42.3 percent from the field and the Owls forecasted to shoot 44.6 percent. However, the Owls have the edge in rebounding, averaging 35.6 rebounds compared to the Rebels' 32.1. Turnovers could be a deciding factor in this game, as the Rebels are committing fewer turnovers at 10.3 per game while the Owls average 13.1. Both teams have been effective from beyond the arc, with the Rebels making 7.5 three-pointers on 33.8 percent shooting and the Owls making 7.7 three-pointers on 34.5 percent shooting.

Looking at key player statistical data, fans should keep an eye on Matthew Murrell for the Rebels, who averages 11.9 points per game, and Damian Dunn for the Owls, who leads his team with 14.6 points per game. In terms of assists, Daeshun Ruffin is a player to watch for the Rebels with an average of 2.8 assists, while Hysier Miller leads the Owls with 3.3 assists per game. When it comes to rebounds, Robert Cowherd is a force for the Rebels with an average of 5.9 rebounds, but Taj Thweatt dominates for the Owls with an impressive average of 8.1 rebounds per game.

As BetQL prides itself on providing comprehensive analysis and detailed projections for every game, subscribers can find more detailed information and up-to-date player projections by visiting our website. With a pick record from AccuScore.com showing that both teams have had mixed success against the spread and over-under bets, it's clear that this game could go either way. To stay ahead of the game and receive our expert predictions, make sure to subscribe to BetQL for all your sports betting needs.