Lehigh
vs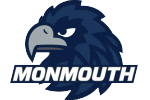 Monmouth Prediction
In an upcoming matchup, the Lehigh Mountain Hawks will take on the Monmouth Hawks. According to our analysis at BetQL, the Mountain Hawks are considered strong favorites with a 58.5 percent chance of winning. Both teams have shown decent shooting percentages, with Lehigh shooting at 46.4 percent from the field and Monmouth projected to shoot 42.6 percent.

Although rebounding seems evenly matched, with Lehigh projected to grab 34.8 rebounds compared to Monmouth's 35.9, turnovers could be a differentiating factor. The Mountain Hawks have been committing more turnovers at 14.8 per game, while the Hawks have shown better ball control with just 12.3 turnovers per game.

When it comes to three-point shooting, Lehigh has an advantage as they are making 6.5 three-pointers on a 34.0 percent shooting rate. On the other hand, Monmouth is making 4.3 three-pointers on a lower shooting percentage of 29.6 percent.

Key players to watch out for in this matchup include Evan Taylor from Lehigh with an impressive average of 16.2 points per game and Keith Higgins Jr., who leads Monmouth with an average of 2.6 assists per game.

To get a more detailed forecasted box score and player projections updated daily, make sure to subscribe to BetQL. Our model takes into account various factors to provide accurate sports odds and picks for every game.

For complete forecasted box scores and player projections updated daily, visit AccuScore.com—minus our model's picks! So for accurate betting predictions, make sure to subscribe to BetQL today!