UCLA
vs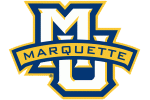 Marquette Prediction
In an exciting matchup between the Marquette Golden Eagles and the UCLA Bruins, BetQL's model predicts a 57.2 percent chance of victory for the Golden Eagles. Both teams have shown proficiency on the offensive end, with the Bruins shooting 41.7 percent from the field and the Golden Eagles forecasted at 40.8 percent. However, it is the rebounding advantage that favors UCLA, as they currently hold a 37.7 to 34.0 edge over their opponents.

When it comes to turnovers, Marquette has shown more discipline, committing only 8.7 turnovers compared to UCLA's 12.9 per game. In terms of three-point shooting, the Golden Eagles have been slightly more accurate, making 7.4 threes on 33.0 percent shooting, while the Bruins have made 5.5 threes on 32.1 percent shooting.

Jaime Jaquez Jr. has been a standout player for UCLA, averaging 15.4 points and 8.4 rebounds per game, while Tyger Campbell leads in assists with an average of 4.0 per game. On Marquette's side, Kam Jones has been a reliable scorer, averaging 13.3 points per game, and Tyler Kolek distributes the ball well with an average of 6.0 assists per game.

To get a complete analysis and updated player projections for this game, make sure to visit BetQL.com and subscribe to gain access to all the valuable betting information.

In conclusion, this matchup between Marquette and UCLA promises to be a tightly contested battle on the court. With both teams showcasing offensive prowess and notable players stepping up for their respective squads, it is difficult to predict a clear-cut winner. For further insights into how our model is picking this game and to maximize your betting potential, don't forget to subscribe to BetQL and gain access to our expert analysis and predictions.