Milwaukee Bucks
vs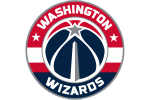 Washington Wizards Prediction
In this upcoming game, the Milwaukee Bucks are overwhelming favorites against the Washington Wizards, with a 78.3 percent chance of coming out on top. The Bucks have been shooting at an impressive 50.1 percent from the field, compared to the forecasted 44.2 percent for the Wizards. Additionally, the Bucks hold the advantage in rebounding, averaging 50.0 rebounds per game compared to the Wizards' 41.7. It's also worth noting that the Bucks commit fewer turnovers at 14.1 per game, while the Wizards have been averaging 15.1 turnovers.

When it comes to three-point shooting, both teams excel, but the Bucks are slightly ahead in terms of efficiency. They make an average of 16.5 three-pointers per game on a 38.3 percent shooting from beyond the arc, while the Wizards make 17.8 with a shooting percentage of 36.7 percent.

Looking at key player statistical data, Giannis Antetokounmpo has been leading the Bucks in scoring with an impressive average of 32.3 points per game, while Kyle Kuzma tops the Wizards with 18.7 points per game. In terms of assists, Damian Lillard leads the Bucks with an average of 7.5 assists, followed by Kuzma with 5.9 assists. Antetokounmpo also dominates on the boards, averaging 11.9 rebounds per game, while Kuzma holds his own with 9.0 rebounds per game.

The sports odds for this matchup have set Washington as 9.5-point underdogs and set the total points line at 245.5 points. The Bucks currently hold a solid record of 9-4, while the struggling Wizards are sitting at just 2-10 for the season.

To get a more in-depth analysis and see how our model is picking this game, be sure to subscribe to BetQL. Our model takes into account factors such as shooting percentages, rebounding advantage, turnover differentials, and player statistics to provide you with expert insights and predictions. Don't miss out on the chance to make smarter bets with BetQL by your side.