Portland Trail Blazers
vs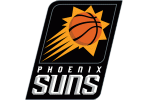 Phoenix Suns Prediction
In an upcoming matchup between the Phoenix Suns and the Portland Trail Blazers, the Suns are overwhelming favorites with a 75.4 percent chance of securing the victory, as per BetQL's analysis. The Suns exhibit strong shooting percentages, forecasted to shoot 46.1 percent from the field compared to the Blazers' 44.0 percent. Furthermore, the Suns have an advantage in rebounding, averaging 50.6 rebounds per game compared to the Blazers' 42.2. Additionally, the Suns commit fewer turnovers than their counterparts, with an average of 13.1 compared to the Blazers' 16.4.

Both teams possess considerable proficiency in three-point shooting. The Trail Blazers make an average of 14.1 three-pointers per game at a 35.2 percent success rate, while the Suns make 14.4 threes at a more impressive 38.6 percent accuracy. This capability to drain shots from beyond the arc could contribute significantly to their chances of emerging victorious in this confrontation.

Key player statistical data reveals that Jerami Grant leads the Trail Blazers in points per game with an average of 22.1, while Kevin Durant is dominating for the Suns with an average of 30.7 points per game. Furthermore, Malcolm Brogdon provides solid playmaking for the Trail Blazers, averaging 4.7 assists per game, whereas Devin Booker leads the Suns in assists with 7.2 per game. In terms of rebounding, Deandre Ayton is productive for the Suns with an average of 9.9 rebounds per game, while Jusuf Nurkic leads the Trail Blazers with an impressive 11.1 rebounds per game.

As for the betting odds set by sportsbooks and handicappers, they have established the line at PHO -12.5 with a total over/under of 224.5 points for this matchup. The Phoenix Suns hold a win-loss record of 7-6, while the Portland Trail Blazers have struggled with a 3-10 record. In terms of against-the-spread (ATS) performance, the Trail Blazers are 5-8 and boast a Sweat Barometer of -3.5, whereas the Suns are 6-7 with a Sweat Barometer of -1.5. Regarding over/under performance, the Blazers hold a 6-7 record, averaging an over/under line of -5.1, whereas the Suns stand at an impressive 10-3 with an average over/under line of 22.3.

To gain further insight into how our model is picking this game, make sure to subscribe to BetQL. With our detailed analysis and accurate predictions, you can make informed betting decisions and increase your chances of success in the world of sports gambling.