Cleveland Cavaliers
vs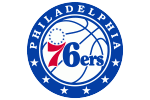 Philadelphia 76ers Prediction
In the upcoming game between the Philadelphia 76ers and the Cleveland Cavaliers, the 76ers are projected to be the solid favorites with a 66.6 percent chance of winning. Both teams have been shooting well, with the Cavaliers holding a slight edge at 47.9 percent from the field compared to the 76ers' forecasted rate of 45.8 percent. The rebounding battle is expected to be evenly matched, with the Cavaliers projected for 42.5 rebounds and the 76ers slightly ahead at 43.9. However, turnovers could be a deciding factor, as the 76ers are committing fewer mistakes with an average of 11.4 turnovers compared to the Cavaliers' average of 16.2.

When it comes to three-point shooting, both teams have been effective but the 76ers have a clear advantage. The Cavaliers are making 11.4 three-pointers per game on a shooting percentage of 33.3 percent, while the 76ers are hitting an impressive 14.5 threes on 37.9 percent shooting. These numbers highlight the deep range threats that Philadelphia possesses, which could be key in giving them an edge over Cleveland.

Looking at individual player statistics, Darius Garland has been leading the way for the Cleveland Cavaliers with an average of 22.6 points per game, while Joel Embiid has been carrying much of the scoring load for the Philadelphia 76ers with an impressive average of 32.8 points per game. In terms of assists, Garland leads his team with an average of 8.8 per game, while Embiid contributes with an average of 5.8 assists per game. In rebounds, Jarrett Allen is a force for the Cavaliers with an average of 9.6 boards per game, but Embiid dominates in this category as well with an impressive average of 11.1 rebounds per game.

In conclusion, the Philadelphia 76ers enter this game as the clear favorites with their strong shooting percentages and lower turnover rate. Additionally, their three-point shooting prowess could provide an added advantage against the Cleveland Cavaliers. However, it's important to remember that basketball is a fast-paced and unpredictable game, and anything can happen on any given night. To find out how our model is picking the outcome of this game and to gain access to valuable insights for all your sports betting needs, make sure to subscribe to BetQL.