New York Knicks
vs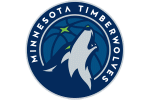 Minnesota Timberwolves Prediction
In a highly anticipated matchup, the Minnesota Timberwolves will face off against the New York Knicks. According to our analysis at BetQL, the Timberwolves have a slight edge as 50.9 percent favorites in this game. Both teams have shown their offensive prowess, with the Knicks shooting 44.4 percent from the field and the Timberwolves forecasted to shoot 47.8 percent.

Rebounding could play a crucial role in this game, and it appears that the Timberwolves hold the advantage in this area, averaging 44.3 rebounds compared to the Knicks' 42.4. However, the Knicks have been disciplined with their ball handling, committing fewer turnovers at 12.4 per game compared to the Timberwolves' 14.0.

When it comes to three-point shooting, both teams have been effective from beyond the arc. The Knicks are making an average of 14.1 three-pointers on a 35.3 percent shooting, while the Timberwolves are not far behind with 12.6 three-pointers on a 36.6 percent shooting.

Key players to watch out for in this game include Julius Randle and Karl Anthony Towns. Randle has been sensational for the Knicks, averaging 22.5 points per game, while Towns has been a formidable force for the Timberwolves, contributing an average of 21.1 points per game. In terms of assists, Jalen Brunson leads the way for the Knicks with 5.6 per game, closely followed by Mike Conley of the Timberwolves with 4.9 per game.

With such an intriguing matchup on hand, sportsbooks and handicappers have set the line at MIN -3.5 with a total over/under of 213.5 points. The Knicks enter this game with an impressive record of 8-5 while the Timberwolves have been even more impressive with a record of 9-3. In terms of ATS, the Knicks hold a slight advantage at 9-4 compared to the Timberwolves' 7-4.

To get a deeper understanding of how our model is picking this game, be sure to subscribe to BetQL. With our comprehensive analysis and insights, you'll be well-equipped to make informed decisions when it comes to betting on sports.