Boston Celtics
vs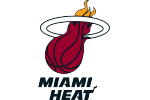 Miami Heat Prediction
As the Boston Celtics and Miami Heat prepare to square off, the odds are in favor of the Celtics. With the Celtics projected to shoot almost 48 percent from the field compared to the Heat's predicted 44.5 percent, Boston has a clear advantage on offense. However, the Heat have been known for their tough defense, and they may be able to slow down Boston's shooting percentage. The rebounding battle should be relatively even, but the Heat have been committing fewer turnovers per game than the Celtics, which could help give them some extra possessions.

One key area where the Celtics have an edge is beyond the arc. They are making an average of 14.5 three-pointers per game at a decent clip of 35 percent from downtown. In contrast, Miami is only making roughly 12.9 threes per game at a similar percentage of 34.2 percent. On paper, it seems as if these extra points could make all the difference in determining a winner.

When looking at individual player statistics, Jayson Tatum leads all scorers with an average of 30.5 points per game, while Jimmy Butler isn't too far behind at 28.9 points per game. In terms of rebounds, Bam Adebayo comes out on top with an average of 9.3 per game while Tatum is leading in assists with 5.9 per game.

If you want to find out how our model is picking this game, be sure to subscribe to BetQL! With so many factors at play, from shooting percentages to player performance, there's no telling which team will come out on top in this matchup between two competitive teams. Our expert predictions and analysis can give you unparalleled insights that mere mortal observers simply cannot match. So don't wait - sign up for BetQL today!