Indiana Pacers
vs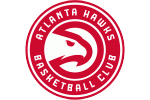 Atlanta Hawks Prediction
In a closely contested matchup, the Atlanta Hawks have a slight advantage over the Indiana Pacers according to our model. The Hawks are forecasted to shoot slightly better from the field, with a projected shooting percentage of 46.3 compared to the Pacers' 46.6 percent. Additionally, Atlanta holds the upper hand in rebounding, averaging 52.3 rebounds per game compared to Indiana's 48.4. However, turnovers are expected to be evenly matched in this game, with the Pacers projected for 15.2 turnovers and the Hawks not far behind at 14.9.

When it comes to long-range shooting, both teams are fairly proficient from beyond the arc. The Pacers are making an average of 16.2 three-pointers per game on a shooting percentage of 35.2 percent, while the Hawks have been successful with 15.7 three-pointers on 36.6 percent shooting. These numbers suggest that three-point shooting could play a crucial role in determining the outcome of this game.

Key player statistical data reveals that Trae Young has been a force for the Hawks, averaging an impressive 31.3 points per game along with 11.7 assists. On the other side, Tyrese Haliburton has been contributing well for the Pacers, putting up 18.8 points and dishing out 9.5 assists per game. Meanwhile, on the glass, Clint Capela has been a dominant force for Atlanta, averaging a whopping 11.9 rebounds per game, while Myles Turner has been solid for Indiana with an average of 8.0 boards per game.

The sportsbooks and handicappers have set Atlanta as 4-point favorites with a total point line of 250.0 for this matchup. Looking at their respective records against the spread (ATS), both teams have had mixed results so far this season. The Pacers hold a record of 7-5 ATS, with a Sweat Barometer of 1.6, indicating their games have been quite competitive. On the other hand, the Hawks are 5-7 ATS with a Sweat Barometer of just 0.6, suggesting they have experienced more comfortable wins or losses. In terms of the over-under line, the Pacers have hit the over in 11 of their 12 games, with an average over/under line of 32.7. The Hawks have also leaned towards the over, going 8-4 with an average over/under line of 4.5.

To get a closer look at how our model analyzes this game and find out which way it's leaning, be sure to subscribe to BetQL. Our comprehensive data and expert insights will give you an edge when making your bets for this exciting matchup between the Atlanta Hawks and Indiana Pacers.