Seattle Mariners
vs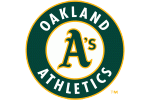 Oakland Athletics Prediction
In what promises to be a closely contested game, the Oakland Athletics will take on the Seattle Mariners at the Oakland Coliseum. Both teams have had contrasting fortunes when it comes to their performances at home and on the road this season. The Athletics have struggled, posting a dismal 24-50 record at home, while the Mariners have found success away from their own ballpark, with a solid 41-34 record on the road. With such evenly matched teams, according to our simulations, both the Athletics and Mariners have a 45 to 55 percent chance of emerging victorious.

Pitching will play a crucial role in this game, as both starters have a good chance of delivering quality starts for their respective teams. For the Mariners, left-hander JP Sears boasts a 50% chance of achieving a quality start, while Bryan Woo of the Athletics isn't far behind with a 46% chance. Interestingly, based on our simulations, a quality start by Sears gives the Athletics a 69% chance of securing the win, highlighted by his impressive simulated strikeout to walk ratio of 4.5 and a 31% chance of achieving a sublime 5 to 1 K/BB ratio. On the flip side, if Woo manages to deliver a quality start for Oakland, the Mariners' chances of winning drop to 73%, but Woo's simulated strikeout to walk ratio of 3.8 and his 28% chance of hitting that coveted 5 to 1 K/BB ratio give Seattle an edge with a 53% win probability.

When analyzing offensive production, we turn our attention to the key batters for each team who consistently delivered in our simulations. For the Athletics, Zack Gelof emerged as their most productive hitter with an average of 2.14 hits+walks+RBI per simulation. Gelof also has a noteworthy 33% chance of having a breakout game with three or more hits, walks, and RBI. If he manages to do so, our models indicate that the Athletics' chances of winning increase significantly to 59%. On the other side of the diamond, J.P. Crawford represents a vital offensive threat for the Mariners. With an average of 2.28 hits+walks+RBI per simulation, Crawford has been consistently productive. Furthermore, he boasts a 38% chance of having a standout performance with three or more hits, walks, and RBI. If Crawford indeed steps up and delivers a big game, our simulations suggest that the Mariners' odds of winning soar to an impressive 70%.

For a deeper dive into how our model predicts this game will unfold, don't forget to subscribe to BetQL. Our powerful simulation supercomputer has generated 10,000 game simulations based on real-time data and trends, providing you with an unparalleled analysis of each match-up. Stay ahead of the game with BetQL and let us guide you through the world of sports wagering.