CEL
Celta Vigo
Today, 4:30 PM
BAR
Barcelona
BAR -418 O/U 3.5
EIB
Eibar
Today, 4:30 PM
VAL
Valencia
EIB +143 O/U 2.5
LEV
Levante
Today, 4:30 PM
GET
Getafe
GET -175 O/U 2.5
SEV
Sevilla FC
Today, 4:30 PM
VILL
Villarreal
SEV +222 O/U 2.5
OSA
Osasuna
Today, 4:30 PM
ATL
Atletico Madrid
ATL -478 O/U 2.5
VALL
Real Valladolid
Today, 4:30 PM
RSO
Real Sociedad
RSO -170 O/U 2.5
MAD
Real Madrid
Today, 4:30 PM
ATH
Athletic Bilbao
MAD -195 O/U 3
GCF
Granada
Today, 4:30 PM
ALV
Alaves
ALV -113 O/U 2 & 2.5
La Liga
La Liga Recap: Match Day 30
Get up to speed with all the La Liga action for Match Day 30
By Juan Pablo Aravena - Apr 12, 2021, 4:05pm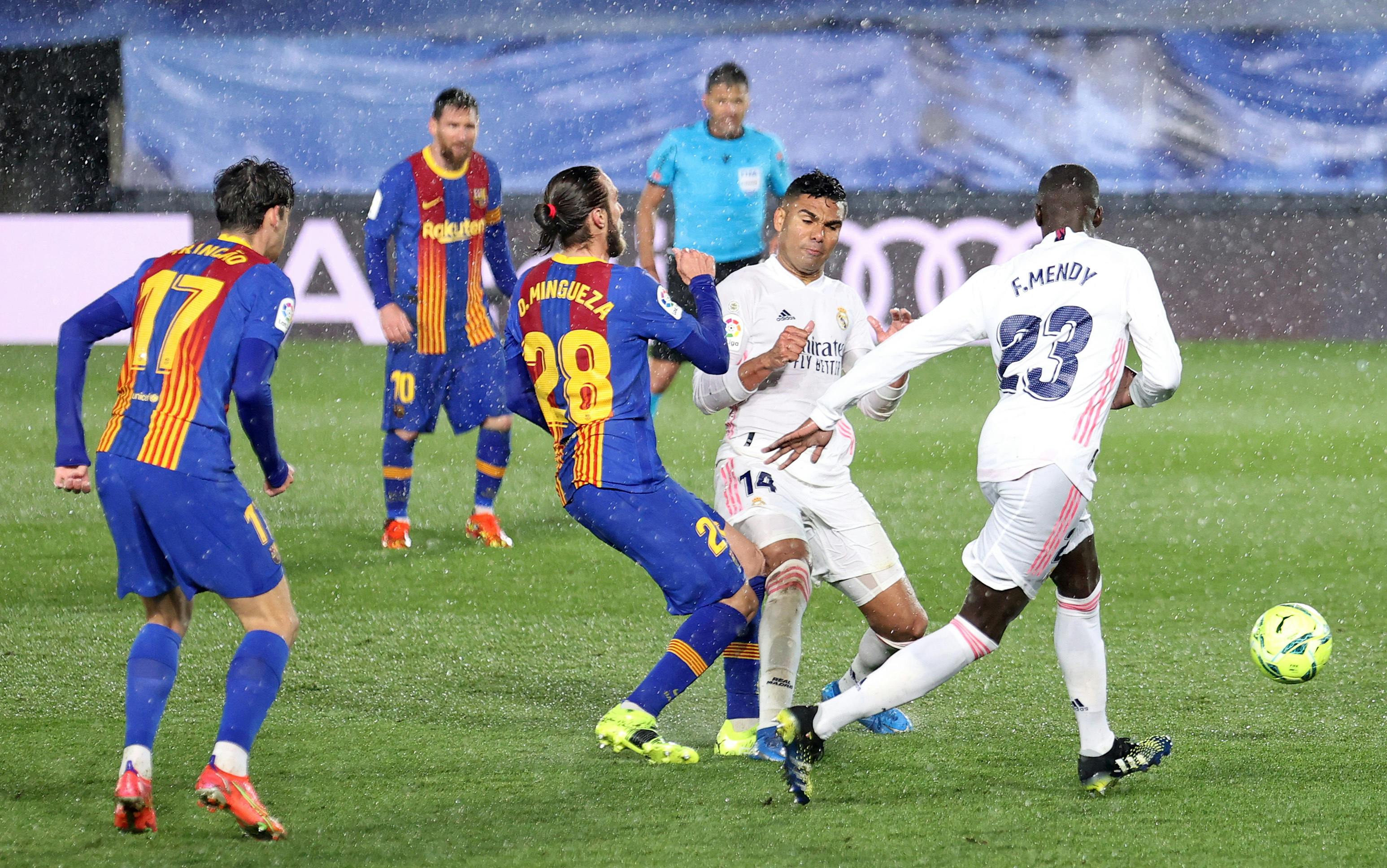 La Liga Recap - Matchday 30
Real Madrid and Barcelona delivered one of the best El Clasico derbies we have witnessed in recent years, and Los Merengues came away with a thrilling 2-1 victory at Alfredo Di Stefano Stadium -- though that could've easily changed in the final minutes of the game. Barcelona saw themselves down two goals in the first half thanks to goals scored by Karim Benzema and Toni Kroos, but Oscar Minguenza's strike in the second half tightened things up. The biggest emotions came in the dying minutes of the game, where Los Blaugranas even struck a shot off the crossbar that would've changed the outcome of the contest. Real Madrid ended with 10 players after Casemiro was sent off, and Lionel Messi tried hard but couldn't find the back of the net.
Real Madrid's win tightened things up at the top of the standings, something that became even clearer Sunday when Atletico Madrid had to settle for a 1-1 draw against Real Betis. Los Colchoneros couldn't overcome the absence of Luis Suarez and lost Joao Felix due to injury, but they still escaped with a draw that keeps them at the top of the standings -- for at least one more week. Yannick Carrasco Ferreira opened the score for Diego Simeone's men and Cristian Tello evened things up for Los Beticos in the 20th minute. Following these results, Atletico sit at the top of the standings with 67 points while Real Madrid (66 points) and FC Barcelona (65 points) are quite close. With eight matches left in the schedule, any team can end up winning the league at this point.
Huesca might consider themselves as the biggest winner of the Round, as they secured a 3-1 win over Elche and now have gone undefeated in their last three games (W2, D1). More importantly, now they have 27 points and moved out of the relegation zone. if the season ended today, Eibar, Alaves, and Elche would be headed to play in the Liga SmartBank next term.