CEL
Celta Vigo
Today, 4:30 PM
BAR
Barcelona
BAR -418 O/U 3.5
EIB
Eibar
Today, 4:30 PM
VAL
Valencia
EIB +143 O/U 2.5
LEV
Levante
Today, 4:30 PM
GET
Getafe
GET -175 O/U 2.5
SEV
Sevilla FC
Today, 4:30 PM
VILL
Villarreal
SEV +221 O/U 2.5
OSA
Osasuna
Today, 4:30 PM
ATL
Atletico Madrid
ATL -484 O/U 2.5
VALL
Real Valladolid
Today, 4:30 PM
RSO
Real Sociedad
RSO -168 O/U 2.5
MAD
Real Madrid
Today, 4:30 PM
ATH
Athletic Bilbao
MAD -196 O/U 3
GCF
Granada
Today, 4:30 PM
ALV
Alaves
ALV -113 O/U 2 & 2.5
La Liga
La Liga Golden Boot: Lionel Messi vs. The Rest
Who will end the La Liga 2020-21 season as the top scorer?
By Juan Pablo Aravena - Apr 13, 2021, 4:21pm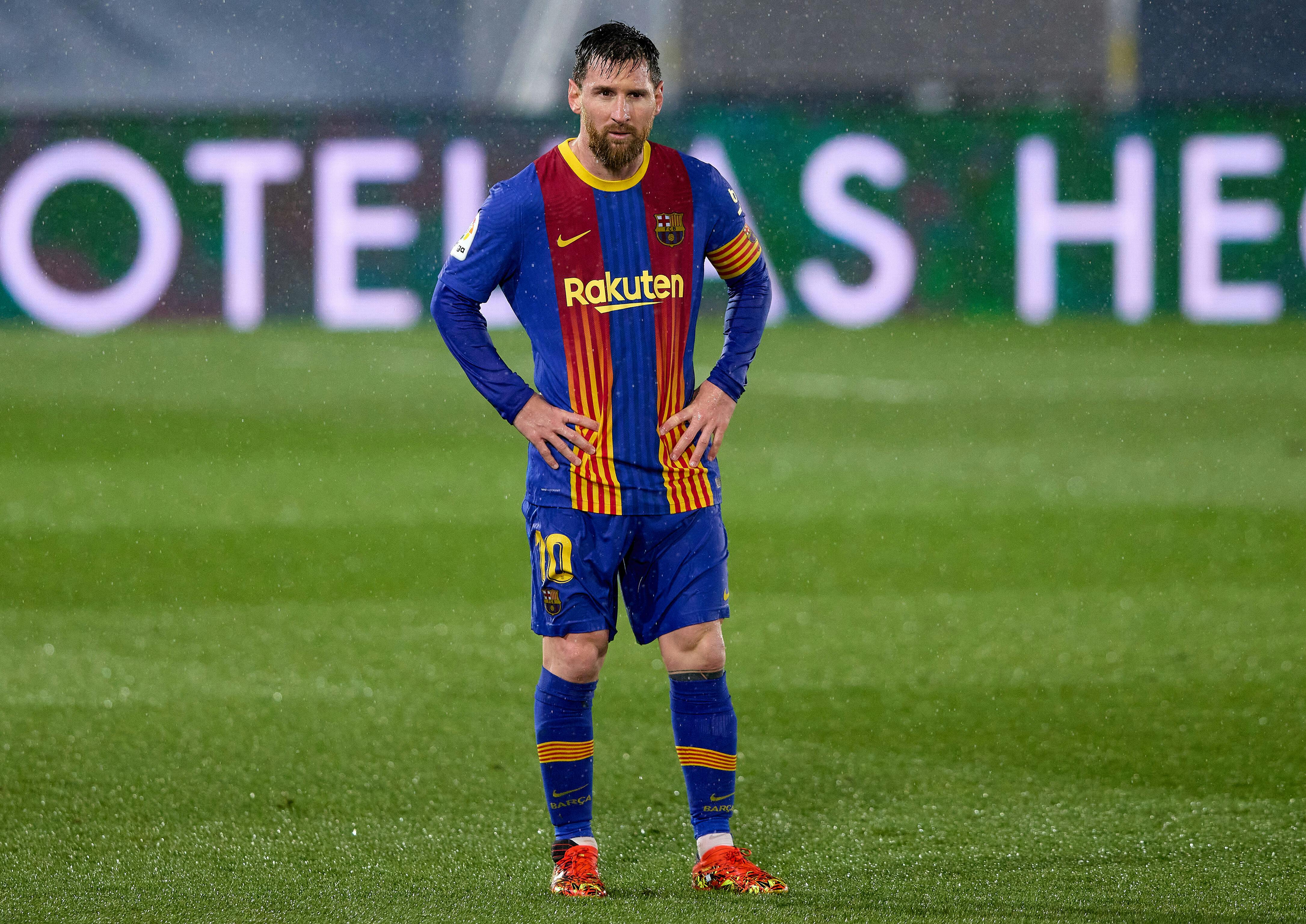 Lionel Messi has been making lots of headlines over the last few months, but most of them seem to be for the wrong reasons. His lack of commitment at Barcelona, the transfer rumors surrounding him, but at this point he is firmly in the lead for La Liga's Golden Boot.
Currently he is getting most of the blame for Barca's exit in the UEFA Champions League against PSG. However, the Argentina international is in the midst of another stellar season with Los Blaugranas and with 23 goals he looks prized to take home the Golden Boot. 
With eight games left in the schedule, one would think Messi has a strong shot at ending the season as the league's leading scorer once again -- something he has already accomplished an all-time Liga-leading seven times in his career. However, the race for the Golden Boot in LaLiga (known as the "Pichichi") has been tighter than many would have expected it.
As mentioned above, Messi's 23 goals pace the league, but there are three players that are within a reasonable distance of La Pulga in the scoring charts -- Karim Benzema (Real Madrid), Luis Suarez (Atletico Madrid), and Gerard Moreno (Villarreal) all have 19 goals and should challenge Messi for the Pichichi title. Moreno has been the hottest of the three, as the Spain international has scored eight goals in his last six league outings and has been leading Villarreal in their chase for a UEFA Europa League berth.
Benzema and Suarez can't be ruled out of the race either. Benzema bagged a goal against Barca during El Clasico last Saturday and has found the back of the net in six of his last seven outings across all competitions, bagging eight goals in that span. On the other hand, Suarez is set to miss three to four weeks with injury but is the undisputed scoring threat for Atletico Madrid and notched three goals over his previous five appearances before getting injured.
Messi still has a sizable lead in the goalscoring standings and considering Barcelona does not have anything left to play except for LaLiga, he should run away with the goalscoring title for the eighth time in his career. That said, it's not a one-man race as it had been in the past. If Benzema and Moreno continue their sizzling scoring form, or if Suarez comes back stronger than before from his injury, then the Pichichi race might end up being another area of interest in the final weeks of Spain's top-flight division.