NFL
Will Carroll's Injury Report: Week 5
The NFL injury expert breaks down notable situations in advance of Week 5 action
By Will Carroll - Oct 3, 2019, 6:59pm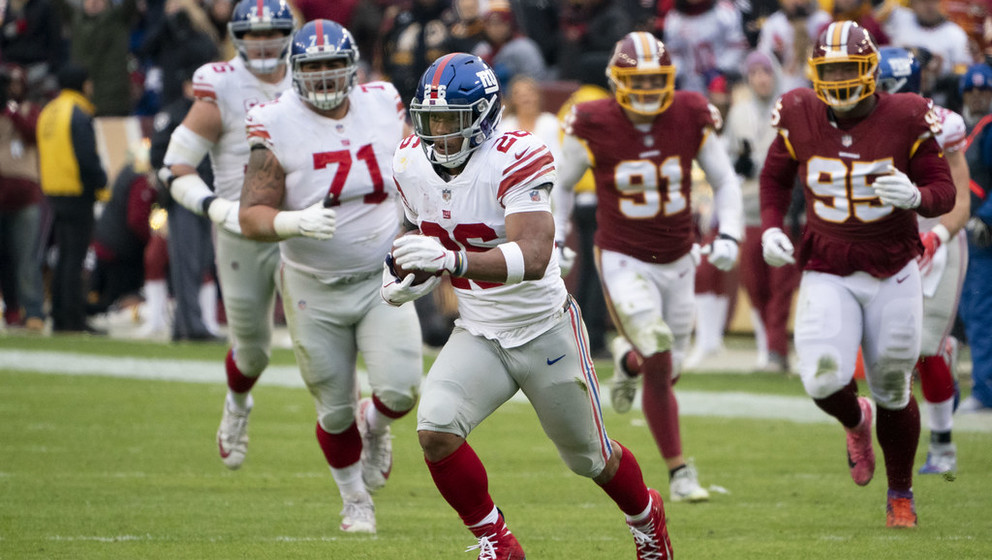 The NFL - nay, the game of football itself - has had to deal with the existential threat of concussions and head injuries for over a decade now. Credit where credit is due, the league could no longer ignore the problem and has done well with an evolving policy on concussion protocol. It's not perfect, as was shown by the Giants issue in Week 1, but it's better. They've attempted to help on the equipment side as well. Rule changes for hits similarly need to evolve again after a week of head injuries led to players being carted off or tossed out. 
Vontaze Burfict will miss the rest of the season after a head-down hit and maybe that's what they need to do more. A head's down hit, leading with the crown and where the player demonstrably drops the head, should lead to at least a game suspension and if possible, an ejection at the time. It's impossible to eliminate concussions from the game but it's possible to reduce dangerous behavior. The game doesn't need more flags, but it does need to address this threat rapidly. Players like Aaron Jones, TJ Hockenson, and Jack Doyle all understand why the issue is so important. 
Let's get to the injuries …
Mitchell Trubisky (QB, CHI)
"It could have been worse." That's cold comfort for anyone, especially Mitchell Trubisky himself, after his shoulder injury forced him off the field and into this injury report. But it's true, this could have been a lot worse. First, it's on his non-throwing side. Flip him over and this is likely a season ender, sending him down the same path as Cam Newton and Andrew Luck with shoulder surgery and extended rehabs. Instead, the dislocation led to some labrum issues, but the Bears medical staff will be dealing with pain rather than function. Trubisky will only need enough motion to go through his normal throwing mechanics. 
The bottom line is that Trubisky should be back after the bye if everything goes right. If Chase Daniel plays well, they could play it out longer, but I don't think they'll let that happen. My worry is that Trubisky won't be as effective with any limitation and that Daniel might be the better option right now. Trubisky will need surgery, which will be relatively minor if it doesn't get worse, but that's a real risk. Again, the team (and likely Trubisky) will be willing to take more risk with the off arm. This is an odd situation. I'm not taking anything off the totals when Daniels is in and I'll likely take a couple points off in Trubisky's first game back.
The Chicago Bears opened as six-point favorites against the Oakland Raiders this week. Track the line movement as we head towards kickoff!
Bradley Chubb (EDGE, DEN)
A sprain is a tear. By definition, any tearing of the fibers that make up a ligament is a sprain. A "partial tear", then, is any sprain that is not a complete tearing, or rupture. I give you these definitions because in much reporting, those definitions are ignored. For Bradley Chubb, his "partial tear" is a Grade III sprain where the ACL has lost enough integrity that it does not function. Picture a rope hanging on by it's last threads. It's there, but it won't hold. 
It won't change the surgery for Chubb or the recovery. The doctor will cut away the damaged ligament and reconstruct it with a tendon. He'll be back in six-to-nine months and should be the same explosive player that he was before the injury. That doesn't help the Broncos in the now. They'll still have Von Miller and a solid defense, but quarterbacks are likely to get a little more time and a bonus in any model. 
Find out how the betting public is approaching this situation!
John Ross (WR, CIN)
Tyreek Hill (WR, KC)
Sternoclavicular injuries - the joint between the collarbone and the sternum - are rare and unusual. Or should I say they were rare after a second major injury at the same position with similar mechanism happened with John Ross. The mechanism is not rare; the player falls on an extended arm and force is transferred up. It could lead to a shoulder dislocation if the bone pops out. It could lead to a collarbone fracture, as we've seen with several quarterbacks. How there's enough force to pull away the thick cartilaginous joint is unknown, but that's how this is happening. Preventing it is essentially impossible and there's no way to guard against it.
The rehab is similarly problematic. It's making sure that the joint is stable and protected, that it heals in the proper position, and that it is strong enough to hold up to similar forces when the player returns. Tyreek Hill is back at practice after about a month and while he's running and using the arm, it's not clear he's ready for a return. That comes down to whether or not the joint is ready for another hit/fall. Hill's return is a stalking horse for Ross. While there may be differences, the injuries and the players are very similar. In fact, their speed - which translates into force in a fall - may be the reason for the injury. The six-to-eight week timetable seems to hold for both, but Hill may show that we're at the low end.
Make the most educated bets possible by accessing BetQL's NFL Sharp Bets dashboard!
Matthew Stafford (QB, DET)
I asked the other day how many current NFL quarterbacks are future Hall of Famers. Ignore all the young quarterbacks who could rocket up or crash down. Tom Brady, Aaron Rodgers and Drew Brees are locks. Philip Rivers, Ben Roethlisberger, and Eli Manning all have good cases. Cam Newton and Russell Wilson are still building their case, but are on different paths. But what about Matthew Stafford? Stafford has a statistical case but is overlooked because the Lions haven't won. He's got time, but he'll have to stay healthy.
Stafford's hip injury is not a good sign. It's serious enough that it's causing him some stability problems besides the pain and looking back at the film, I think I can see mechanical changes that seem intentional. He played well through the pain but the Lions medical staff is going to not only have to keep this from getting worse, they'll have to try and get him through this without creating more issues. Getting hit isn't an issue since it's internal, but this reminds me a lot of Stafford's boyhood teammate Clayton Kershaw. Kershaw has a bad back that has given him a lot of setbacks, but he remains good and healthy enough to go deep into the playoffs.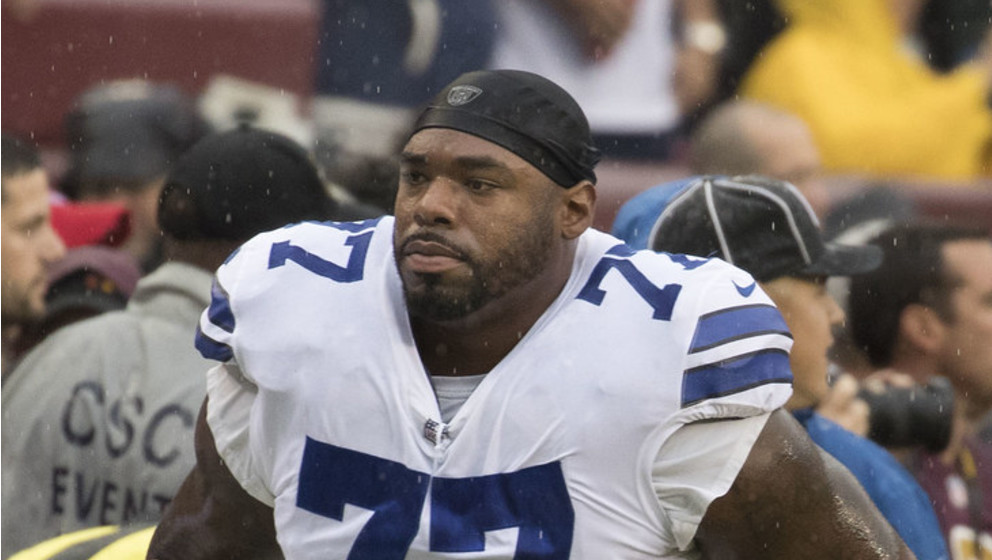 Tyron Smith (OL, DAL)
This one's just odd. Not that Tyron Smith got rolled up and has a high ankle sprain. That's common and a risk for any lineman on either side of the ball. But on Twitter, I was asked why the Cowboys seem to come back from these injuries quickly, with Smith not likely to miss any time. A dig through the database and news reports showed this was true. The Cowboys do seem to come back more quickly from this type of injury. There's no real way to prevent these kinds of traumatic injuries, so it's unlikely that the Cowboys are doing something different. The players aren't taped or braced in a way that is unusual. It could be that there's just a bunch of mild high ankle sprains - it's not a big sample size. 
As for Smith, this isn't a good injury. He'll miss at least a week which hurts both the run and pass game for the Cowboys, so downgrade your models there. If he is back in just a week, the defense should test him early with lots of lateral movement to see if that ankle really is stable. 
View all Week 5 NFL Best Bets on BetQL!
Saquon Barkley (RB, NYG) 
The NFL is a show, so when Saquon Barkley kicked off his walking boot for last Sunday's game, my immediate thought was "is this an AEW promo?" It's not, but Barkley's high ankle sprain isn't tested by a little bit of standing and walking. Remember the function - the syndesmosis is a lateral stabilizer for the most part, so until we see Barkley cutting, you can just hang on to any thought of him being back on the field. 
Team context is also a key here. With as significant an injury as Barkley had, where surgery was at least discussed, there's some worry for the long term effect. Given the Giants aren't going anywhere, even with a new quarterback, the team isn't going to rush him back. If Wayne Gallman can play well in the interim, there's even less reason to push for any reason. That eight-week return is looking more and more like the target. It's on the long end, but this team is looking at long term issues.
Capitalize on this injury analysis and get your first DraftKings Sportsbook deposit matched up to $200!
Stephen Gostkowski (K, NE)
It's hard to think of the Patriots without a great kicker. Forget getting a QB after losing a legend - the Pats have gone from Vinatieri to Gostkowski and covered basically all 100 years the NFL has been around. That streak of consistency is over after Gostkowski elected to have hip surgery, ending his season and putting his career in some question. While the surgery is relatively minor, there's obviously a specificity and consistency a kicker needs. The Pats can't just wait around to make sure he's not only healthy, but back to form.
In the short term, a kicker can be easily replaced, but his consistency can't. Mike Nugent is a known quantity, but he's been 'on the street' a couple times for a reason. This might lead the Pats to do a bit more 'going for it', both on fourth downs and in conversions. They could also get a bit more conservative and punt more. There's arguments that points could go up or down, but my models point to down and by more than you'd think. Take a field goal off the Pats; while they'll probably still win, there's going to be spread opportunities here.
The Patriots are 15-point favorites against Washington this week. BetQL's NFL Model lists one team as a ★★★ bet. Find out who!
Bumps and Bruises
Josh Allen is not out of the concussion protocol, but he's on track. That last clearance from the independent physician doesn't need to be rushed … Along with Tyreek Hill, Damien Williams is also back at practice for the Chiefs. There's no clarity on how things will split give Williams' return and LeSean McCoy's ongoing ankle issues. Expect more short throws, though Andy Reid has no hesitance to go down his depth chart … Yes another lower body injury for the Colts. Keep an eye on Marlon Mack and his progress coming back from an ankle sprain this week. Sources tell me it's more serious than initially indicated and that he could be out this week … Davante Adams has turf toe and since the last we saw of him was hobbling in pain, we'll need to see something on the field before Sunday. I don't think he's going to go, which hurts the Packers offense a lot … TY Hilton is a gametime decision with the quad strain. He's still having issues with stops and starts and is trending to not play, which knocks the Colts offense hard … Christian Kirk is unlikely to play as he continues to struggle with an ankle sprain. The Cards might be forced to make Kyler Murray throw deeper this week, or to Larry Fitzgerald more … Kenny Stills actually got into practice a bit on Wednesday, surprising given how bad his hamstring looked. Pulling up may have saved him, though he's still unlikely to play this weekend … The same is true for DeSean Jackson. His core strain (or "ab") isn't making much progress  … TJ Hockenson is in the concussion protocol. Timing on that is always unclear, but after a nasty "super stinger" (as described to me by a source with knowledge of his injury), he hasn't had any issues with his arm. Once his head clears, he'll be back quickly … Melvin Ingram is out this week, at least, with a Grade II hamstring strain. The Chargers are deep on the edge so this shouldn't hurt them too much  … The Giants lost Ryan Connelly for the season to an ACL sprain. He was playing very well and his loss should be factored into any model … Word is that Drew Brees is on the low end of the rehab timeline. It's still unclear if he could come back to full contact, but he could begin throwing a ball this week. That will be very tempting for the Saints.
Start optimizing NFL lineups, finding value players and keeping up with injuries in seconds on RotoQL!
About Will Carroll
Will Carroll has focused on sports injuries for almost two decades. His work has been featured at ESPN, Sports Illustrated, Baseball Prospectus, and more. He has written two books and won multiple awards. The best way to get questions or comments to him is @injuryexpert on social.