Cincinnati Bengals
vs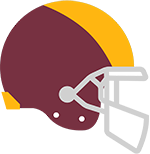 Washington Redskins Prediction
Expect a close game with the Cincinnati Bengals winning 56% of simulations, and the Washington 44% of simulations. In close games, turnover margin is especially important. The Cincinnati Bengals commit fewer turnovers in 45% of simulations and they go on to win 82% when they take care of the ball. The Washington wins 67% of the simulations in which they commit fewer turnovers. Joe Burrow is averaging 303 passing yards per sim. If he can have a great game with better than average passing yards and at least a 2 to 1 TD to INT ratio (42% chance) then he helps his team win 66%. Antonio Gibson is averaging 101 rushing yards per sim. If he can have a great game with better than average rushing yards and at least a 1 rushing TD (42% chance) then he helps his team win 72%.
Cincinnati Bengals vs Washington Redskins Prediction
One team will get a win while the other will improve its draft spot for next year when the Cincinnati Bengals visit the Washington Football Team in Week 11. The action gets started at 1:00 EST on Sunday, November 22, at FedExField in Landover, Maryland. The current betting odds have Washington favored by 1.5 points at home with the over/under set at 46.5 points. Continue reading to take a closer look at both teams and figure out the best Washington vs Bengals prediction.
Cincinnati Bengals Preview
As for the Bengals, they have all but assured themselves of another last-place finish. Despite an impressive win over the Titans earlier this month, the Bengals were back to looking like a last-place team against Pittsburgh last week. Of course, we should have been expecting that kind of inconsistency from Cincinnati this season. Nevertheless, the Bengals should be motivated to finish the season strong to see if they can avoid a double-digit loss total.
Offensively, a lackluster Cincinnati offensive line continues to hold back Joe Burrow and company. Burrow has shined at times, but he's also taken 32 sacks in nine games. The Cincinnati rushing attack has also been wildly inconsistent this year. However, Burrow and fellow rookie Tee Higgins continue to develop great chemistry. Higgins is averaging over 15 yards per catch and nearly has as many receiving yards as Tyler Boyd in 20 fewer catches. In games that Burrow gets adequate protection, he's capable of doing some damage with Boyd, Higgins, and A.J. Green.
Of course, the Bengals also have a long way to go on the defensive side of the ball. At times, the Cincinnati defense shows signs of life, especially when it comes to stopping the run. But the Bengals have also given up over 30 points in three of their last four games. In fairness, they've played four teams during that stretch that are probably going to the playoffs. However, it's clear that the Cincinnati defense isn't ready to shut down a competent offensive team.
Washington Redskins Preview
For most teams, being 2-7 would feel rather bleak. But in Washington's case, the season is far from over. A 2-7 record puts them just two games behind the first-place Eagles in the loss column, so there is hope. The problem is that Washington has lost three games in the last month by a combined seven points, so Ron Rivera's team isn't finding a way to come out on top in close, winnable games. Needless to say, that trend needs to stop.
On the bright side, Rivera has declared that Alex Smith is back. With Kyle Allen sidelined, Smith has been an upgrade for Washington at the quarterback position. Smith threw for 325 yards against the Giants two weeks ago and 390 yards against Detroit last week. Oddly enough, he has one touchdown pass and three interceptions over those two games. However, he's helping the Washington offense move the ball better than they did under Allen, which is a reason to be optimistic.
The problem is that the Washington defense remains a liability. Holding the Andy Dalton-led Cowboys to just three points a few weeks ago appears to be an aberration. After giving up 30 points to the Lions last week, Washington has now conceded at least 30 points five times in nine games this year. A young defensive line just hasn't grown up enough yet to become a consistent force.
Full Game Prediction
With a pair of subpar defenses, this game could easily turn into a shootout between Smith and Burrow. Obviously, Smith has an advantage when it comes to experience, although Cincinnati has better playmakers offensively. As the 1.5-point spread indicates, this game could easily go either way.
Don't forget to sign up for a BetQL subscription so you can have access to important stats and trends to help you make your Bengals vs Washington prediction.