Kansas City Chiefs
vs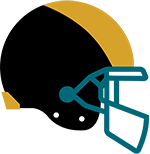 Jacksonville Jaguars Prediction
The upcoming game between the Kansas City Chiefs and the Jacksonville Jaguars is expected to be a close one, according to our simulations. The Chiefs come out on top in 48.0% of the simulations, while the Jaguars take the victory in 52.0% of them. In tight matchups like this, turnover margin becomes a crucial factor. Interestingly, the Chiefs commit fewer turnovers in 27.0% of simulations, and when they do so, their chances of winning skyrocket to an impressive 79.0%. On the other hand, the Jaguars win 64.0% of simulations in which they have a lower turnover count.

The performance of quarterbacks Patrick Mahomes and Trevor Lawrence will play a significant role in determining the outcome of this game. Mahomes has been averaging 296.0 passing yards per simulation and has a 41.0% chance of having a great game with above-average passing yards and a favorable touchdown to interception ratio (2 to 1). Should he achieve that feat, it boosts his team's chances of winning to 63.0%. As for Lawrence, he has been averaging 261.0 passing yards per sim and has a slightly better chance at having a stellar performance (43.0% chance) with similar parameters as Mahomes. If Lawrence can deliver, it could contribute to the Jaguars winning 58.0% of the time.

To get a more precise prediction on this exciting matchup between the Kansas City Chiefs and the Jacksonville Jaguars, make sure to subscribe to BetQL! Our model provides detailed analysis using various factors such as turnover margin and quarterback performance to give you an informed betting decision. Don't miss out on valuable insights that can help you make smarter wagers - subscribe now!