New Orleans Saints
vs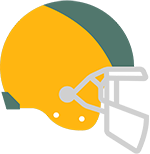 Green Bay Packers Prediction
In what is shaping up to be a highly anticipated matchup, the New Orleans Saints and the Green Bay Packers are set to face off this weekend. According to our simulations, the Saints hold a slight edge, winning 55.0% of the matchups compared to the Packers' 45.0%. In close games like this, turnovers could be the deciding factor, and it appears that the Saints have an advantage in that department. In 71.0% of simulations, New Orleans commits fewer turnovers, leading to a winning percentage of 65.0% when they take care of the ball. On the other hand, the Packers win 69.0% of simulations in which they have fewer turnovers. So, ball security will be crucial for both teams in their quest for victory.

Player performances will also play a significant role in determining the outcome of this game. For the Packers, running back Jamaal Williams will be key to their success. He has been averaging 36.0 rushing yards per simulation and has a 26.0% chance of scoring at least one rushing touchdown. If Williams can have a standout performance with better than average rushing yards and find the end zone on the ground, it significantly increases his team's chances of winning to a staggering 78%. Another player to watch is Packers' running back Aaron Jones, who has been averaging 59.0 rushing yards per simulation. With a 14.0% chance of scoring at least one rushing touchdown, Jones could make a massive impact if he exceeds his average performance and finds pay dirt, helping his team win 73%.

All signs point to a closely contested battle between two talented teams with high stakes on the line. To get more in-depth analysis and see how our model is picking this game, be sure to subscribe to BetQL for exclusive insights and expert predictions. Don't miss out on gaining an edge and maximizing your betting potential with BetQL's comprehensive coverage.