Week 4 Preview: UCLA at #19 Washington State
UCLA travels to Pullman, Washington for a #PAC12AfterDark matchup with Washington State
By Roberto Arguello - Sep 19, 2019, 3:18pm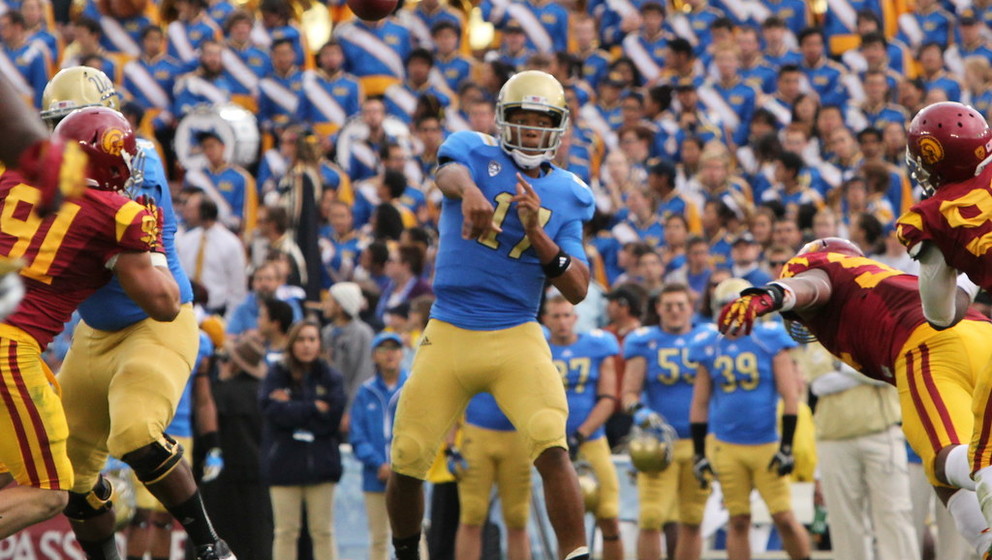 UCLA is 1-15 in its last 16 road games.
Washington State is 7-2 in their last 9 games ATS against UCLA in Pullman.
Washington State quarterback Anthony Gordon claimed his second PAC 12 Offensive Player of the Week award last weekend and is the FBS leader in passing touchdowns (12) and passing yards per game (441.3). 
Saturday, 10:30pm EST 
Consensus: UCLA +18.5
BetQL: UCLA +14
BetQL Rating: UCLA ★★★
Situation Leading Up To Kickoff
The UCLA Bruins head North to the Palouse to take on the Washington State Cougars in the PAC 12 opener for each team. The visiting Bruins come into this game as the only 0-3 Power Five school in the nation after losses to Cincinnati, San Diego State and Oklahoma to start the season. Chip Kelly is now 3-12 as UCLA head coach, and he is undoubtedly on the hot seat despite a $9 million buyout looming (if he is fired without cause in his first four seasons as coach). 
Washington State head coach Mike Leach also got off to a slow start when he first started coaching at Wazza, as he went 3-9, 6-7 and 3-9 in his first three seasons with the Cougars. Since his fourth season in 2015, Washington State has won at least 8 games each year since and won a school record 11 games in 2018 with Gardner Minshew leading the way. 
The Cougars began this season by blowing out New Mexico State and Northern Colorado before defeating Houston 31-24 in a neutral site game at NRG Stadium in Houston last week. Washington State is as great as it's ever been while the UCLA program is in shambles after another embarrassing loss last week to Oklahoma -- the Bruins gave away thousands of tickets for free, but they still could not get anywhere close to filling the Rose Bowl as more red filled the seats than blue. 
UCLA is an 18.5 point underdog, but BetQL's NCAA Football Model predicts the Bruins will cover the spread, as we have them at +14.5 and a 3-star bet. 
UCLA Preview
It's no secret that the Bruins have struggled tremendously in 2019. After beginning 2018 0-5, this is the first time since 1921 (the third year UCLA fielded a football team) that UCLA has started consecutive seasons with at least three losses. Despite the slow start to last season, UCLA still managed to pull off upset wins over Cal, Arizona and USC. Senior running back Joshua Kelley was a key contributor in each of those games, but hasn't been at full strength early this season due to a knee injury from fall camp. 
After sitting out the UCLA Week 1 loss, Kelley has been wearing a knee brace in the games against San Diego State and Oklahoma but was seen running without the brace in practice this week. If the Bruins are going to have any chance against Washington State, they will need Kelley at his best. In UCLA's biggest win of 2018, a 34-27 upset over USC, Kelley ran for a career-high 289 yards, the most ever by a single player in the crosstown rivalry. 
Get a 50% deposit bonus up to $500 with your next DraftKings Sportsbook deposit! 
In Kelley's absence, UCLA started junior wide receiver Demetric Felton at running back. He and Kelley combined to rush for over 100 yards against Oklahoma last week, the first time the Bruins topped the century mark in rushing yards all year. Sophomore quarterback Dorian Thompson-Robinson also had some success running the ball against Oklahoma despite logging -6 rushing yards. He was sacked four times for 54 yards but ran 10 times to gain 48 yards. He has struggled with his accuracy and has often looked like a running back playing quarterback this season. 
If Kelley is much closer to the healthy 2018 version without the knee brace this week then the RPO game with DTR, Kelley and Felton will become much more dangerous than it has been thus far. With Kelley returning to the backfield, the Bruins also are more versatile as they can move their leading rusher and receiver in Felton (54.7 yards rushing and 57 yards receiving) around on offense. The Bruins desperately need this as they sit 129th in the nation in yardage per game on offense with only 263.3 yards per game. 
The Bruins' lack of yardage on offense has translated into being 129th in the nation with an average time of 23:53 of possession. Against the Washington State Air Raid attack, it will be imperative that UCLA can keep the ball away from the FBS passing leader and Washington State quarterback Anthony Gordon. After playing two respectable group of five teams in Cincinnati and San Diego State, UCLA's rushing defense ranked in the top 30 in the country, but after being gashed for 309 yards against Oklahoma, the unit now ranks 106th in the nation with 188 yards allowed on the ground per game. However, against a Wazzu squad that passes 76% of the time, UCLA's passing defense will be even more of a concern as they rank 108th in the nation with 279 yards allowed per game through the air. The UCLA defense was boosted by the return of their best corner by a mile, Darnay Holmes, as he played in his first game of the season last week against Oklahoma. 
Washington State Preview
A year after graduate transfer quarterback Gardner Minshew took Washington State to a program record 11-win season, senior Anthony Gordon has taken up the reins and picked up right where Minshew left off. In his first three games as the starter, Gordon has thrown for 1,324 yards, 12 touchdowns and two interceptions. 
He has done a beautiful job of spreading the ball around in the Air Raid offense as six receivers already have over 100 yards receiving and three of them have over 200 yards receiving for the season. This is as talented of a receiving corps as Leach has had in Pullman as Brandon Arconado, Easop Winston Jr, Dezmon Patmon, Tay Martin and Travell Harris lead the way in the pass-happy offense. Running back Max Borghi is the seventh leading receiver with 89 receiving yards on the year while also taking the lion's share of the carries for an average of 7.8 yards per carry. Behind a veteran offensive line led by center Frederick Mauigoa and right tackle Abraham Lucas. Mauigoa was a PAC 12 honorable mention last season while Lucas finished on the PAC 12 Second Team and was also a freshman All-American.
Wondering what teams are being bet on or where the money's going? View NCAA Football Public Betting data! 
While the Washington State offense is filled with talented playmakers and ranks sixth in the country, the Cougar defense isn't as dangerous, as they rank 51st while giving up 346 total yards per game. Washington State was not tested in its first two games, but in last weekend's matchup of Cougars against Houston, the Wazzu defense only allowed Khalil Tate to throw for 128 yards while completing 13-of-24 attempts. However, the Washington State defense allowed 239 yards on the ground (6.1 yards per carry) including 94 yards to quarterback Khalil Tate.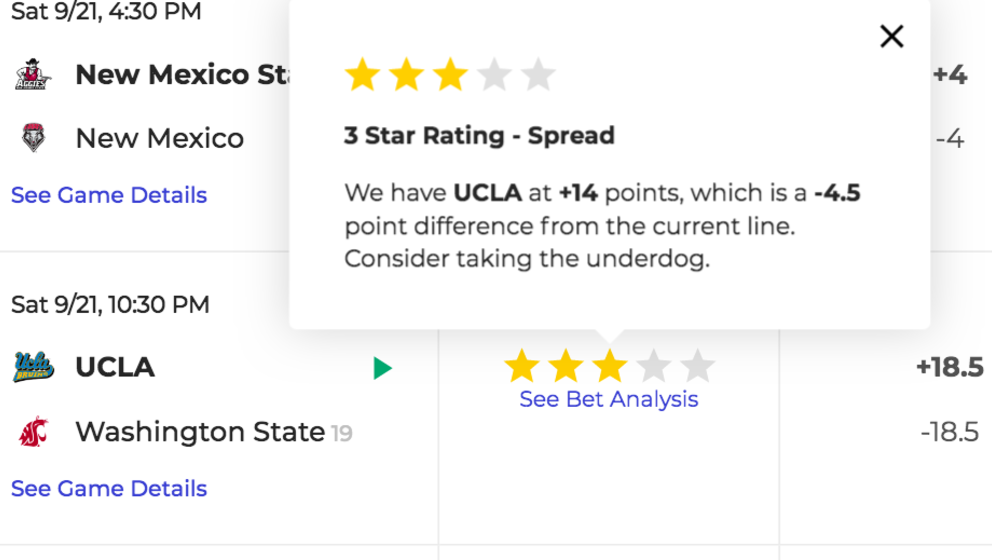 Prediction
Despite the horrendous 0-3 start for UCLA, our Bet QL model predicts that UCLA will cover the 18.5 point spread (3-star bet). With UCLA's best player on offense (Kelly) and defense (Holmes) returning to full strength, this Bruins team will put together a better performance than they have in any of their previous games this season. 
Having Kelley in the backfield will give the Bruins offense the ability to put Felton out wide and get him the ball in space while also giving Dorian Thompson-Robinson more room to run himself. Look for the UCLA offensive line led by center Boss Tagaloa to be more successful in paving the way for Kelley and Thompson-Robinson and opening up enough room for the Bruins to move the ball through the air enough to stay within three scores. 
The big question is if UCLA can stop the Air Raid attack defensively. With UCLA's best cover corner returning to the lineup last week, UCLA played much more man defense than they had played in their previous two matchups. He had a quiet game (one tackle and a holding penalty late in the fourth quarter) while he was not targeted much as he lined up against Oklahoma's top receiver CeeDee Lamb. Lamb's lone reception was a 39-yard touchdown that came in a breakdown of UCLA zone coverage between a safety and a linebacker. 
Get a 50% deposit bonus up to $500 with your next DraftKings Sportsbook deposit! 
The good news for UCLA is that while talented, the Washington State receiving group is not as explosive as Oklahoma's unit. The Bruins also will have time to learn from and correct their mistakes against the best permutation of the Air Raid offense in 2019 having faced the Sooners last week. This Washington State offense will put up points against the Bruins, but it lacks the game-breaking players on the outside and a dynamic running threat at quarterback that Jalen Hurts posed last week. 
Expect the Cougars to win, but the Bruins to cover.