BetQL's NCAA Football Model Recap: Week 1
Boise State, NC State, Utah and Middle Tennessee were among our best bets from the opening week
By Matt Reed - Sep 2, 2019, 5:32am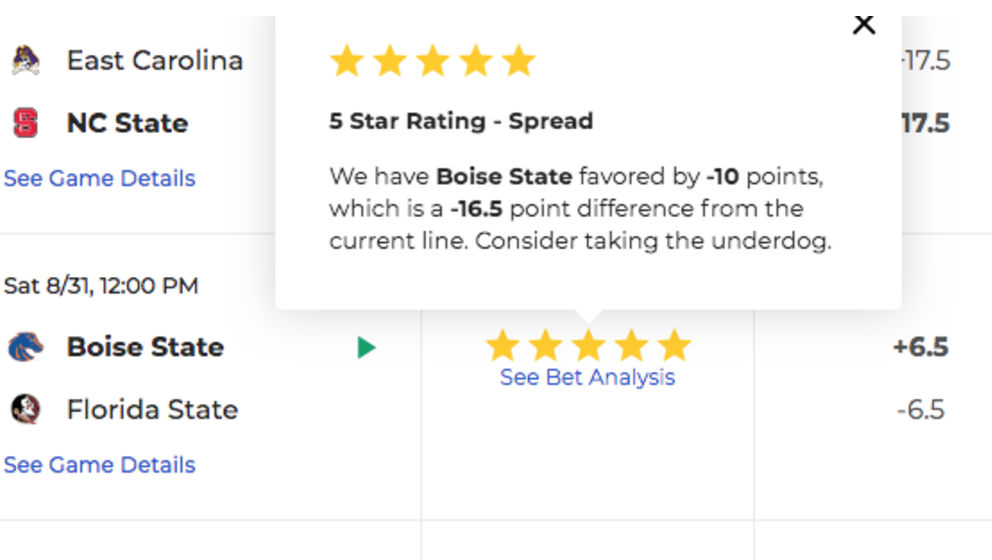 Boise State at Florida State (-6.5)     
Saturday, August 31st
BetQL Rating: ★★★★★ (Boise State)
Outcome: Boise State won 36-31
Although it flew under the radar a bit, the Boise State vs. Florida State matchup turned out to be one heck of a battle. Despite falling behind 31-19 at halftime, the Broncos came back in a major way over the latter half of the game to emerge victorious on the road. 
Running back Robert Mahones' two-touchdown performance on the ground helped spark the Boise State offense on Saturday, while quarterback Hank Bachmeier passed for over 400 yards against the Seminoles defense.
Boise State went 10-3 in 2018, and the Broncos showed once again on Saturday that they are a program to be reckoned with against big competition. The Broncos managed to shut out the Seminoles in the second half, while recording 621 yards of total offense in the game.
Despite the fact that the consensus line labeled Boise as underdogs, our model had them listed as substantial favorites.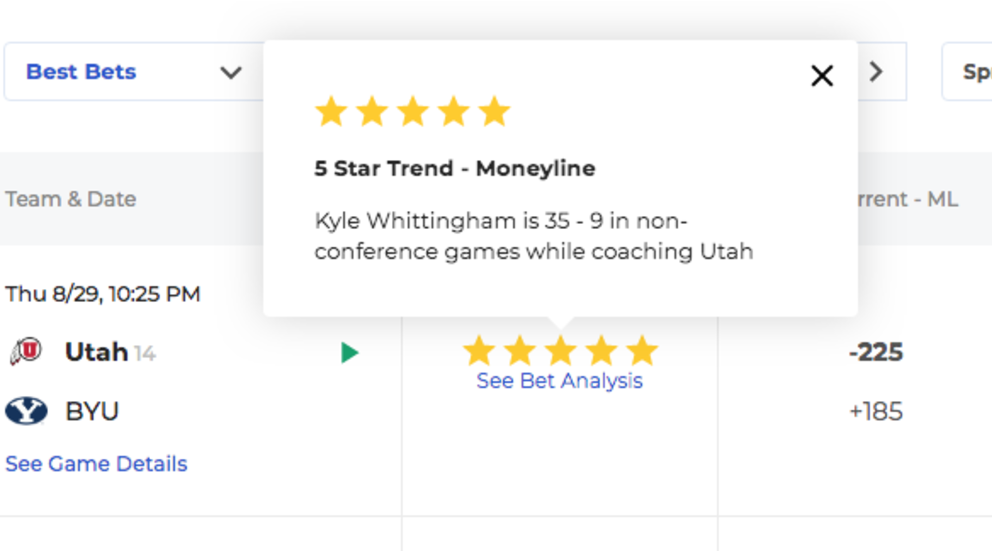 Utah (-225) at BYU (+185)  
Thursday, Aug. 29
BetQL Rating: ★★★★★ (Utah)
Outcome: Utah won 30-12
The Utes came out victorious for the ninth-straight time in the 100th edition of the Holy War, and BetQL's rating system certainly helped a number of people win big on Thursday night. Due to the numerous data points in BetQL's college football model pointing in Utah's direction, the Utes received a five-star moneyline rating.
A quiet first half saw the Utes lead 9-6 going into halftime, but the visitors responded well after the break. Utah running back Zack Moss was brilliant for the Utes in their season opener, recording 187 rushing yards to go along with his touchdown run in the fourth quarter. 
BYU has now gone winless against Utah at LaVell Edwards Stadium in each of their meetings since 2009 after the visiting team broke away with a comfortable 30-12 victory.
Intrigued? We thought so. Get access to this week's Best Bets and build your bankroll!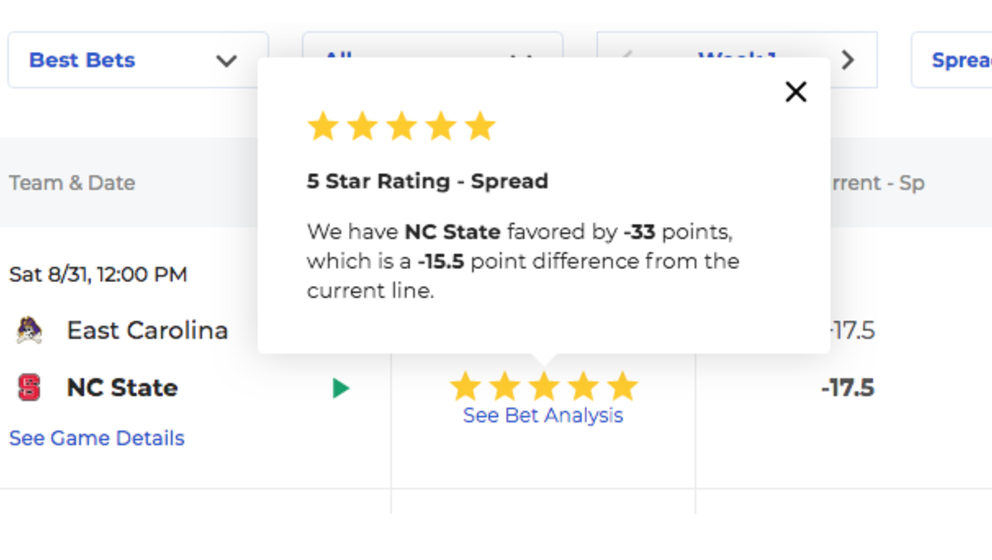 NC State (-17.5) vs. East Carolina    
Saturday, August 31st
BetQL Rating: ★★★★★ (NC State)
Outcome: NC State won 34-6 
Our model was all over this outcome, labeling the Wolfpack as much heavier favorites. The game was never close, as NC State jumped out to a 17-3 halftime lead before tacking on a touchdown in the third and 10 more points in the final quarter. 
Quarterback Matthew McKay went 25-for-37 for 308 yards and a touchdown while three different Wolfpack receivers amassed 70-plus yards.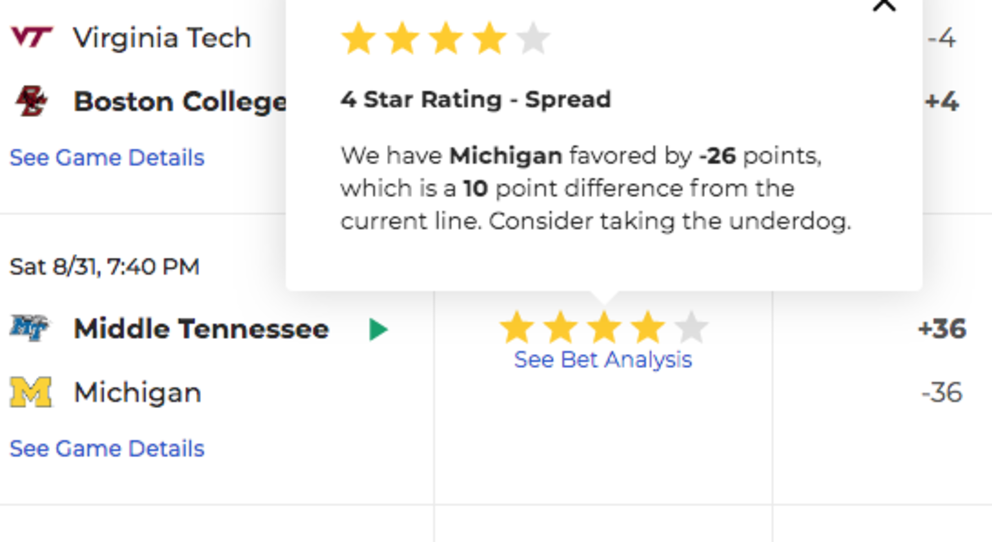 Middle Tennessee State at Michigan (-36)     
Saturday, August 31st
BetQL Rating: ★★★★★(Middle Tennessee)
Outcome: Michigan won 40-21
There wasn't much doubt about which team would win this contest, but a 36-point spread is always tricky.  BetQL rated Middle Tennessee as a five-star bet against the Wolverines, and the Raiders beat the spread easily on Saturday afternoon in their 40-21 loss. The Raiders were still heavy underdogs in our model, but fell short of the borderline-disrespectful 36-point consensus line.
Asher O'Hara showed promise in an extremely difficult road setting against Michigan, throwing for over 200 yards and two touchdown passes. However, the Wolverines were too much to handle in the contest. 
Michigan quarterback Shea Patterson threw three touchdown passes, and bounced back brilliantly after fumbling on the Wolverines' opening drive. Despite trailing 7-0 early, Jim Harbaugh's team responded well and gained control of the game. But, most importantly, the Wolverines didn't blow out their opponents by epic proportions. 
Don't wait another second! Get access to every single Best Bet in our model for Week 2.