USC Has Surprising Pac-12 Odds
The program has taken a recent slide, but there's reason for optimism this season
By Nolan Comar - Aug 23, 2019, 7:17pm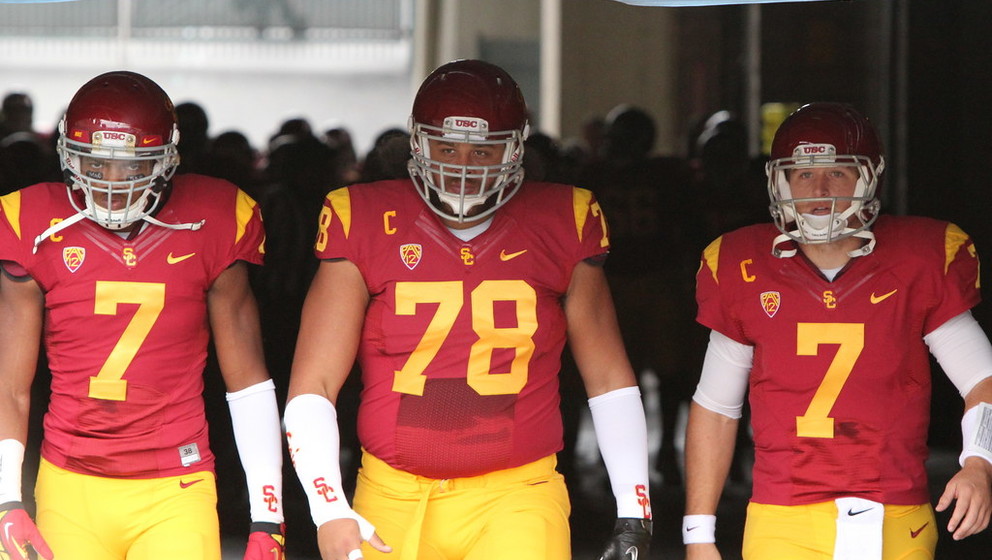 ● Utah (+200), Washington (+275) and Oregon (+400) have better odds.
● With a new air-raid offense, elite defensive line and a manageable schedule, the Trojans have conference-winning potential.
After a tumultuous 2018, USC and head coach Clay Helton are under pressure to make things right and get the football program back into its rightful place in the national landscape. 
Returning Offensive Starters
To do so, the Trojans must grow up quickly and find its offense to fulfill the potential that is possesses. True sophomore and former five-star prospect quarterback J.T. Daniels will attempt to lead the way with a plethora of playmakers surrounding him. As could be expected from a true freshman quarterback, Daniels had his up downs that resulted in a 59.2 percent completion percentage to go with 14 touchdowns and 10 interceptions. 
Where there should be the most reason for optimism with this USC offense is that Daniels' favorite target was also a true freshman in Amon-Ra St. Brown. St. Brown is another former five-star recruit who displayed potentials of superstardom. St. Brown hauled in 60 receptions for 750 yards and three touchdowns last year. Daniels' two other favorite targets, Tyler Vaughns and Michael Pittman, Jr. also return after strong showings in 2018. Vaughns was responsible for 58 catches, 674 yards and six touchdowns while he showed the most big-play potential out of the group, hauling in 41 catches for 751 yards, an average of 18.5 yards per catch.
A New Offense
USC made a major coaching staff change this off-season as they brought in offensive coordinator Graham Harrell. Harrell, a former standout quarterback at Texas Tech, has made coaching stops at Oklahoma State and Washington, working under offensive masterminds Mike Gundy and Mike Leach before becoming the offensive coordinator at North Texas.
While at North Texas, the Mean Green averaged 32.7 points in 2018 and 33.7 in 2017, both of which ranked in the top-30 nationally in points per game. 
A Young, But Talented, Defense
On the defensive side of the football, USC will be led by its line. The line will feature a blend of talented youth and experience, headlined by senior defensive end Christian Rector. Rector is a redshirt senior who compiled 48 tackles and 4.5 sacks in 2018. Next to Rector will be sophomore defensive tackles Jay Tufele and Marlon Tuipuloto, end Nick Figuerora and true freshman end Drake Jackson. 
Senior John Houston returns to lead the linebacking core and brings his 67 total tackles from 2018 back with him. The secondary is littered with young talent. Corners Isaac Taylor Stewart, Greg Johnson and Olaijah Griffin are highly-regarded sophomores while Talanoa Hufanga and Isaiah Pola-Moa are the projected safeties who also possess high-end talent. 
It will be up to defensive coordinator Clancy Pendergast to cultivate the youth of the defense. USC ranked 44th nationally in yards per play allowed, a respectable mark, but where the defense faltered was its ability to force any turnovers. The Trojans ranked 124th of 130 Division I teams in takeaways per game, a truly horrid mark for such a talented group. In 2017, USC ranked 34th nationally in that respect.
But, with a more experienced defensive line, the Trojans should be able to pressure opposing quarterbacks more this season, which will help their chances of recording takeaways. 
Schedule
On the schedule front, the only short weeks that USC will face will be a road trip to BYU followed by their Pac-12 opener at home vs Utah on September 20th. 
Later on in October, the Trojans will face Arizona at home before traveling to Colorado on a Friday night (October 25th). While those segments of the schedule will be challenging, they do get an extra day of preparation and rest for a road date against Washington on September 28th and a home game vs Oregon on November 2nd. 
Those two games are key to the Trojans' chances of a shake up in the Pac-12 standings, as Washington and Oregon enter the season viewed as Pac 12 favorites in the northern division. Where USC resides in the South, things aren't nearly as tough. Utah will be their top competition and then a shaky group of Arizona State, UCLA, Arizona and Colorado exist. 
With a rejuvenated coaching staff, developing talent and a manageable half of the conference, the table might just be set for USC to come through as Pac-12 winners.
Note: The advice above represents the writer's personal view and does not reflect or represent BetQL's stance or interest in any way.