One Position That Continues To Haunt UConn Football
Hint: it's the most important one on the field
By Jonathan Willis - Sep 26, 2019, 6:41am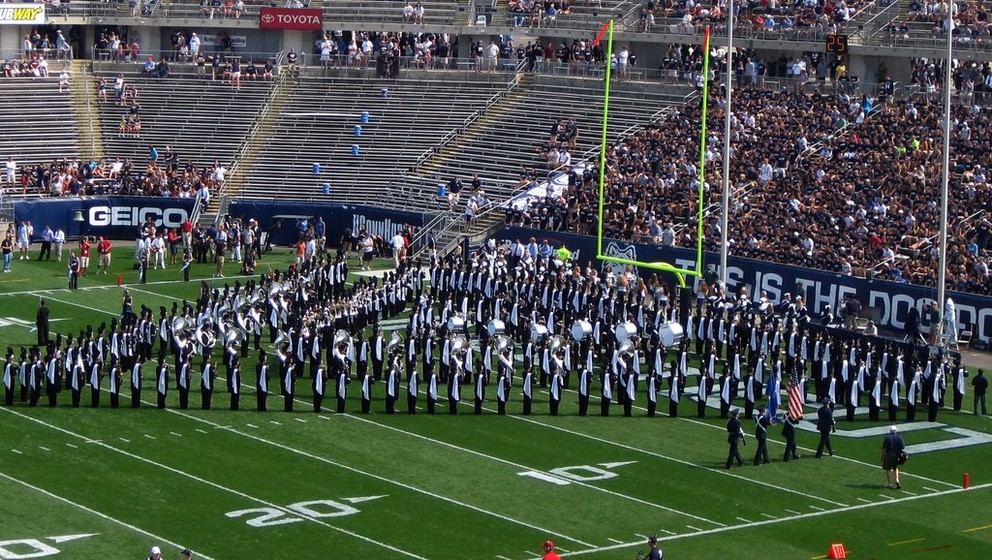 UConn has lost their last two meetings against UCF by a combined margin of 105-41.
The Huskies have yet to throw a passing touchdown this season, but UConn quarterbacks have thrown two touchdown passes to the other team.
This will be the last scheduled meeting between these two schools as UConn is leaving the AAC next season.
History on UCF's Side
The Knights have won four of the six games between these two schools, including each of the last three meetings. While UCF only squeaked by in 2016, winning the game 24-16, the last two tilts between these "rivals" have been a lot more lopsided. UCF crushed UConn 49-24 in their last meeting in the Bounce House, and the Knights won 56-17 last year. 
That's an interesting twist considering what UConn head coach Bob Diaco did back in 2015. Diaco unilaterally created a rivalry game between these two teams, and he had the Civil Conflict trophy built to be awarded to the winner. UConn did upset UCF the year the trophy was created, but after the Knights beat the Huskies in 2016, the whereabouts of the trophy became unclear.
A Program Issue?
Quarterback play has been a problem for UConn this decade, and it has continually reared its ugly head in this game. The Huskies could only muster 4.4 yards per pass attempt in the first meeting between these teams in 2013, and although they won in 2014, the play from that position wasn't much better. 
Track the line movement for every single game on the Week 5 college football slate! 
Bryant Shirreffs had a solid game for UConn against UCF in 2015, completing 16-of-22 passes for 256 yards and a touchdown. His second outing against the Knights in 2016 wasn't as successful, and David Pindell struggled in both of the most recent meetings against UCF.
True Freshman Jack Zergiotis
Jack Zergiotis became UConn's quarterback in the second game of the season. Mike Beaudry was injured in the Huskies' season opener, so Randy Edsall decided to give the true freshman the nod going forward.
It has been a trial by fire for the young Zergiotis. He wasn't terrible in his first start against Illinois, completing 21-of- 31 passes for 275 yards. However, his two interceptions proved costly, and he was sacked five times. He struggled a lot more in his first road start against Indiana last week, completing 14-of-28 passes for 90 yards with one interception. 
Edsall has not indicated that there will be a change anytime soon. Zergiotis is UConn's quarterback of the future, and this is a full rebuild in Storrs. The Huskies' offense is going to be bad for a while though, and they might even be the worst in the entire country. 
The Matchup Against UCF
This is an awful matchup for UConn. UCF has one of the best offenses in the country, and UConn's defense is bad. The Huskies aren't on pace to be a historically bad defense like they were last year, but they just allowed 38 points and nine yards per pass to a mediocre Indiana team. 
Meanwhile, UCF is out to avenge last week's loss to Pittsburgh. The Knights' 27-game regular season win streak came to an end in the Steel City last week, and UCF will want to set the tone early. UCF has not lost at home since 2016, and the Knights' playmakers are much better than anything UConn has seen thus far this season.
View all Week 5 College Football Best Bets! 
Adrian Killins is one of the fastest players in the country, and both Gabriel Davis and Tre Nixon are speedy receivers that can leave defensive backs in the dust if they are covered one on one. Killins is averaging 7.6 yards per touch this year, while Davis and Nixon are both on pace to finish with more than 1,000 yards this season. 
Freshman quarterback Dillon Gabriel is averaging 10.2 yards per throw. He has had some accuracy issues, but UCF's big play ability with Gabriel at quarterback more than makes up for that issue. Gabriel throws an excellent deep ball, and he can torch UConn's defensive backs over the top if they crowd the line.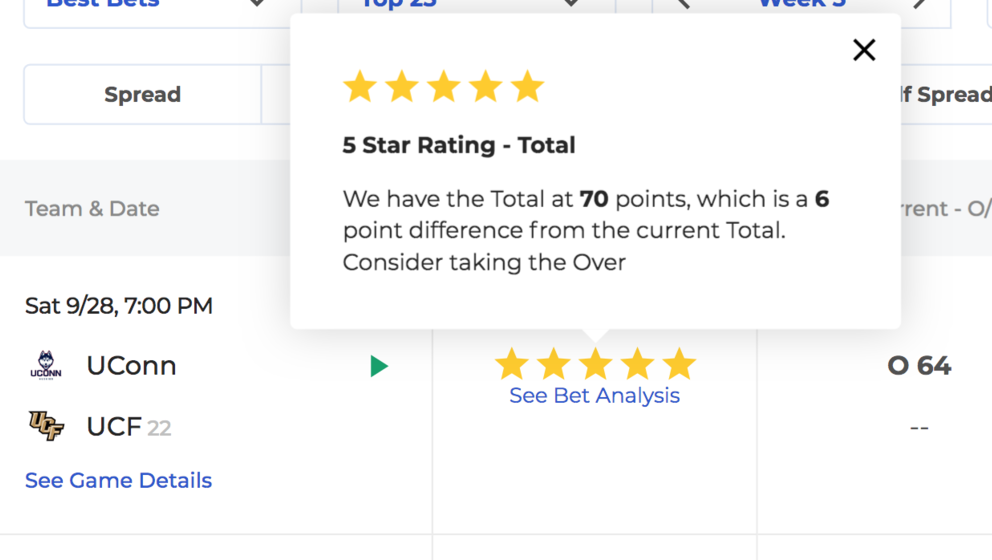 Utilizing BetQL's Model
Consensus total: 64
BetQL Model: 70 (★★★★★)
The BetQL model has UCF covering the spread in a blowout win. The number has already risen from where it opened, but there is still value in the current number as the BetQL model shows the line should be 3.5 points higher than where it currently sits. 
However, the best bet is the over. The over is a five-star play according to the BetQL model as the Huskies could score a little more than expected in a big loss. The total should be six points higher according to the model, making it a great bet.