Tua Tagovailoa's Monster Game Vaults Him To Top Of Heisman Race
The Alabama quarterback had everything working against South Carolina
By Jonathan Willis - Sep 15, 2019, 8:47pm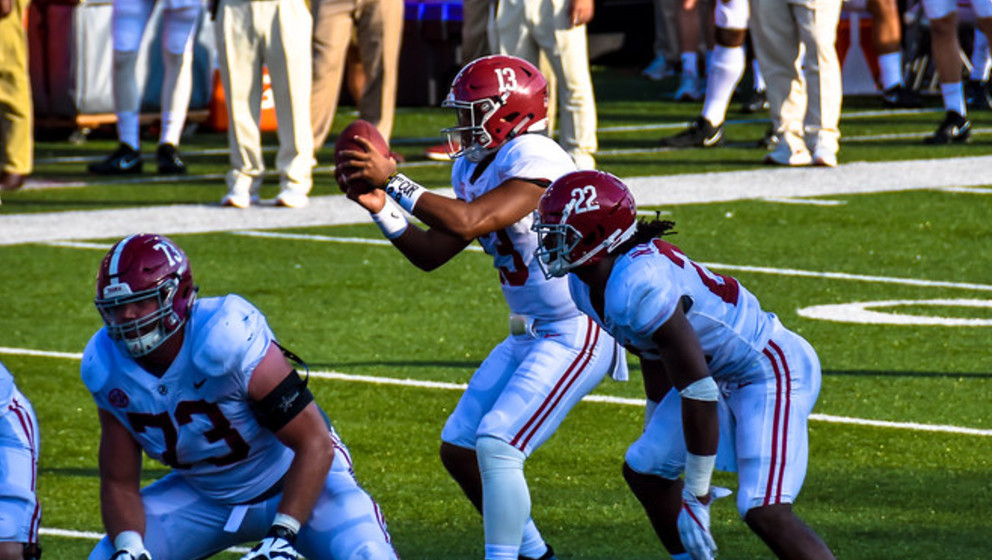 Tagovailoa went 28-of-36 for 444 yards and five touchdowns in Alabama's 47-23 Week 3 win over South Carolina, which was the best statistical performance of his career. 
Southern Miss and Ole Miss are the next two teams on Alabama's schedule and Tagovailoa should capitalize.
South Carolina Had No Answer
The South Carolina Gamecocks could not stop Tua Tagovailoa on Saturday in Columbia. The Alabama quarterback completed 28-of-36 passes for 444 yards and threw five touchdowns in a 47-23 win over South Carolina. It was Tagovailoa's first 400-yard game, and the young quarterback became the first in Alabama's history to throw for over 400 yards and five touchdowns in a game.
That wasn't the only record that Tagovailoa set against the Gamecocks. It was his eighth game with four or more touchdown passes in his career, surpassing AJ McCarron as the Crimson Tide quarterback with the most games throwing four or more touchdown passes. Tagovailoa had six games with four or more touchdown passes in 2018, and he threw four touchdown passes against Duke in Alabama's season opener.
DraftKings lists Alabama at +250 to win the National Championship. If you like those odds, place your bet right now!
Tagovailoa finished second in the Heisman Trophy voting last season and he is one of the frontrunners for the award this year. Through three games, Tagovailoa has thrown 12 touchdowns without an interception. He has completed 76.9 percent of his passes, and he is averaging 11.1 yards per attempt under new offensive coordinator Steve Sarkisian. Tagovailoa has two potential first-round draft picks in wide receivers Jerry Jeudy and Henry Ruggs III at wideout, and those two playmakers have helped the quarterback's YPA by turning short passes into big gains. 
Tagovailoa continues to be among the best collegiate quarterbacks at avoiding costly turnovers. In 2018, he didn't throw an interception until Alabama's ninth game of the season, tossing 26 touchdowns without a pick before throwing an interception against LSU. He only threw two interceptions in the regular season until he had the worst game of his career against Georgia in the SEC Championship Game, likely costing him the Heisman Trophy. 
The Road Ahead
Tagovailoa is expected to put up big numbers in each of the next two games. Southern Miss and Ole Miss have subpar defenses, and Alabama will be a massive betting favorite in each of those games. 
View Alabama's Week 4 matchup on BetQL's Odds Dashboard.
The Golden Eagles have allowed 80 points in their last two games, and their pass defense has allowed opposing quarterbacks to average 8.6 yards per attempt on the season. The quarterbacks that Southern Miss have faced aren't great either, which is positive news for Tagovailoa.
Last year, Alabama shredded Ole Miss in Oxford 62-7 and Tagovailoa averaged 12.7 yards per pass attempt. The Crimson Tide host the Rebels in Tuscaloosa this year, and Ole Miss' defense looks suspect once again after allowing FCS opponent Southeastern Louisiana to score 29 points on them last week. 
The Crimson Tide and Tagovailoa won't face their next serious test until they travel to College Station to face Texas A&M on October 12. The Aggies are currently ranked No. 17 in the AP Poll, and they could be a top ten team before this game if they beat Auburn and Arkansas in the next two weeks.