Get Excited To Bet On These Group Of 5 Conference Championship Games!
The Power 5 title games are getting most of the attention, but these are also captivating matchups
By Dan Karpuc - Dec 4, 2019, 3:09pm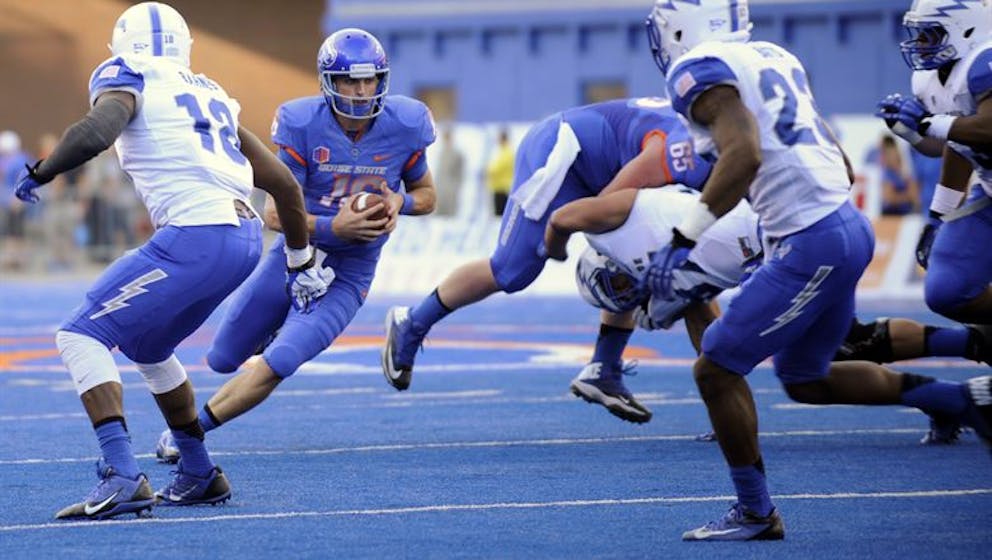 Miami OH (7-5) vs. Central Michigan (8-4)
MAC Championship, Saturday December 7th, 12:00pm EST
CMU -7, O/U 54 VIEW GAME PAGE
Don't you feel like this game should have been played on a Tuesday? Nonetheless, the culmination of another riveting season of #MACtion will take place and it's only fitting that four and five loss teams will battle it out for the championship. While Miami (OH) has gone 6-6 ATS this season, Central Michigan has gone an impressive 9-2 ATS. Further, the over has gone 9-3 in Central Michigan's games. Only one deserving team can capture the MAC crown, and this one is sure to be filled with drama! 
Louisiana (10-2) at #20 Appalachian State (11-1)
Sun Belt Championship, Saturday December 7th, 12:00pm EST
APP -6.5, O/U 56 VIEW GAME PAGE
Not only have these teams gone a combined 21-3 SU this season, but Louisiana has gone 9-3 ATS while Appalachian State has gone 8-4 ATS. Both teams have the capability to put up huge points (Louisiana put up 77 against Texas Southern on September 9th, Appalachian State put up 56 on three different occasions), and also have the ability to stifle their opponents defensively. Both teams have allowed seven or fewer points in four different games this year. This one's for all the Sun Belt marbles!
UAB (9-3) vs. Florida Atlantic (9-3)
Conference USA Championship, Saturday December 7th, 1:30pm EST
FAU -7.5, O/U 50 VIEW GAME PAGE
The Conference USA title is up for grabs as a pair of 9-3 teams will duke it out. UAB has gone 7-4 ATS while FAU has gone 8-4. While all eyes will be on Lane Kiffin, who will likely be on the radar of some more prominent schools after turning around the FAU program, UAB has gone 23-9 ATS over their last 32 games against conference opponents and 15-4 SU in their last 19 games following a road contest.  
Get one free week of BetQL VIP access when you claim this MGM offer!
#21 Cincinnati (10-2) vs. #16 Memphis (11-1)
AAC Championship, Saturday December 7th, 3:30pm EST
MEM -9.5, O/U 57.5 VIEW GAME PAGE
Interestingly, these two teams just played on Friday. Memphis won that game by the score of 34-24 at the Liberty Bowl and the two teams will simply run it back on Saturday at the same location. Both teams are ranked in the Top 25 and have enjoyed a great deal of success this season. Cincinnati has gone 7-5 ATS while Memphis has gone 8-4 ATS. However, the over has gone just 3-9 in the Bearcats' games and 8-4 in the Tigers' games. It should be interesting to see if this title game mirrors Friday's contest or if a different outcome occurs! 
Hawaii (9-4) at #19 Boise State (11-1)
Mountain West Championship, Saturday December 7th, 4:00pm EST
BSU -13.5, O/U 64.5 VIEW GAME PAGE
Per usual, Boise State has had a fantastic year and their only loss came by three points at BYU. They beat Hawaii 59-37 on their home field back on October 12th and are large favorites in this contest as well. Seeing the blue turf one last time this season won't hurt and this game should feature a lot of points since it has the highest total of any Group of 5 conference championship game!
DraftKings is offering a special promotion for BetQL users. Claim it and enjoy some risk-free bets!