Evaluating Heisman Candidates Through Week 7
Joe Burrow is closing the gap up top
By Daniel Mogollon - Oct 14, 2019, 4:17pm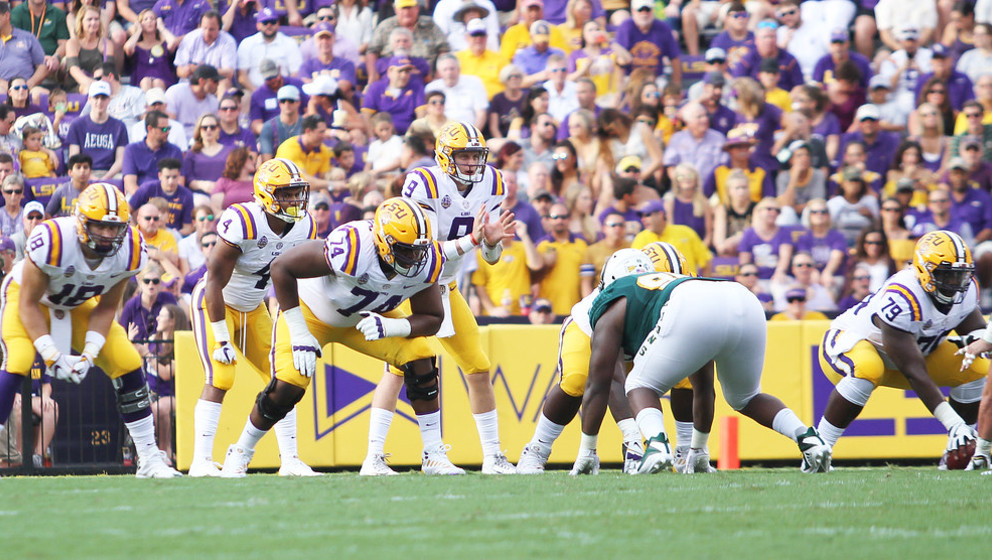 Alabama QB Tua Tagovailoa (frontrunner at +150 to win the Heisman Trophy) set the school's all-time record with 81 career touchdown passes on Saturday.
LSU QB Joe Burrow (+250) cut the gap with Tua, has the Tigers at No. 2 with their win over Florida and is on pace for 50 touchdown passes. 
Oklahoma QB Jalen Hurts (+450) led the Sooners to a big win in the Red River Rivalry with four total touchdowns against Texas. 
Wisconsin RB Jonathan Taylor (+800) was held to below 100 yards on the ground for the first time this season. 
Ohio State QB Justin Fields (+1,000) saw his odds drop as others shine during the Buckeyes' open week.
Tua Tagovailoa 
2,011 yards, 27 TDs, 1 INTs, 73.6%, 11.0 YPP, 214.3 Rating
35 rush yards, 2 rush TDs (6 Games Played)
In a 47-28 win over No. 24 Texas A&M, Alabama's first over a ranked opponent, Tua Tagovailoa completed 21-of-34 passes for 293 yards and four touchdowns. He was intercepted for the first time this season, but also put his name on the Crimson Tide's record books. With 81 career touchdown passes, Tagovailoa is now Alabama's all-time leading touchdown passer, breaking a tie with AJ McCarron. He also leads FBS football with 27 touchdown passes. After the win, Tua talked about the need to continue to improve and focusing on the next opponent in a very Belichickian way. But, his top competitors did close the gap on Saturday ever so slightly. 
In order for Tua to win the Heisman Trophy he will have to continue to improve because the award is far from in the bag. Just like the Tide, Tagovailoa's biggest tests lie ahead in the month of November when they play No. 2 LSU and No. 11 Auburn. As for next week, 'Bama hosts rival Tennessee, who is coming off their second win of the season. Against two ranked teams, the Vols have allowed a combined 77 points in blowout losses, but have intercepted nine passes thus far overall, second in the SEC. 
Joe Burrow 
2,157 yards, 25 TDs, 3 INTs, 79.6%, 11.6 YPP, 218.1 Rating
105 rush yards, 2 rush TDs (6 Games Played)
For the second time this season, Joe Burrow stared down a top-10 opponent and shined in front of a national audience on primetime, as he completed 87.5 percent of his passes to match a season-high. Burrow carved up the No. 7 Florida Gators and went 21-for-24 for 292 yards and three touchdowns through the air with no interceptions against a defense that had 12 picks coming in. Burrow's first two scoring strikes gave the Bayou Bengals an early lead and he iced the game in the fourth quarter with under six minutes remaining when he connected with Ja'Marr Chase on a 54-yard touchdown to put the Tigers up 42-28. He also added a season-high 43 rushing yards (7.2 YPC). The win vaulted LSU to No. 2 in the AP Poll.
The Tigers visit Starkville, Mississippi this Saturday to take on the Mississippi State Bulldogs. But the real measure for Burrow begins the following week, when he faces the daunting defensive line of the Auburn Tigers before his showdown with Tua Tagovailoa and No. 1 Alabama on November 9. The LSU quarterback may not lead the Heisman race but he controls his destiny. 
Get a 50% deposit bonus up to $500 with your next DraftKings Sportsbook deposit!  
Jalen Hurts 
1,758 yards, 17 TDs, 3 INTs, 71.5%, 12.8 YPP, 215.9 Rating
630 rush yards, 8 rush TDs (6 Games Played)
Like Joe Burrow, Jalen Hurts saw his status on the Heisman chase elevated with a big win in Week 7. He's still third, but his odds are higher and he's closer to the favorite. Hurts did something the past two Heisman Trophy winners, former Sooners Baker Mayfield and Kyler Murray, couldn't…beat Texas in his first Red River Rivalry game. Hurts accounted for all of OU's four touchdowns in their 34-27 win over the Longhorns (three passing and one rushing). He led all players with 131 yards rushing, his third 100-yard rushing game this season, as Hurts has scored in five of six games He's also thrown three TD passes in five games, as the Sooners moved up to No. 5 in the polls and took a big step towards another Big 12 title, and possibly a third-straight trip to the College Football Playoffs.
Looking ahead, before a potential rematch with the 'Horns in the Big 12 Championship Game, Oklahoma has one ranked team remaining on the schedule, No. 18 Baylor. Kansas State (Oct. 26) also has a strong defense, but next week's opponent (West Virginia) does not. It'll be another chance for Hurts to put up some big numbers to impress voters. 
Jonathan Taylor 
825 rushing yards, 6.4 YPC, 14 rushing TDs
15 receptions, 136 receiving yards, 4 receiving TDs (6 Games Played)
The junior running back is coming off his worst game of the season, maybe the worst game any of the Heisman frontrunners has had at the midway point. The Wisconsin Badgers blew away Michigan State 38-0 in front of the Madison faithful with Jonathan Taylor taking the brunt of MSU's defense. The Spartans focused on stopping Taylor which allowed the rest of the Badgers to flourish. It helped Wisconsin win their sixth game, but hurt Taylor's Heisman chances. He was held to a season-low 80 yards rushing on 26 carries for just 3.1 yards a carry. It's no surprise that his odds fell from +600 to +900, and he's now holding onto fourth place by a slim margin. It's worth mentioning that Taylor did score twice and still leads the nation with his 18 total touchdowns, though.
The two-time 2,000-yard rusher has a chance to have a big game this week at Illinois, one of the Big Ten's worst run defenses. Expect Taylor to reach 100 yards rushing in the first half against the Illini, maybe the first quarter. After an open week, his best chance to make his Heisman case will come when the Badgers travel to Columbus to take on No. 4 Ohio State (Oct. 26). If Taylor can lead Wisconsin to a victory over the stout Buckeyes, his Heisman odds should increase substantially.
Justin Fields 
1,298 yards, 18 TDs, 1 INT, 69.5%, 9.2 YPP, 187.5 Rating
283 rush yards, 8 rush TDs (6 Games Played)
Ohio State didn't play last week and Justin Fields took a hit. He did nothing wrong, but with Joe Burrow and Jalen Hurts increasing their odds, Fields's chances suffered. Bottom line, most of his numbers lag behind those of the top-three, who appear to have separated themselves.
Halfway through the season, Fields is looking like a longshot but at this point in the game he may provide the best value of all the candidates. Everything remains in front of Fields. He could make a run similar to Kyler Murray last year. Fields has three marque showdowns in the second half of the season, as Ohio State still has to play No. 6 Wisconsin, No. 7 Penn State, and at No. 16 Michigan to close out the season. If the Buckeyes run the table, don't be surprised if Fields works his way up the Heisman totem pole. 
Find out what ★★★★★ bets are in BetQL's Model for Week 8! The season is flying by, but you can still get in the action!