ATL
Falcons
Fri 10/30, 12:20 AM
CAR
Panthers
CAR -2.5 O/U 49
IND
Colts
Sun 11/1, 6:00 PM
DET
Lions
IND -2.5 O/U 50
TEN
Titans
Sun 11/1, 6:00 PM
CIN
Bengals
TEN -5.5 O/U 54.5
PIT
Steelers
Sun 11/1, 6:00 PM
BAL
Ravens
BAL -3.5 O/U 46.5
NYJ
Jets
Sun 11/1, 6:00 PM
KC
Chiefs
KC -19.5 O/U 48
NE
Patriots
Sun 11/1, 6:00 PM
BUF
Bills
BUF -3.5 O/U 44
LAR
Rams
Sun 11/1, 6:00 PM
MIA
Dolphins
LAR -4 O/U 46.5
MIN
Vikings
Sun 11/1, 6:00 PM
GB
Packers
GB -6.5 O/U 54.5
OAK
Raiders
Sun 11/1, 6:00 PM
CLE
Browns
CLE -2.5 O/U 54
LAC
Chargers
Sun 11/1, 9:05 PM
DEN
Broncos
LAC -3 O/U 45
SF
49ers
Sun 11/1, 9:25 PM
SEA
Seahawks
SEA -3 O/U 54
NO
Saints
Sun 11/1, 9:25 PM
CHI
Bears
NO -4 O/U 45.5
DAL
Cowboys
Mon 11/2, 1:20 AM
PHI
Eagles
PHI -7.5 O/U 43.5
TB
Buccaneers
Tue 11/3, 1:15 AM
NYG
Giants
TB -10.5 O/U 47
5-Star Review: Campbell-Coastal Carolina Week 3
Campbell's +28 spread was hammered by our NCAAF model
By Bryan Zarpentine - Sep 22, 2020, 3:01am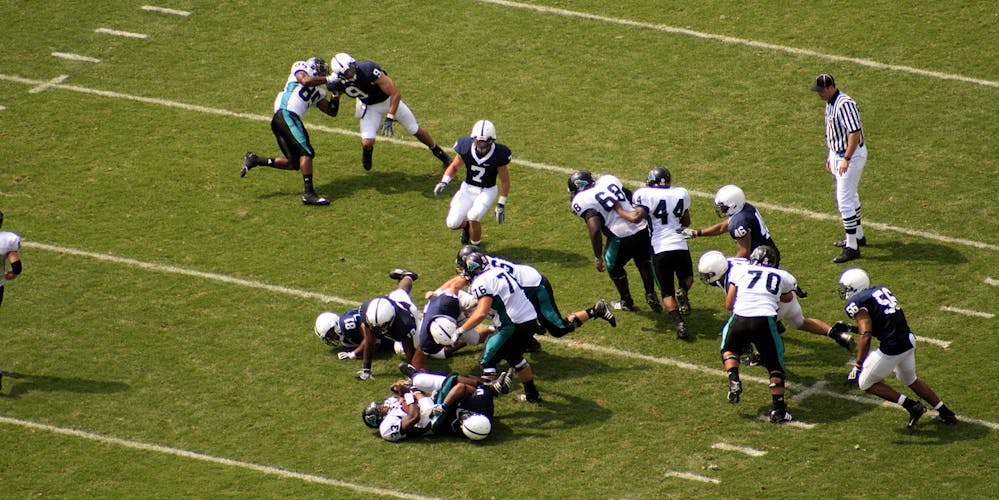 Quick-Hitters
In a unique matchup between Coastal Carolina and Campbell, the BetQL model correctly predicted that Coastal Carolina would fail to cover the 28-point spread against the Fighting Camels.
The spread may have been a little high based off Coastal Carolina's win over Big 12 doormat Kansas the previous week.
Even in their win over Kansas, the Chanticleers were out-gained, making a 28-point spread a little too high.
The BetQL model projected a first-half score of 20-8.5, which was painfully close to the real halftime score of 21-9 in favor of Coastal Carolina.
Get all of BetQL's best bets for today's NBA slate! Dating back a full calendar year, our five-star (max-value) bets have won 61% of the time!
Hammering The Spread
The BetQL model was on top of the fact that the oddsmakers were a bit overconfident in Coastal Carolina heading into their game against Campbell. In their season-opener, the Chanticleers pulled off the upset over Kansas. Of course, Kansas has consistently lost to small-conference opponents and FCS teams in recent years, so that game said more about Kansas than it did Coastal Carolina.
At the same time, The Fighting Camels played a close game with Georgia Southern, another team from the Sun Belt that's comparable to Coastal Carolina. Campbell once led that game 20-6, only to lose 27-26 on a failed two-point conversion. Based on that, the 28-point spread was way too high, making it easy for the BetQL model to lean towards Campbell to beat the spread.
Not Big Enough
The BetQL model understands that covering a 28-point spread requires quality on both offense and defense. Granted, the Chanticleers were able to put up 43 points against Campbell, which is a good point total for covering a whopping 28 points. But the Coastal Carolina defense wasn't overly impressive against Kansas, giving up three touchdowns, all on drives of longer than 70 yards. In fact, the Chanticleers were out-gained in that game, which should have been a clue that 28 points was too high of a spread, especially against a Campbell team that went toe-to-toe with a Sun Belt team the previous week.
On The Money
For more evidence of the accuracy of the BetQL model, look no further than the first-half score. BetQL predicted a Coastal Carolina lead of 20-8.5 at halftime. In reality, the Chanticleers led 21-9, coming awfully close to being dead on. As usual, the second-half was filled with more scoring, and with a late touchdown, the Fighting Camels lost the game, but beat the spread, just like the BetQL model predicted!