NCAAF
BetQL's NCAA Football Model Recap: Week 2
Our college football model called an upset with a 5-star bet
By Matt Reed - Sep 8, 2019, 11:33pm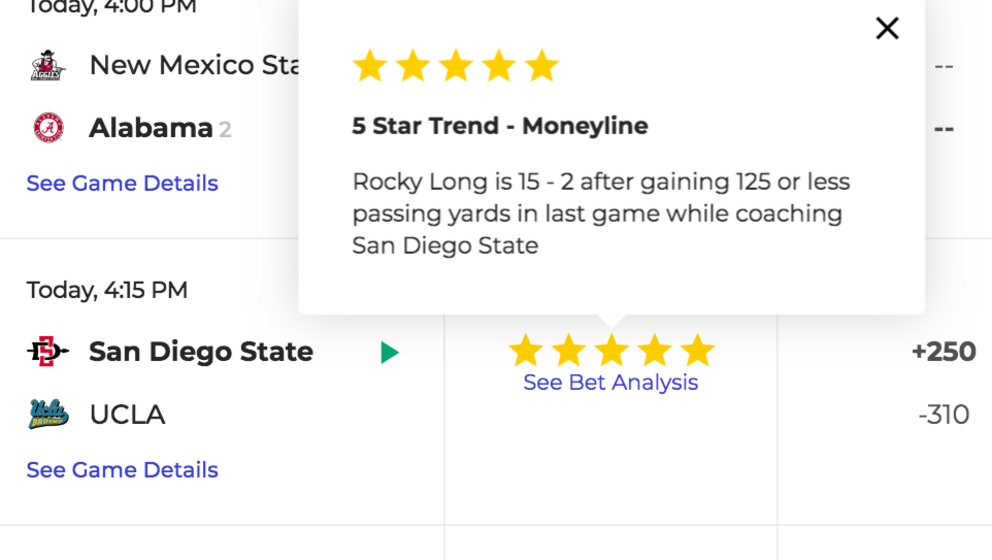 San Diego State at UCLA 
Saturday, August 31st
BetQL Rating: ★★★★★ (San Diego State +250 moneyline) 
Outcome: San Diego State won 23-14
After falling in their season opener against Cincinnati, UCLA's woes continued on Saturday against San Diego State in a 23-14 defeat at home. The Aztecs moved to 2-0 following their narrow Week 1 win over Weber State.
Aztecs quarterback Ryan Agnew threw for 293 yards and a touchdown, which marked a new career-high for the junior signal caller. Saturday served as a historic win for San Diego State, who had previously struggled mightily against UCLA. In their 22 previous matchups against the Bruins, the Aztecs were 0-21-1 all-time. 
Despite UCLA being 7.5-point favorites in the contest, San Diego State won the game outright and BetQL assigned their +250 moneyline with a 5-star rating. For access to bets like this every week, become a premium member and watch your bankroll grow!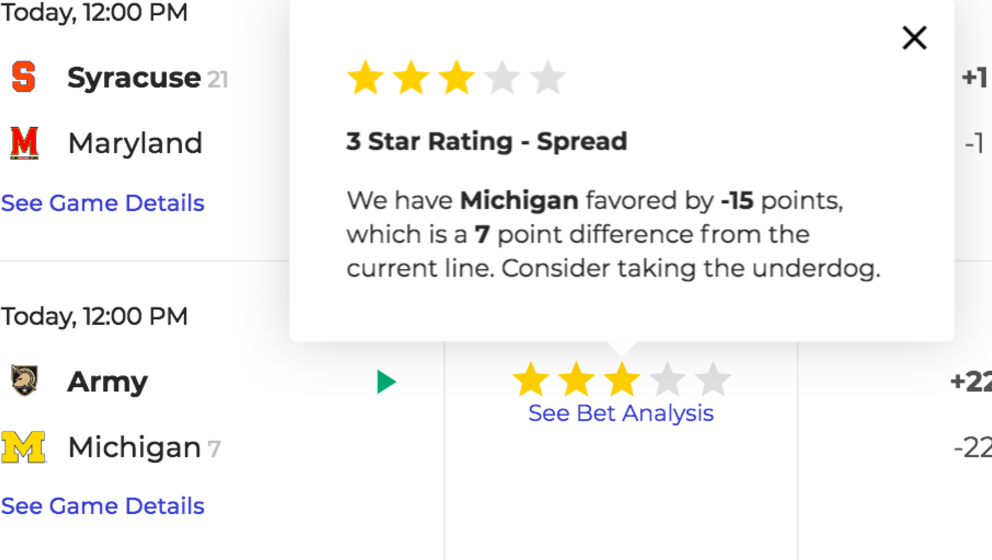 Army at Michigan
Thursday, Aug. 29
BetQL Rating: ★★★ (Army +22)   
Outcome: Michigan won 24-21 in OT
This game had shades of 2007 written all over it when Michigan fell to Appalachian State at the Big House. Army came into the contest as 22-point underdogs, and somehow the Black Knights stayed in the game and even led the Wolverines 14-7 at halftime. Michigan tied the game up in the third quarter through Zach Charbonnet's one-yard touchdown run. From there, the two teams remaining tied until overtime when the Wolverines narrowly escaped a massive upset.
Despite consistently being among the top programs in the country, Michigan had historically struggled against Army, going 5-5 against the Black Knights all-time. The Army game plan was typical, and the Black Knights rushed for 200 yards on the ground and controlled the tempo of the contest despite only throwing four passes all game. Running back Conor Slomka led the way for the visitors with 92 yards on the ground. Although the Black Knights didn't win the game outright and secure a huge payout from the moneyline, Michigan was far from covering the 22-point spread.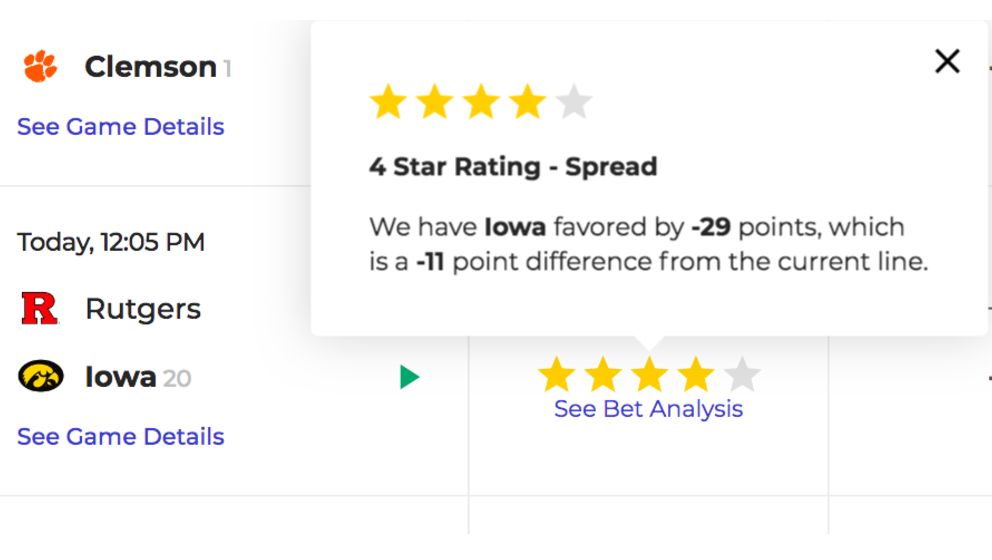 Rutgers at Iowa
Saturday, August 31st
BetQL Rating: ★★★★ (Iowa -18)   
Outcome: Iowa wins 30-0
Our model was all over this outcome, giving the Hawkeyes a major edge in the contest. The game was never close, with Iowa leading 20-0 at halftime and Rutgers' longest drive of the day going for just 24 yards. Last season, the Scarlet Knights went 0-9 in Big Ten play, and the New Jersey-based school didn't score more than 17 points during in-conference matchups. That trend continued on Saturday with Rutgers getting shut out by the No. 20 ranked Hawkeyes.
Since 2017, the Hawkeyes are 11-4 at Kinnick Stadium, which supported the numerous data points that our model consists of. Intrigued? We thought so. Get access to this week's Best Bets and build your bankroll!