Air Force
vs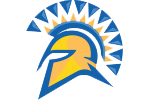 San Jose State Prediction
In an intriguing matchup this week, Air Force takes on San Jose State with the former being the clear favorite according to our BetQL model. Air Force holds a substantial 69% chance of emerging victorious in this contest. A key player to watch for the Falcons is John Lee Eldridge III, who is projected to have a standout performance with 129 rushing yards. Eldridge III also boasts an impressive 74% chance of scoring at least one rushing touchdown, which could significantly contribute to Air Force's success.

However, it's worth noting that San Jose State shouldn't be underestimated. In the 31% of simulations where they come out on top, quarterback Chevan Cordeiro has displayed his talent by averaging 2.11 touchdown passes and only 0.47 interceptions. On the other hand, in their losses, Cordeiro's stats take a slight dip with a ratio of 1.14 touchdowns to 0.67 interceptions. Additionally, the ground game plays a vital role for San Jose State's offensive strategy. Running back Kairee Robinson averages 71 rushing yards and 0.6 rushing touchdowns in victories but slightly less at 66 yards and 0.33 touchdowns in losses.

One critical factor to consider is Air Force's ability to force turnovers compared to their own mistakes. Our model predicts that they have a solid 42% chance of creating more turnovers than they commit on the field. In games where Air Force achieves a positive turnover margin, they display an exceptional success rate of 76%. Consequently, this statistic will play an essential role in determining the outcome of this matchup.

To get a comprehensive and actionable breakdown of this game, make sure to subscribe to BetQL and see how our unique model picks the winner.