Florida State
vs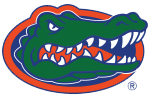 Florida Prediction
In the upcoming game between Florida State and Florida, the odds seem to heavily favor Florida State, winning an impressive 94.0% of simulations over their rival. The Seminoles' quarterback Jordan Travis has been in remarkable form, averaging 343.0 passing yards and 1.87 touchdowns per simulation. On the ground, Trey Benson is projected to have a significant impact, with 164.0 rushing yards, although the model predicts a slim chance of him scoring at least one rushing touchdown.

In the simulations where Florida manages to pull off a victory, quarterback Graham Mertz has shown promise, averaging 1.6 touchdown passes and only 0.06 interceptions. However, in their losses, Mertz's performance drops slightly with a ratio of 0.68 touchdowns to 0.06 interceptions. Running back Montrell Johnson Jr. will play a crucial role for the Gators, averaging 49.0 rushing yards and 0.57 rushing touchdowns when they win, but dropping to 38.0 yards and 0.26 touchdowns in defeats. Additionally, Florida State has a small 1.0% chance of forcing more turnovers than they commit, with a positive turnover margin drastically improving their chances of securing a victory as it helps them win 97.0% of the time.

With such compelling statistics from our model analysis, it's clear that subscribers to BetQL have access to valuable information when making informed bets on this highly anticipated game between Florida State and Florida. To gain a deeper understanding of how our model is predicting the outcome and make the most out of your betting experience, be sure to subscribe to BetQL today!