LIVE
GSW
Warriors
58
3rd Q
WAS
Wizards
63
GSW -2 O/U 240.5
PHX
Suns
69
3rd Q
PHI
76ers
68
PHX -3 O/U 217
OKC
Thunder
72
3rd Q
IND
Pacers
73
IND -9 O/U 231
BKN
Nets
72
3rd Q
TOR
Raptors
87
TOR -4.5 O/U 231.5
CHI
Bulls
55
3rd Q
CLE
Cavaliers
81
CHI -2 O/U 210.5
ATL
Hawks
37
1st Q
NYK
Knicks
32
ATL -1.5 O/U 219
UTA
Jazz
34
1st Q
HOU
Rockets
27
UTA -11.5 O/U 224
MIA
Heat
Today, 12:40 AM
SAS
Spurs
MIA -1.5 O/U 215.5
DET
Pistons
Today, 12:40 AM
DAL
Mavericks
DAL -10.5 O/U 218
DEN
Nuggets
Today, 2:10 AM
POR
Trail Blazers
DEN -1.5 O/U 230
MIN
Timberwolves
Today, 2:10 AM
SAC
Kings
SAC -4 O/U 239.5
MEM
Grizzlies
Today, 2:10 AM
LAC
Clippers
MEM -3 O/U 224.5
Hershkovich: Saturday's College Basketball Betting Preview for March 6
Two top plays for Saturday's CBB card
By Eli Hershkovich - Mar 6, 2021, 1:21am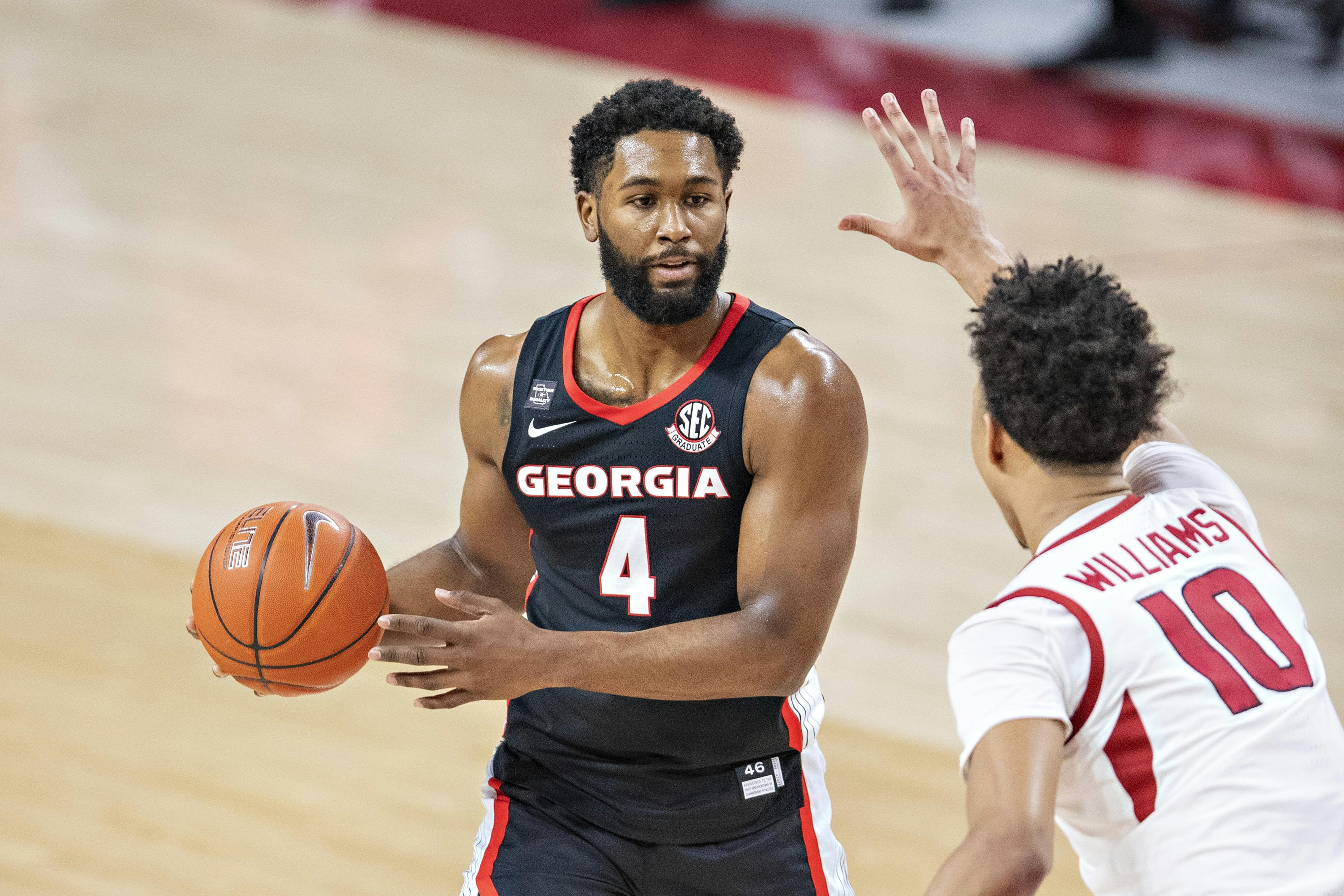 We're 10 days away from Selection Sunday, and conference tournaments are underway. There's no better time to dive into college basketball betting — even if you're just getting started. Let's break down a situational spot on tomorrow's card, along with my latest national title futures bet.
You can watch Thomas Casale and I on the BetQL U podcast — live on Twitter and Facebook — tomorrow from 11-noon ET. We'll get you set for the entire slate with the latest odds.
Alabama (-8) @ Georgia; O/U 155.5
On Saturday, the Crimson Tide won their first SEC regular season title since 2002, and they followed that up by covering (-10) at Auburn, which was without freshman point guard Sharife Cooper (ankle).
This game represents a prime letdown spot with Alabama having little to play for before the conference tournament tips off next week. On the other side, Georgia's playing in its equivalent to the Super Bowl — already upsetting LSU (+5) and Missouri (+3) at home in recent weeks. 
Even though the Bulldogs fell by 33 points to the Tide on Feb. 13, they should have success down low with the third-highest 2-point scoring rate (54.7%) in conference play. Alabama's also yielded the highest opponents' scoring rate in that department (57.0%).
Look for the 6-foot-8, 220-pound Toumani Camera (12.7 points per game) to have his way against a less physical frontcourt. If he shows up on the offensive glass, that'll limit Alabama's transition opportunities via generating offense around the perimeter.
Nate Oats' bunch shot 60.0% on 3s in their first matchup, but they've struggled to shoot with consistency after their torrid start to the SEC slate, hitting 28.1% from behind the arc over its past four games.
The Pick: Georgia +8 or better
I almost bet Longhorns' futures before the season (50-1), but five-star freshman Greg Brown's ability to buy in at the defensive end — and take them to another level — was one of my concerns.
Not only has Brown stepped up of late, but Texas is also back to playing high-level basketball after a COVID-19 pause, winning three of its past four games while holding those opponents to an average of 0.97 points per possession.
With Brown and fellow big man Jericho Sims leading the way, the Longhorns rank No. 51 on KenPom in average length, generating a difficult matchup for any team in the NCAA tournament. That's helped them dominate the glass in Big 12 play, manufacturing the highest defensive rebounding rate (25.3%), along with boasting the 37th-highest Adjusted Defensive Efficiency overall.
Shaka Smart's unit even boasts of the best trio of upperclassmen guards in the sport, with Matt Coleman, Courtney Ramey and Andrew Jones all able to create their own shots off the dribble.
If Texas makes a run in the Big 12 tournament, they could have enough to slide into a No. 3 seed for March Madness, making this futures price even more valuable. Their shooting prowess (35.5% in-conference; 2nd-highest 3-point scoring rate) has the potential to make even more noise in the dance.
Futures: West Virginia (30-1), Texas (40-1), Alabama (80-1), Rutgers (90-1) and Boise State (500-1)