NCAAB
Bettors Should Start Paying Attention To USC Basketball
The Trojans are making noise against the spread on the road and in Pac-12 play
By Bryan Zarpentine - Feb 18, 2020, 1:27am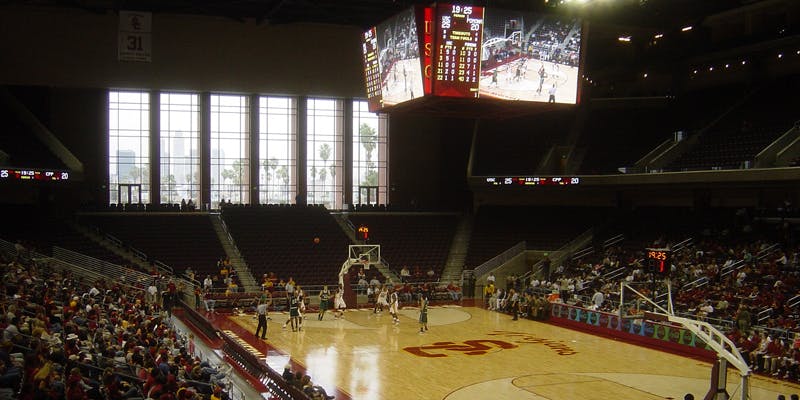 USC has gone 19-7 overall, 8-5 in the Pac-12, 10-3 against the spread in Pac-12 play and 8-1 ATS on the road.
USC's size advantage and length sets them apart from other teams and creates beneficial mismatches.
Star freshman Onyeka Okongwu is averaging 16.4 points and 8.9 rebounds per game and is emerging as a legitimate go-to scorer. Freshman point guard Ethan Anderson is the team's x-factor.
The Trojans will be tested down the stretch and have an opportunity to avenge three losses that they suffered earlier in the year.


Let's be honest, it's not easy staying up late to watch Pac-12 teams play. But with March on the horizon and the college basketball regular season starting to wind to a close, it's time to start paying closer attention to some of the teams on the West Coast. One team, in particular, that has flown under the radar this season but deserves your attention, is the USC Trojans, who are 19-7 overall and 8-5 inside the Pac-12, making them one of six teams that still have a chance to win the conference regular-season championship.
What Sets USC Apart
One thing that distinguishes the Trojans from other teams is their size in the frontcourt. It starts with freshman Onyeka Okongwu, who is a serious contender for Pac-12 Freshman of the Year and first-team all-conference honors. The 6'9'' forward is averaging 16.4 points and 8.9 rebounds per game, registering four double-doubles during conference play. Meanwhile, senior Nick Rakocevic is 6'11'' and freshman Isaiah Mobley is 6'10''. Together, those three combine for over 23 rebounds per game, giving the Trojans an advantage over most teams on the boards.
Also, while USC's 8-5 record inside the Pac-12 is somewhat modest, they've been competitive in almost all of their losses. They played two overtimes in a road loss to Oregon and lost to Arizona and Arizona State by five and two points, respectively. Of their seven losses this season, five came against teams that are virtual locks for the NCAA Tournament, so USC has proven that they can go toe-to-toe with quality teams. Moreover, the Trojans are 10-3 against the spread in conference play and 8-1 against the spread on the road, which points to USC being undervalued all season.
X-Factor
While the Trojans have intimidating size in the frontcourt, their backcourt is the x-factor moving forward. Freshman Ethan Anderson is the only true point guard on the team. He's dishing out 4.5 assists per game. However, he isn't always a scoring threat, scoring four points or less in 14 games this season. USC's problem is that Anderson is seventh on the team in scoring but nobody on the roster other than him averages more than two assists per game. If Anderson can become a more consistent scoring threat late in the season, the Trojans can be comfortable with him playing more minutes and they will become even more dynamic offensively.
What To Watch For
Coming down the stretch, three of USC's final five games of the regular season will be revenge games against teams they lost to earlier this season: Colorado, Arizona, and Arizona State. All three are projected to be NCAA Tournament teams, giving the Trojans a few litmus tests before the calendar flips to March. While the Trojans have a few seniors leading the way, Okongwu, Mobley, and Anderson are all freshmen that USC is relying on and they need all the experience they can get playing big games against quality opponents before the NCAA Tournament tips off.