SEV
Sevilla FC
Today, 5:00 PM
LEV
Levante
SEV -173 O/U 2.5
VAL
Valencia
Today, 5:00 PM
OSA
Osasuna
VAL +182 O/U 2.5
ATH
Athletic Bilbao
Today, 6:00 PM
BET
Real Betis
ATH +242 O/U 2.5
VILL
Villarreal
Today, 7:00 PM
ALV
Alaves
VILL -119 O/U 2.5
CEL
Celta Vigo
Tomorrow, 7:00 PM
RSO
Real Sociedad
RSO -110 O/U 2.5
EIB
Eibar
Tomorrow, 7:00 PM
GCF
Granada
EIB +224 O/U 2
GET
Getafe
Tomorrow, 8:00 PM
BAR
Barcelona
BAR -434 O/U 3
ALV
Alaves
Sat 4/24, 4:30 PM
VAL
Valencia
ALV +237 O/U 2 & 2.5
BET
Real Betis
Sat 4/24, 7:00 PM
MAD
Real Madrid
MAD -202 O/U 2.5 & 3
BAR
Barcelona
Sun 4/25, 2:15 PM
VILL
Villarreal
BAR -138 O/U 3
OSA
Osasuna
Sun 4/25, 4:30 PM
CEL
Celta Vigo
OSA +217 O/U 2 & 2.5
GCF
Granada
Sun 4/25, 4:30 PM
SEV
Sevilla FC
SEV -218 O/U 2.5
ATL
Atletico Madrid
Sun 4/25, 7:00 PM
ATH
Athletic Bilbao
ATL -104 O/U 2 & 2.5
RSO
Real Sociedad
Mon 4/26, 7:00 PM
EIB
Eibar
RSO +119 O/U 2 & 2.5
La Liga
What Luis Suarez Brings To Atletico Madrid
After six-straight seasons with Barcelona, the star forward moves on
By Juan Pablo Aravena - Sep 25, 2020, 1:11am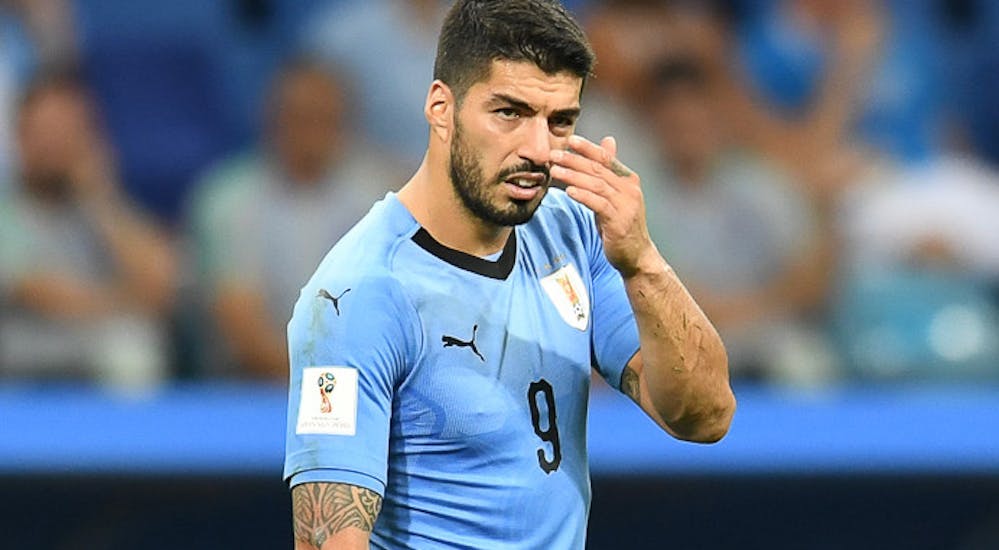 Quick-Hitters
Luis Suarez's tenure at Barcelona has come to an end. The Uruguay international has left the club and will spend the 2020-21 season featuring for one of Los Blaugranas' rivals in La Liga, Atletico Madrid.
Suarez might be a bit past his prime and didn't look at his best during the 2019-20 season, but there's no question he should represent a massive upgrade for Atletico's attacking line ahead of the Liga campaign.
Suarez registered 16 goals for Barcelona last season, and the star forward notched 198 goals in 283 games for Los Blaugranas over his career.

Get all of BetQL's best bets for the La Liga season! Dating back a full calendar year, our five-star (max-value) bets have won 61% of the time!
The Transition
Luis Suarez will no longer be a Barcelona player. After being linked with a move to Juventus, the star forward has completed a switch to Atletico Madrid. Suarez had his wish granted and will remain in Spain while also playing for a team that has legitimate title ambitions. His arrival should only boost Atletico's chances of winning the La Liga title over their city rivals Real Madrid and Barca.
Suarez's numbers with Barcelona were astonishing -- even if he didn't perform at his best during the 2019-20 season. Through 283 games in all competitions for Los Blaugranas, Suarez compiled 198 goals and 109 assists. He averaged nearly 0.7 goals per game while wearing Barca's colors, showing he is more than ready to keep playing for a top-tier club. The former Ajax and Liverpool star will have his chance to shine while featuring for Atletico Madrid.
Veteran Presence
For what it's worth, Suarez "only" scored 16 goals in 28 league appearances for Barcelona last season. That figure might be low considering he cracked the 20-goal mark in four of his six seasons at Barcelona, but those 16 goals would've made him the top scorer on Atletico by a wide margin. Los Colchoneros' top scorer in the 2019-20 season was Alvaro Morata, who netted 12 times. He will play for Juventus in the 2020-21 campaign.
Suarez is 33 years old already, so it's safe to say the best years of his career might already be beyond him. That doesn't mean he won't be able to contribute right away for Diego Simeone's side, as Suarez still offers a sizable upgrade over Diego Costa, including a more reliable scoring threat than wonderkid Joao Felix, who's expected to take a massive leap in his development in 2020-21.
Top-Notch Producer
Suarez won't ever be the star forward who notched 40 goals with Barcelona in La Liga a few years ago, but he's not washed up by any means. He's still one of the most prolific forwards in the world and after a rocky exit from Barcelona, he should be extremely motivated to prove his worth in the upcoming 2020-21 Liga season.