CRY
Crystal Palace
Tomorrow, 8:00 PM
WOLV
Wolverhampton Wanderers
WOLV -105 O/U 2
MNC
Manchester City
Sat 10/31, 12:30 PM
SHU
Sheffield United
MNC -328 O/U 3
CHE
Chelsea
Sat 10/31, 3:00 PM
BUR
Burnley
CHE -187 O/U 3
WHU
West Ham United
Sat 10/31, 5:30 PM
LIV
Liverpool
LIV -268 O/U 3.5
SOUT
Southampton
Sun 11/1, 12:00 PM
AVL
Aston Villa
SOUT +179 O/U 3
EVE
Everton
Sun 11/1, 2:00 PM
NEW
Newcastle United
EVE -103 O/U 2.5
ARS
Arsenal
Sun 11/1, 4:30 PM
MAN
Manchester United
ARS +244 O/U 2.5
BHA
Brighton & Hove Albion
Sun 11/1, 7:15 PM
TOT
Tottenham Hotspur
TOT -161 O/U 3
WBA
West Bromwich Albion
Mon 11/2, 5:30 PM
FUL
Fulham
WBA +198 O/U 2.5
LEI
Leicester City
Mon 11/2, 8:00 PM
LEE
Leeds United
LEI +158 O/U 2.5
Premier League
What To Make Of Tottenham's Odd Season
Spurs currently rank eighth in EPL standings
By Anthony Rotz - Jul 8, 2020, 4:43pm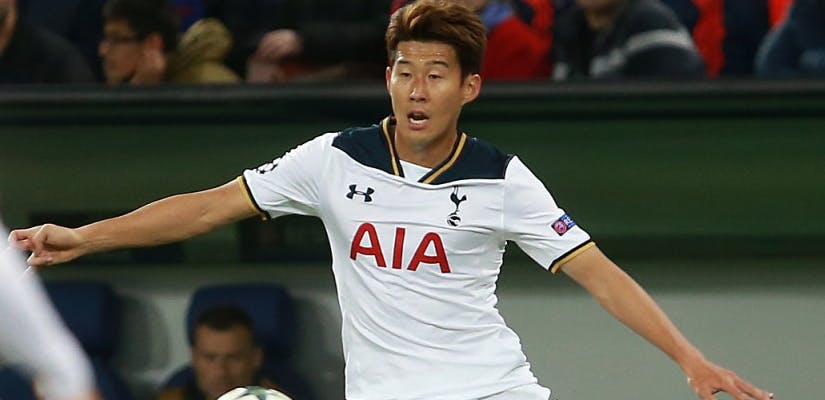 Despite regressing each season since the 2016-2017 campaign, Tottenham secured Champion's League each year, a streak that's now likely to end.
Spurs have struggled in the absence of now Inter Milan midfielder, Christian Eriksen.
Tottenham's most recent transfers have yet to make their mark.
Manager Jose Mourinho will be keen to bolster a mediocre backline.
Tottenham is +15000 to finish the season in the top-four, per DraftKings.
Missing This Key Element
After arriving from Ajax in 2013 to his departure this past January, Christian Eriksen developed into an elite midfield orchestrator. No other Premier League player created as many chances (571) as Eriksen did over his time in North London. Unsurprisingly, the Dane had led Tottenham in assists each of the past four seasons, a spell that saw him join David Beckham as the only payers with four-consecutive seasons of 10 or more assists. In his absence, Spurs have looked lost in the final third. At the moment, Tottenham does not have a creative catalyst. Current midfield options have lacked the consistency, fitness, ability, or cohesion necessary to make quality passes to feed the forwards such as Harry Kane or Son Heung-Min.
Like free money? We thought so. We read all the fine print, rated and reviewed all of these awesome offers for you. Get in on the action today by selecting your state below and take advantage of our exclusive deals!
Signings Gone Wrong
After becoming the first team in Premier League history to go an entire year without a signing, Tottenham Chairman Daniel Levy finally opened his wallet in the summer of 2019. Tanguy Ndombele ($66 million), Giovani Lo Celso ($44 million), Ryan Sessegnon ($29.7 million), current Queens Park Rangers loanee Jack Clarke ($12.1 million) and Steven Bergwijn ($33 million) were welcomed to the squad. What was initial excitement has quickly dissolved into frustration for players and fans. Ndombele has struggled with fitness amid tension with Mourinho, leading to just 28 appearances for the Frenchman. Now, the record signing is reportedly eyeing a move away from Tottenham after just a season.
After missing eight games to start the season due to a hip injury, Lo Celso has emerged as the likely successor to the previously mentioned Eriksen. Unfortunately for the Argentine, he has continued to deal with a myriad of minor injuries and frequently moving positions on the pitch. With only 12 appearances on the season, Sessegnon has yet to earn Mourinho's trust as either a left-back or a wing. Besides an injury mitigated by the COVID-19 shutdown, Bergwijn has undoubtedly had the best start to his Spurs tenure. Scoring three times, while displaying incredible speed, Bergwijn has recently been used off the bench and even in midfield, though his place is most definitely on the wing. The lack of new signings to feature has left Spur's fielding mostly the same team as last year, one that lurched to a 3-2-7 finish in the Premier League.
Back Problems
Spur's defense has conceded 44 goals, even with 15th-place Brighton. Aging Jan Vertonghen has seemingly lost a step. Toby Alderweierld has struggled to find his footing. Following the 3-1 embarrassment to Sheffield United, it's clear Eric Dier is not a solution. While competent on the attack, both Serge Aurier and Ben Davies have shown the exact opposite on defense. Upon Mourinho's arrival, Davies' form was deemed inadequate. This forced the Portuguese to call up a replacement in academy product, Japhet Tanganga, who had performed admirably before a stress fracture sidelined him for the season.
Find out how you can use BetQL to dominate the EPL!