CRY
Crystal Palace
Tomorrow, 8:00 PM
WOLV
Wolverhampton Wanderers
WOLV -105 O/U 2
MNC
Manchester City
Sat 10/31, 12:30 PM
SHU
Sheffield United
MNC -328 O/U 3
CHE
Chelsea
Sat 10/31, 3:00 PM
BUR
Burnley
CHE -186 O/U 3
WHU
West Ham United
Sat 10/31, 5:30 PM
LIV
Liverpool
LIV -268 O/U 3.5
SOUT
Southampton
Sun 11/1, 12:00 PM
AVL
Aston Villa
SOUT +179 O/U 3
EVE
Everton
Sun 11/1, 2:00 PM
NEW
Newcastle United
EVE -103 O/U 2.5
ARS
Arsenal
Sun 11/1, 4:30 PM
MAN
Manchester United
ARS +244 O/U 2.5
BHA
Brighton & Hove Albion
Sun 11/1, 7:15 PM
TOT
Tottenham Hotspur
TOT -161 O/U 3
WBA
West Bromwich Albion
Mon 11/2, 5:30 PM
FUL
Fulham
WBA +198 O/U 2.5
LEI
Leicester City
Mon 11/2, 8:00 PM
LEE
Leeds United
LEI +158 O/U 2.5
Premier League
Bet On This Premier League Striker To Continue His Elite Form
Jamie Vardy of Leicester City has +180 odds to finish with the most goals scored in the EPL
By Dan Karpuc - Jun 3, 2020, 1:59pm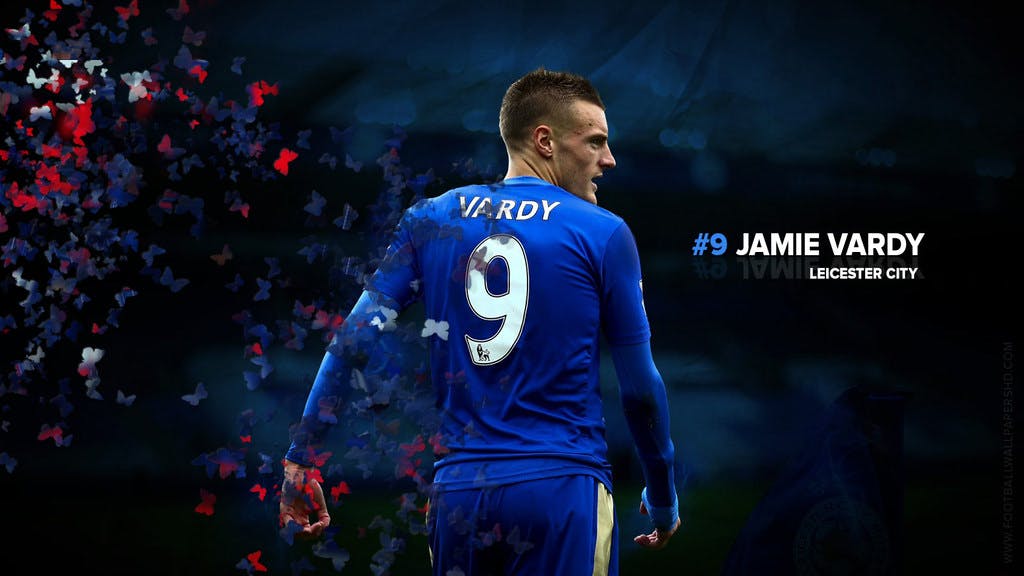 As seen above, Leicester City's Jamie Vardy (+180) has the best odds to finish with the most goals in the English Premier League.
As it currently stands, Vardy leads the EPL with 19 goals, followed by Arsenal's Pierre-Emerick Aubameyang (17, +350), Manchester City's Sergio Agüero (16, +450) and Liverpool's Mohamed Salah (16, +600).
Based on the current Premier League table, Leicester City has the sixth-easiest schedule moving forward, as their opponents have an average position of 11.3 in the standings.
While Liverpool is almost certainly going to win the EPL, The Foxes have a lot to play for moving forward, as the top four teams in the standings will qualify for the group stage of The Champions League. Man City (57 points) currently ranks ahead of Leicester City (53) and Chelsea (48) makes up the fourth and final spot. However, Manchester United (45) is also lurking in what should be an exciting stretch run.
Vardy's job within Leicester City's three formations (4-1-4-1, 4-3-3, 4-2-3-1) is simple: put the ball in the back of the net. He averages 0.73 goals per match and has taken 59 shots through 29 matches, including 35 on target. Interestingly, he's missed 15 "big chances" as well, which indicates that he could realistically have 20-plus goals at the moment based on his opportunities.
Nonetheless, his 19 goals in 35 shots on target indicate that he's a master at getting quality looks on goal.
Vardy only has four assists on the year and averages 12.12 passes per match. His job is to attack and when making a bet like this, he checks off all the boxes: he currently leads the EPL in goals scored, has something to play for and is on the pitch primarily to score goals.
Select your state and take advantage of our exclusive risk-free DraftKings offer below!
Want To Learn About BetQL And Sports Betting? Search Our Help Center!