LIVE
AVL
Aston Villa
2
HALF
CRY
Crystal Palace
1
AVL +125 O/U 2.5
WOLV
Wolverhampton Wanderers
Today, 1:05 PM
TOT
Tottenham Hotspur
TOT -195 O/U 2.5
LIV
Liverpool
Today, 3:30 PM
WBA
West Bromwich Albion
LIV -440 O/U 3.5
SHU
Sheffield United
Today, 6:00 PM
EVE
Everton
EVE -266 O/U 2.5
FUL
Fulham
Tue 5/18, 5:00 PM
MAN
Manchester United
MAN -251 O/U 2.5
LEE
Leeds United
Tue 5/18, 5:00 PM
SOUT
Southampton
LEE +143 O/U 3
MNC
Manchester City
Tue 5/18, 6:00 PM
BHA
Brighton & Hove Albion
MNC -196 O/U 2.5
LEI
Leicester City
Tue 5/18, 7:15 PM
CHE
Chelsea
CHE -139 O/U 2.5
WOLV
Wolverhampton Wanderers
Wed 5/19, 5:00 PM
EVE
Everton
EVE -109 O/U 2.5
AVL
Aston Villa
Wed 5/19, 5:00 PM
TOT
Tottenham Hotspur
TOT -169 O/U 3
SHU
Sheffield United
Wed 5/19, 5:00 PM
NEW
Newcastle United
NEW -146 O/U 2.5
ARS
Arsenal
Wed 5/19, 6:00 PM
CRY
Crystal Palace
ARS -188 O/U 2.5
LIV
Liverpool
Wed 5/19, 7:15 PM
BUR
Burnley
LIV -367 O/U 3.5
WHU
West Ham United
Wed 5/19, 7:15 PM
WBA
West Bromwich Albion
WHU -157 O/U 3
Premier League
Premier League Preview and Pick: Everton vs. Arsenal
Breakdown and Best Bet for Arsenal-Everton
By Bryan Zarpentine - Apr 20, 2021, 3:04pm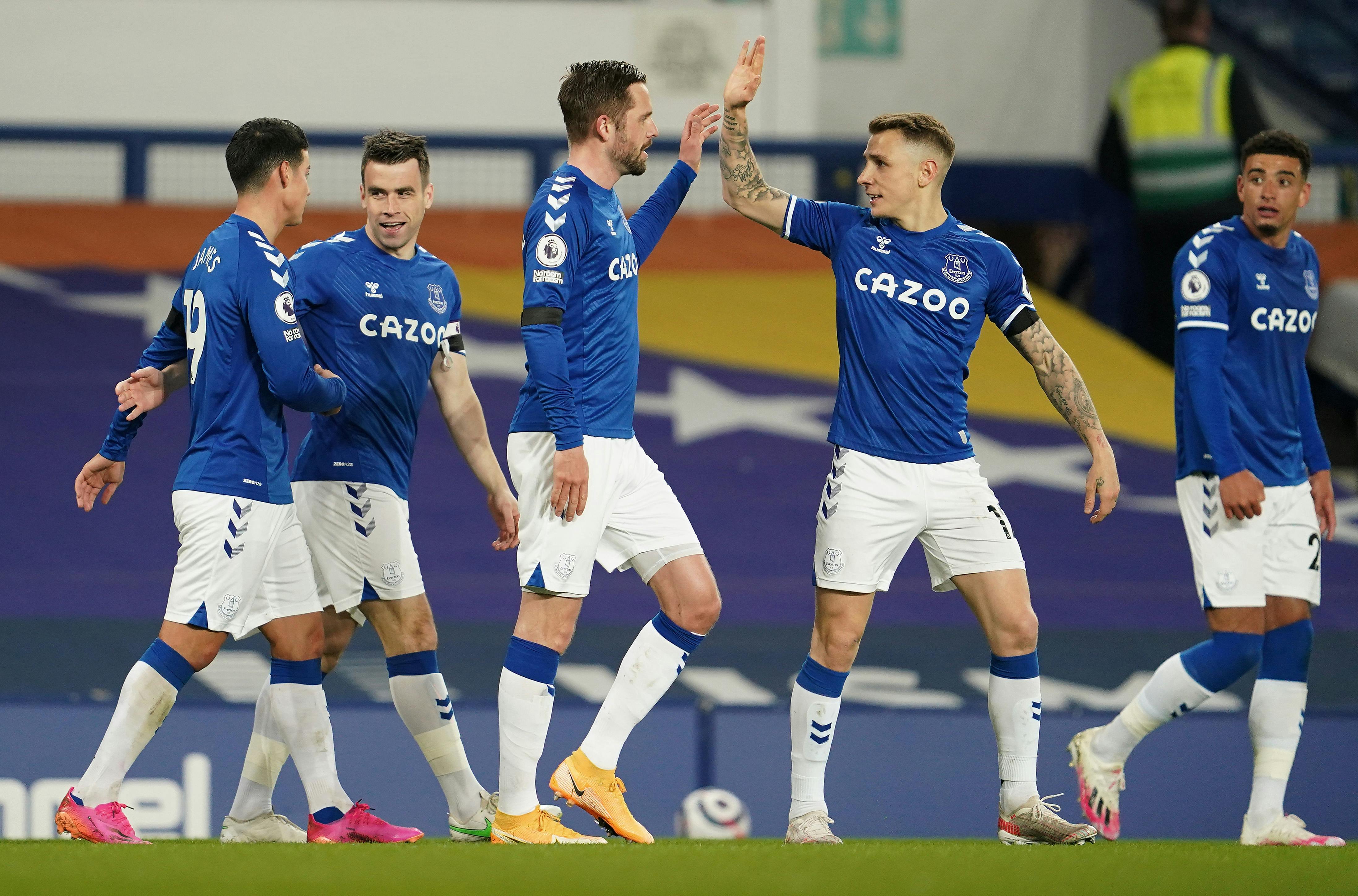 The Premier League weekend gets started on Friday afternoon with a critical mid-table clash between Arsenal and Everton. The Gunners are at home and favored with a moneyline of -111 compared to Everton's moneymen of +298. Meanwhile, the moneyline for a draw is set at +264.
Get all of BetQL's best bets! Dating back a full calendar year, our five-star (max-value) bets have won 61% of the time!
Arsenal Preview
The Gunners avoided disaster last weekend when they were able to rescue a point against Fulham with a 97th-minute goal. However, Mikel Arteta's team still dropped points against a team in the relegation zone, leaving them nine points out of the top-4 with just six games left to play. On the bright side, they are just four points behind rival Tottenham for seventh place in the Premier League table, which could get them a spot in European competition next season if they don't win Europa League.
The performance against Fulham resembled the Arsenal we saw earlier this month rather than the squad that beat Sheffield United 3-0 and then crushed Slavia Prague 4-0 in Europa League. Arteta also has a serious problem on his hands after Alexandre Lacazette came off injured in the second half against Fulham. Meanwhile, Pierre-Emerick Aubameyang has been absent recently because of malaria, which could deprive Arsenal of its two leading scorers for the match against Everton.
Surely, that switches the pressure onto the Arsenal defense if the Gunners expect to get points against Everton. Arteta's team has the fifth-best defensive record in the Premier League this season, which is impressive for a team that sits in ninth place. They've allowed just two goals in their last four games across all competitions, including the penalty conceded against Fulham last week. This is a positive sign for a club that doesn't look exceptional defensively when you look at the lineups Arteta has been running out there recently.
Play DFS? Be sure to get a 3-day free trial on RotoQL to check out our projections!
Everton Preview
Everton finds itself in an almost identical spot as Arsenal at the moment. Of course, the Toffees are three points ahead of the Gunners, currently sitting eighth in the Premier League, albeit with a game in hand compared to most teams ahead of them. The problem for Carlo Ancelotti's team is they're winless in their last five Premier League games, including three consecutive draws. Yet, Everton is only six points from a top-4 spot.
Much like Arsenal, the Toffees are expected to be without their top talisman this weekend. Dominic Calvert-Lewin hasn't played since April 5, creating a void in the Everton attack, even with James Rodriguez pulling the strings in the midfield. Brazilian attacker Richarlison hasn't scored since March 4, failing to step up in Calvert-Lewin's absence. Gylfi Sigurdsson might be the team's most reliable scorer at the moment after he netted both goals in last week's draw with Tottenham.
Meanwhile, Everton is coming off a game in which two defensive blunders cost them a pair of goals. Injuries are also impacting Everton's backline, which explains why the club has conceded two goals in four of their last six games across all competitions. Even with goalie Jordan Pickford back from injury, there are questions about Everton's ability to keep teams off the scoresheet.
The Pick
It's a lot easier to spot flaws in both of these teams than come up with reasons why they'll walk away with three points on Friday evening. In theory, Everton's defensive woes make them a little more vulnerable to coming away empty-handed. But if Lacazette and Aubameyang both miss the game, the Gunners may not have the class in the final third to take advantage of Everton's flaws. In the end, this game figures to be Everton's fourth consecutive draw, which will leave both sides disappointed.
Pick: Draw