NHL
Quantifying How Horrendous The Red Wings Have Been On The Road
Detroit has been an absolute embarrassment
By Lorenzo Archer - Feb 19, 2020, 5:00am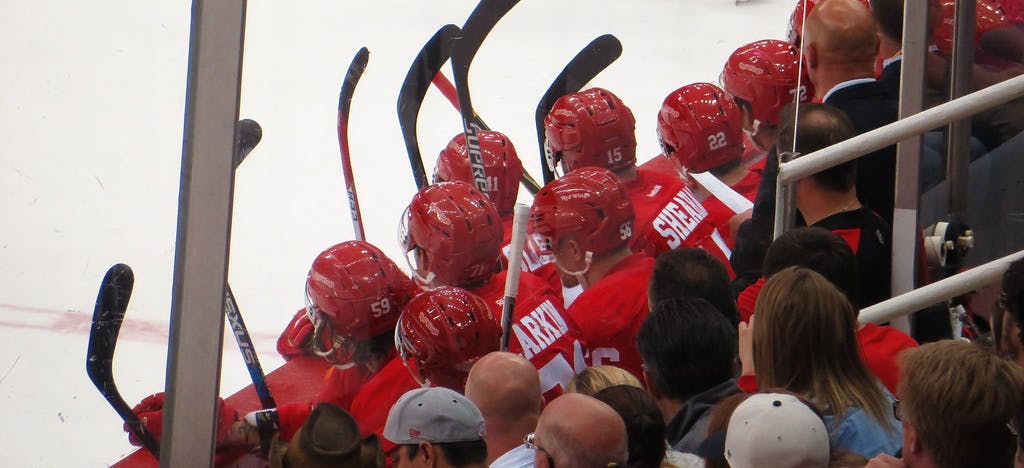 The Detroit Red Wings (14-43-4) has been the worst team in the NHL, especially on the road, where they've gone 5-25-2. 
Red Wings are poor during power play opportunities and penalty kill situations and their point differential has been embarrassing.
Fading Detroit on the road has been profitable and don't expect their woes to subside anytime soon. Utilize full game, puckline, and regulation bet strategies against them.
Inside The Numbers
The Detroit Red Wings have been, unquestionably, the worst team in the entire NHL this season. They have an overall record of 14-43-4 on the year. Detroit has struggled to win games at home, but they have been significantly worse on the road. The Red Wings are 9-18-2 at home, which is the worst home record of any team in the NHL. On the road, Detroit is an astounding 5-25-2. Their five road wins represent the lowest total of any team in the NHL, with Ottawa just ahead of them with 6 road wins. Their 25 regulation road losses are by far the most in the league, with the Los Angeles Kings having 21 such defeats. 
Detroit's goal differential on the road is a whopping -65. They have scored just 61 road goals, which is the lowest mark of any team in the NHL. The Red Wings have allowed 126 goals away from home, which is the highest amount of goals allowed on the road by any team. Detroit has the league's worst power play unit on the road, scoring goals on just 10.3% of their opportunities. They also struggle in the penalty killing department. The Red Wings kill 75.3% of their opponents' power play opportunities when away from Detroit, ranking 27th in road penalty kill percentage. When all of this is considered, it should come as no surprise that Detroit ranks last in the NHL in road points (17). It has been a rough year for Detroit hockey fans, especially when their team goes on the road. 
What To Expect Moving Forward
We have the data on how bad the Red Wings are away from Little Caesars Arena, but how can we use it to our advantage? There are a few different angles we can take here. For someone who just wants to bet on games straight-up, nothing has been more profitable than fading the Red Wings away from home. Blindly betting on whoever gets to host Detroit would put you up about 16 units this season. The oddsmakers are having a difficult time making lines big enough to turn Detroit into an attractive road bet because they just keep losing. This is something that should continue. If you have the stomach to lay -240 and -250 to win a bet, go for it. 
A lot of bettors don't want to do that because they feel like the risk/reward ratio is imbalanced. If you don't like laying big numbers like that, there are other ways to take advantage of the Red Wings' situation. You certainly have the option of betting against the Red Wings on the puckline. The price of betting on the Red Wings' hosts comes down significantly, because you'd be giving 1.5 goals. Even when the Red Wings are getting +1.5 goals, they still have trouble keeping it close. As mentioned earlier, their road goal differential is terrible. Their average goal margin in road games is -2.16 goals per game. They have been getting blown out so much, that a -1.5 goal puckline hasn't been enough to level the field. 
You also have the option of betting against the Red Wings in regulation. The more common format is to bet on a full game, which includes overtime and potential shootouts. When betting on favorites in regulation, the lines are smaller because overtime is no longer a component of the bet. There are only two instances of Detroit pushing a regulation bet and losing in overtime. Because of this, there is an added layer of value in betting against Detroit in regulation (instead of full game). However you feel comfortable doing it, bettors should continue to ride this wave. Keep fading Detroit on the road until they prove they can start winning.