NHL
One Veteran Sabres Goaltender Is Unexpectedly Turning Heads
Heading into Saturday, he's 5-0 in the crease for Buffalo
By Dave Vest - Oct 19, 2019, 4:45pm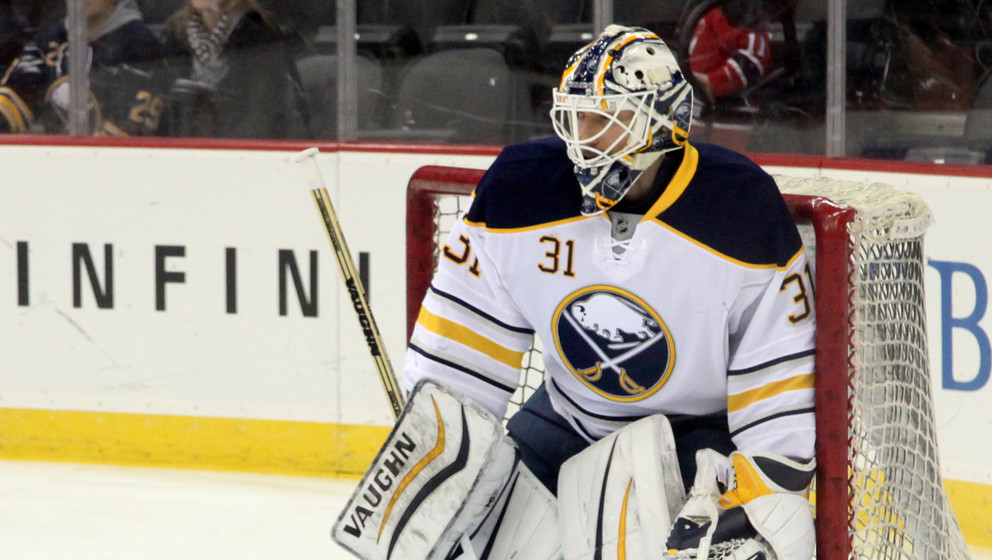 Buffalo Sabres goaltender Carter Hutton is off to a hot start, as he is 5-0 with an NHL-leading 1.39 GAA.
On Thursday, he completed his second-straight shutout against the Los Angeles Kings.
Buffalo takes on the San Jose Sharks on Saturday. He's 5-2-1 with a 1.74 goals-against average and a .945 save percentage in eight career games vs. the Sharks.
While his start is impressive, beware: he started last season 12-6-1 before the Sabres imploded and he finished the season 6-19-4 from that point on. What happens this year remains to be seen.
Carter Hutton is turning heads with stellar goaltending for the Buffalo Sabres, who entered the weekend sitting atop the NHL standings with 13 points (6-1-1).
Hutton has won all five of his starts and leads the League with a 1.39 goals-against average and a .953 save percentage. On Thursday night, he stopped all 47 shots launched by the Los Angeles Kings to notch his second straight shutout and extend his scoreless streak to 128 minutes, 36 seconds. That's 2:15 shy of his NHL career-high shutout streak (130:51), which he set in 2016-17, while playing for the St. Louis Blues. He has not allowed a goal since Ben Chiarot scored for Montreal at 12:54 of the third period on Oct. 9.
"There's going to be nights where you can't find the back of the net, it's going to be tough and it's going to be a battle," Hutton recently told reporters during a post-game media scrum. "But if you can consistently defend hard and keep pucks out of your net, you're going to have a good chance (to win) every night."
If you're serious about building winning DFS lineups, use RotoQL's powerful NHL optimizer to lock in your favorite plays and use a data-filled algorithm!
Hutton, 33, is an undrafted journeyman playing for his fourth NHL team. He appears to have found a nice fit competing for new Sabres Head Coach Ralph Krueger, who has installed a fresh defensive-zone structure with an emphasis on applying pressure. 
Hutton signed with the Sabres as a free agent last summer and posted an 18-25-5 record over a career-high 50 games in his first season with the team. Clearly, his performance was nothing worth noting in another unforgettable season for Buffalo, which hasn't reached the Stanley Cup Playoffs since 2011. But now, two weeks into this season, Hutton and the Sabres are thriving.  
"I think the main thing is he's just so calm all the time," Sabres center Casey Mittelstadt told reporters about Hutton. "No matter what's going on, the game can be chaos, and you look back and he's always calm and relaxed."
Love playing DFS and want to give NHL betting a shot? Find out what teams are being bet on and where the money's going for this slate!
In addition to his demeanor, Hutton's teammates and Krueger love the way he handles the puck and helps the Sabres move it out of their zone. Meanwhile, Hutton is pointing to his teammates for his successful start, especially the defensemen.
Krueger says Hutton, who is seemingly cementing himself as Buffalo's unquestioned starter – Linus Ullmark has played two games this season – is a respected leader. 
"He's a very, very big voice in the room," Krueger told reporters.   
We shall see if Hutton can continue to play this well over a grueling, six-month regular season. Don't forget, he also started the season well a year ago; he was 12-6-1 with a 2.50 goals-against average and a .920 save percentage after two months before he and the Sabres imploded.
Buffalo next plays on Saturday at San Jose. He's 5-2-1 with a 1.74 goals-against average and a .945 save percentage in eight career games vs. the Sharks. Plus, he's notched two of his 13 NHL shutouts at SAP Center. 
The Sabres are +140 underdogs against the Sharks in that matchup. Check out all the betting information you need to know about the game!