NHL
Connor McDavid And Other Opening Night NHL DFS Picks
An elite, mid-range and value DraftKings target for each position
By Tommy Snodgrass - Oct 1, 2019, 1:23pm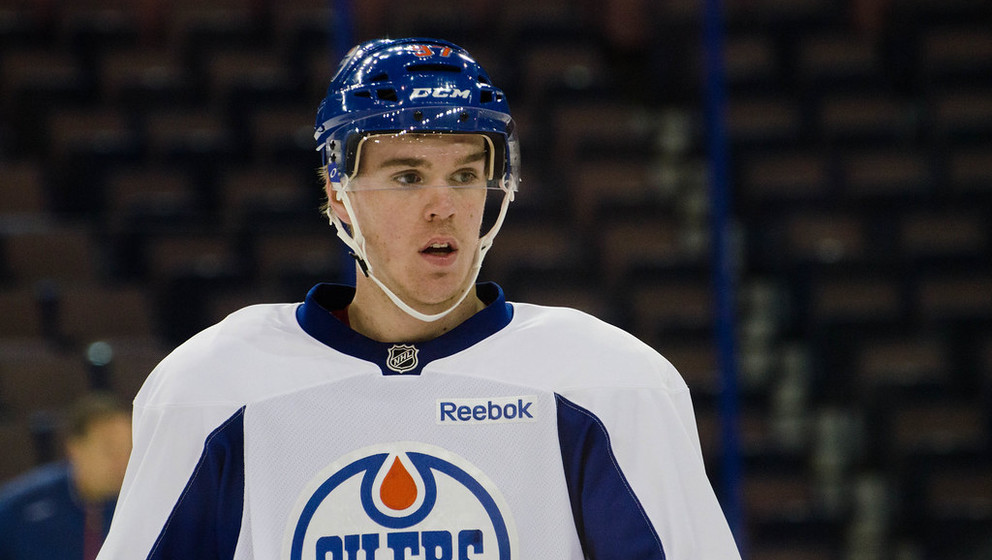 Starting at center-ice at the Scotiabank Arena in Toronto, the puck drops on the 2019-20 NHL season as the Maple Leafs host the Ottawa Senators at 7:05 PM, the first contest of an Opening Night four-game slate. The Washington Capitals will witness the defending-Stanley Cup champion St. Louis Blues drop their Cup-winning banner from the rafters of the Enterprise Center in St. Louis, and two Pacific Division matchups, Edmonton Oilers vs. Vancouver Canucks and Vegas Golden Knights vs. San Jose Sharks will skirmish out west.
A new NHL season brings a new daily fantasy season with it. By the way, be sure to look at DraftKings' updated scoring system for NHL DFS. It includes bonuses for shots, hat tricks, blocked shots, and 3+ point games for skaters and shutouts, overtime losses, and 35+ saves for goalies.
If you're serious about winning, use RotoQL's powerful NHL optimizer to lock in your favorite plays and use a data-filled algorithm to complete your lineups!
The Games
Let's explore some Opening Night DFS Hockey picks.
Centers
Elite: Connor McDavid, Edmonton Oilers ($8,100)
It's Connor McDavid. If he's on the ice, he's always worth a look. McDavid has collected three consecutive 100-point seasons and finished last year with 1.49 points per game. The top-line center in Edmonton, or the whole NHL for the matter, is always a good source for goals, assists, and shots. 
Mid-Range: Elias Pettersson, Vancouver Canucks ($6,300)
Last season's Calder Trophy winner showed a prowess for putting the puck in the net, posting a shooting percentage of 19.4 percent. Playing on a top power play unit, consisting of J.T. Miller, Brock Boeser, Alexander Edler, and Josh Leivo, Pettersson picked up 4 points on the power play in a preseason matchup against Ottawa on September 23rd. Facing Mike Smith, who posted a sub-.900 save percentage last season shouldn't hurt either.
Value: Paul Stastny, Vegas Golden Knights ($5,000)
Stastny appeared in just 50 games last season, and quietly produced 42 points. Stastny will look to produce a near point per game clip again, centering the second line in Vegas while being flanked by snipers Max Pacioretty and Mark Stone. The faceoff artist will be centering the top power play unit as well.
Love playing DFS and want to give NHL betting a shot? Find out what teams are being bet on and where the money's going for this slate!
Wingers
Elite: Alex Ovechkin, Washington Capitals ($8,000)
Ovechkin is one of the greatest goal scorers of all time. Don't be afraid to build your team around him. He scored 51 goals last year, his eighth season with 50 or more. Always a good source for shots and could threaten to collect some of the new NHL DFS bonuses on DraftKings. 
Mid-Range: Max Pacioretty, Vegas Golden Knights ($5,600)
Pacioretty will pepper goalies with his shot totals. With five 30-goal seasons on his resume, he will look to rebound after two-straight injury-shortened seasons. Pacioretty has scored four goals in the preseason and will look to continue his scoring barrage in the Opening Night matchup against San Jose goalie Martin Jones, who is coming off a career worst 2.94 goals against average and .896 save percentage from last season.
Value: Kasperi Kapanen, Toronto Maple Leafs ($4,300)
Kapanen appears to be a great value, considering his price and the fact that he his playing on the Leafs' second line, alongside John Tavares and Mitch Marner. The Leafs' will get to face a 38-year-old goalie, Craig Anderson of the Senators, one year removed from posting a cringeworthy 3.51 goals against average. The Leafs' are expected to produce lofty goal totals against Ottawa, Kapanen could benefit heavily in this star-studded offense.
Get your first DraftKings Sportsbook deposit matched up to $200!
Defensemen
Elite: Brent Burns, San Jose Sharks ($7,000)
Burns will put up point totals like Nicklas Backstrom. Now imagine if Backstrom would block 100 plus shots, too. Burns is incredibly valuable. He is a good source of multiple statistics and will be quarterbacking the top power play unit alongside Tomas Hertl, Logan Couture, Timo Meier and Erik Karlsson.
Mid-Range: Alexander Edler, Vancouver Canucks ($5,100)
Edler is a shot-blocking juggernaut. It may also be the main reason why he has only one season in which he has played all 82 games, but were only worried about Opening Night. Edler is in the top defensive pairing alongside Tyler Myers and quarterbacking the top power play unit. He should see around 25 minutes of ice time in what could be an explosive offense against an Edmonton squad with question marks in the crease.
Value: Ethan Bear, Edmonton Oilers ($2,600)
Bear is projected to skate with the second blueline pairing alongside Oscar Klefbom. Bear will also be featured in Edmonton's second power play unit. He scored two goals in the third period against the Jets in Thursday's preseason contest and will occasionally share the ice with offensive studs McDavid and Leon Draisaitl. He may not be a big name, but for $2600, could be a high-upside value for Opening Night. 
View all Opening Night NHL odds and betting information!
Goaltenders
Elite: Frederik Andersen, Toronto Maple Leafs ($8,400)
Coming off a 39-win season, Andersen will get an Opening Night opportunity in net against a Senators team that has a lot of questions regarding where their offense will be coming from. Picking a goalie that had ten more wins than Ottawa had as a team last year (29) seems like as safe a pick one can make. Possibly a shutout bonus here.
Mid-Range: Braden Holtby, Washington Capitals ($7,700)
Holtby has been shaky over the last two seasons. His goals against averages have been closer to 3.00 than 2.00, but what better way to regain the confidence of your coaching staff than having a solid Opening Night against the defending Stanley Cup champions? Holtby, entering a contract season, still has a stranglehold on the No. 1 goaltending gig in Washington, and still has the ability to produce elite-level production. 
Value: Craig Anderson, Ottawa Senators ($6,800)
It can be hard picking a 38-year-old goalie that posted a 3.51 goals against average last season facing the Toronto Maple Leafs on the road on Opening Night, but in a four-game slate, options are limited. One reason to pick Anderson is the fact that he will probably garner very little ownership, which could be a nice boost for DFS players who take a chance on him. Anderson just stopped 44-of-46 shots against the Canucks in Vancouver on Wednesday. Maybe he carries that momentum into Opening Night.
Check back here all season for daily NHL plays to consider!