NHL
Stanley Cup Sleeper: New Jersey Devils
The Devils have made some stellar offseason moves
By Dan Karpuc - Jul 21, 2019, 4:12am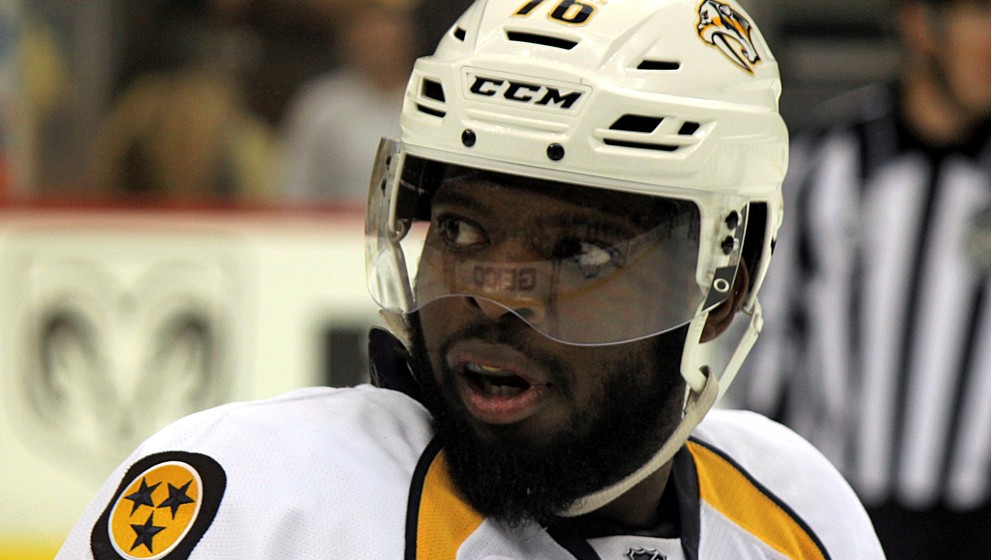 According to Vegas Insider, the New Jersey Devils have 30/1 odds to win the 2020 Stanley Cup. Lumped into a middling group including the New York Islanders, Carolina Hurricanes, New York Rangers and Arizona Coyotes, the Devils made some important offseason additions and should improve on last season's disappointing campaign. In 2018-2019, they went 31-41-10 (72 points) and missed the playoffs for the sixth time in seven years, but there is growing optimism around the future in New Jersey. 
Three Major Additions
The Devils selected center Jack Hughes with the No. 1 pick of the 2019 NHL Draft. He turned heads playing for the Under-18 USA Hockey National Team last season. Get this — in 50 games, he had 112 points (34 goals, 78 assists). The 18-year-old prodigy should immediately be given an opportunity to produce, most likely on the second or third line. 
They also made a major trade, landing defenseman P.K. Subban from the Nashville Predators in exchange for Steven Santini, Jeremy Davies and two draft picks. Last season, Subban had 31 points (nine goals, 22 assists) in 63 regular-season contests and also scored a goal and dished out two assists in six playoff games for Nashville. The 2013 Norris Trophy winner was also a finalist for the award in 2018 and is widely regarded as one of the top defensemen in the league. He should immediately slot in on the top line and should also make an impact in power play situations.
"I'm coming to win, I'm not coming for participation," Subban told reporters after the trade was made. "I want a Stanley Cup. Adding a player like Jack Hughes, a lot of teams in the NHL would dream of that talent. That's what excites me the most, is the amount of young talent in New Jersey. … My job, a guy with experience, is to come in and complement those players and help build a championship team."  
New Jersey also added forward Wayne Simmonds in free agency. Simmonds had 30 points (17 goals, 13 assists) in 79 regular-season games with Nashville and the Philadelphia Flyers in 2018-2019. He's been a steady source of goals since breaking into the league in 2011 and should earn his way onto one of the top two lines to start the year. 
Santini and Kurtis Gabriel are the only two noticeable departures from last season's team and both played minimal roles.
Addressing Problem Areas
New Jersey's 84.3 percent penalty kill rate ranked 4th in the NHL, but they ranked 21st with a 17.7 percent power play scoring rate. Subban's presence should make an immediate impact on the latter, as he's recognized as one of the top offensive power play defensemen in the NHL. 
The Devils ranked 23rd in faceoff win percentage (49.3) and 23rd in shots per game (30.3). Hughes and projected first-line center (and fellow former first-overall pick) Nico Hischier will be given the opportunity to improve the faceoff mark, while 2018 Hart Trophy (MVP) winner Taylor Hall, Kyle Palmieri, Jesper Bratt and Simmonds should create a more aggressive attack. Hall was limited to just 33 games due to injury last season and he was wildly impressive in them, posting 37 points (11 goals, 26 assists). Without him, last year's club clearly struggled on the offensive end of the ice. Palmieri led the team with 50 points and in goal-scoring (27) while Hischier came in second with 47 points (17 goals, 30 assists) and projected third-line center Travis Zajac added 46 points (19 goals, 27 assists). 
New Jersey lost 24 games when they trailed after the first period (3rd-most in NHL) and surrendered the third-most first period goals (87). Therefore, Subban's presence once again should amount to an improvement in this regard, while goalkeeper Cory Schneider must have a bounce-back campaign. 
In Conclusion
Devils general manager Ray Shero has been aggressive this offseason and there's still plenty of time to make another move. Their upside clearly depends on how Hall recovers from his knee injury. The 30/1 odds might reflect the uncertainty behind his recovery as well as the fact that he's entering the final year of his current contract.
However, coach John Hynes attempted to deflect the notion that his star could be playing elsewhere after the upcoming season.
"Taylor is invested here," Hynes recently said, per Abbey Mastracco of NorthJersey.com. "The situation with a contract thing is a contract thing. But when you look at the player-coach relationship, he wants to play. The way I look at it as a coach is he's all in. If he's going to be on this team this year then he's all in to play. If it winds up where his contract isn't done, it's not going to affect who is and what he believes in as a person."
Hall singlehandedly led the Devils to the playoffs in his MVP breakout campaign two seasons ago. There's no reason that, with a better supporting cast around him, he can't do it again this year if he makes a full recovery. 
And, as seen in this last Stanley Cup Playoff run, anything can happen. Just ask the St. Louis Blues.