New Jersey Devils
vs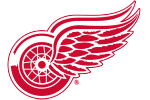 Detroit Red Wings Prediction
In the upcoming game between the New Jersey Devils and the Detroit Red Wings, the Devils are entering as solid favorites with a 55.5 percent chance of winning, according to BetQL's analysis. AccuScore simulations have favored the Devils due to their expected edge in shots on goal, projecting them for 31 shots compared to 28 for the Red Wings. However, it's worth noting that the Red Wings' goalies hold a slight advantage in save percentage, standing at 89% compared to the Devils' forecasted save percentage of 88.9%. These statistics suggest that the game could be tightly contested and filled with exciting back-and-forth action.

One player to keep an eye on in this matchup is the Devils' Jack Hughes, who has been putting up impressive numbers recently. With an average of 4.1 shots per game, Hughes has been displaying his sharpshooting skills and creating scoring opportunities for his team. Additionally, he has a goal-scoring rate of 0.55, making him a constant threat in front of the net. On the other side, the Red Wings' Alex DeBrincat has been a reliable offensive contributor as well, averaging 3.2 shots per game and possessing a goal-scoring rate of 0.45. Both players have a high chance of making an impact on this game and could be key factors in determining the outcome.

To get an even deeper understanding of this upcoming game and how BetQL's model predicts it will play out, make sure to subscribe to BetQL today! Our model takes into account various factors such as team and player statistics, historical performance, and current form, providing you with valuable insights that can help inform your betting decisions. Don't miss out on this opportunity to enhance your wagering strategies and gain an edge over the competition. Subscribe to BetQL now for all the latest predictions and analysis!