NFL
Will Carroll's 2019 NFL Injury Report: Preseason
The NFL injury expert breaks down a number of notable players returning from recent injuries
By Will Carroll - Aug 23, 2019, 7:20am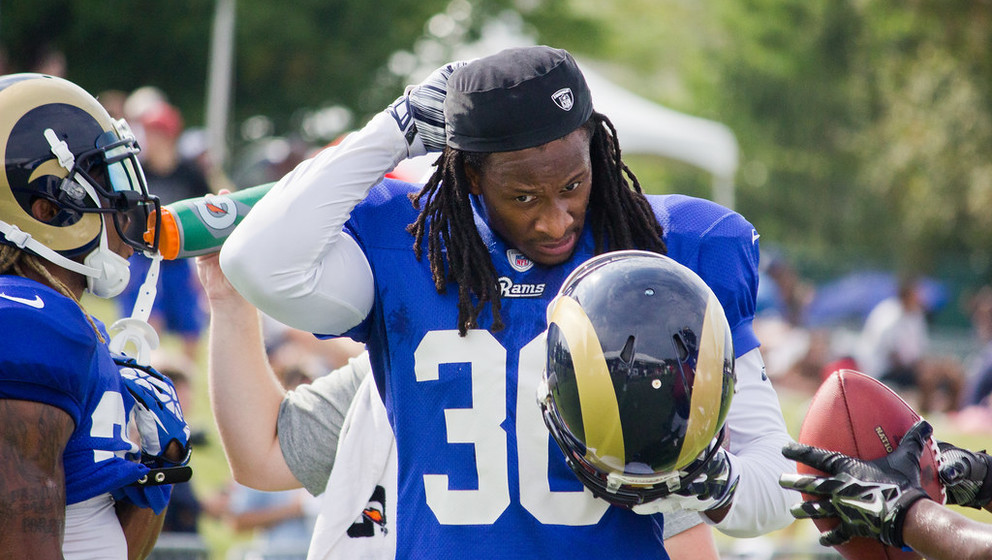 There are not many advantages left in gambling.  
Information is everywhere with ubiquitous internet. There's no time gap or "had to call my bookie early to get it in" during the iPhone era. Winning now means smart strategy and execution, not being ahead of the curve as it used to be. But that's not to say small advantages don't still exist. Injuries and being able to integrate them into your information remains outside of the toolbox of far too many.
Not you.
Let me give you an example. 
Emanuel Sanders played in Week 2 of the preseason and people lost their minds. If you've forgotten, Sanders is coming off an Achilles tear and he admittedly looked good. However, he's eight months post-reconstruction and in today's sports medicine, an Achilles reconstruction is an injury that should take between six and nine months to come back from. Sanders looked good, mind you, but he's not months ahead of schedule, unless you just don't know the schedule has changed.
Sanders and many other players are the happy recipients of this change, one made in both the technique of sewing a damaged Achilles back together and in the rehab process that allows the player to return after this surgery. You don't need to know the why (or the who - Dr. Neal ElAttrache, who pioneered the modification), but not being able to have the general rule of six months means you're not assessing Sanders properly in the now which will lead to an information advantage for someone.
But let's say that Sanders was ahead of schedule. (Again, he's not.) Looking healthy ahead of schedule could be meaningful. Perhaps there's a new technique out there allowing people to come back even quicker. Perhaps he just had everything go right and is genetically gifted. Players at the head end of rehab timelines are more risky, even when they're demonstrating skills that show they're whole. 
Sanders' healed Achilles allows him to make burst moves, forward and lateral, but you can also see that he's not fully back. His affected leg's calf is still slightly smaller than his non-affected leg, which shows that there's still room for gains. You tell me whether that's a positive or negative for Sanders' value.
Players returning from injury are a unique source of information opportunity so, aside from Emanuel Sanders, let's go through some of the most impactful and misunderstood players ahead of the 2019 NFL Season.
Todd Gurley (RB, Rams)
No player is going to be harder to value this season than Todd Gurley. A healthy Gurley would be an easy top 3 running back and one of few "bell cow" backs left in the modern game, putting him on par with Saquon Barkley and … well, pretty much just Saquon Barkley. But Gurley isn't "healthy" or more accurately, his arthritic knee is going to be a maintenance situation for the Rams medical staff. 
Let's start there. 
The Rams staff is led by the aforementioned Dr. ElAttrache, one of the top orthopedists in the world, so Gurley gets an immediate advantage. What that staff will need to do is figure out what Gurley can do that doesn't aggravate the knee, or at least minimize that aggravation. The staff couldn't do that in the midst of the season and from outside, we don't really know why. Rest at the end of the season didn't help and the week-to-week drama of "will he play or won't he" seems oversized because of the playoffs and the strategic uncertainty advantage that Sean McVay surely wanted. 
Gurley's knee is something of an unknown, but there's been plenty of positive discussion. There's no reason to think that the Rams won't be able to find a way to keep him productive, but that will likely include a reduction in workload and definitely includes a risk that he'll need a week off from time to time. I think most would overstate the value of both of these, though Gurley remains difficult to fairly value. 
What we saw from the Rams last year shows that he is replaceable within the offense. I'm expecting Gurley to take at least half of the run touches this season, which puts him higher than I've seen in most rankings. For me, I'm keeping the Rams win total (10.5 on DraftKings) on the over and focusing on the fact that this is going to be a high-scoring offense again. In terms of player value, I'd compare him strongly to David Johnson, who has a solid opportunity, but hasn't been able to stay healthy enough to really capitalize. 
Derrius Guice (RB, Washington)
Don't forget Derrius Guice. It's been a year since we saw him and two since he was one of the most dominant backs in college, and three since he paired up with Leonard Fournette, who is his downside comp. 
Guice will be held back early by Adrian Peterson, but Peterson is another year older and looked washed before showing up in D.C. Does that say more about how Jay Gruden's offense functions (and their quarterback injuries) or about Peterson? He won't need to do too much too soon, but he'll have every opportunity to show he's the better back now, making the Washington squad a better team than many expect this season. Win total alert!
Via DraftKings, Washington's win total sits at just six games.
Guice is coming off ACL surgery, which is still a serious injury. However, it's also very predictable, which is what we're looking for. Players come back between nine and 12 months after surgery and are at "full speed" somewhere between 12 and 18 months. That gap is the real rehab advantage and remains the major unknown. 
Guice has looked confident in his cuts, both in training camp and in limited preseason action. Expect Guice to be at or near 100 percent early in the season and to take the primary role by mid-season at the latest. There's no reason to believe that he won't be durable or that his ACL injury will cost him any more than it cost Peterson when he had a more significant ACL sprain of his own.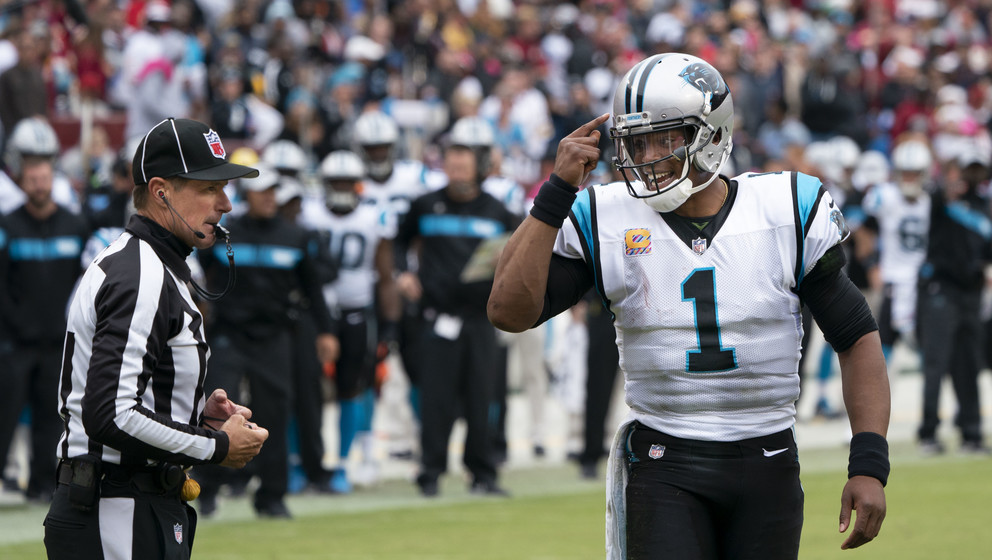 Cam Newton (QB, Panthers)
Cam Newton is coming back for a second consecutive offseason of shoulder rehab. 
This time, Newton had a more involved surgery to repair significant damage inside his throwing shoulder. The damage and repair is very similar to what Andrew Luck went through a couple seasons ago (and I'll have more on Luck's current situation next week), but Newton took a different path. 
However, Newton should have similar results. He showed that he could adjust to a slightly weakened arm, that he could run a bit less or at least more selectively and maintain his health by taking less hits, and that he could be an effective quarterback as his skill set changes. This is "McNabbification", something we'll see as more running QBs like Newton, Russell Wilson, and Baker Mayfield have longer careers in the NFL (we hope). 
Want an interesting tidbit on Newton? Newton's focused this offseason on cardio, going as far as being a featured rider by Peloton. It's unknown if Newton is looking for a specific outcome here or whether he just enjoys a good spin class. 
Jimmy Garoppolo (QB, 49ers)
While Emanuel Sanders was looking good coming off surgery, Jimmy Garoppolo was looking … well, not good. Garoppolo missed the bulk of 2018 after an ACL sprain and the reconstruction process but did that have anything to do with his 0.0 QBR on Monday night? Probably not. As I stated earlier, ACL reconstruction is as predictable a surgery and rehab as we have in sports right now. Garoppolo is at the 10 month mark, firmly in the middle of the return expectation. 
Is he 100 percent? Probably not, but his knee is clearly functional. Garoppolo can drop back, move laterally, and plant. If he couldn't, the Niners wouldn't have him out there at all.
That means that Garoppolo's performance was either just a bad night or the result of "rust." If we were seeing less motion or bad bases for his throws, I'd be much more concerned. At this point, I'm rating Garoppolo based on his potential, but remember that does include some injury  risk. In his two playing seasons, Garoppolo hasn't been able to stay healthy. That could be luck in small sample or he may just not be able to handle the demands of the position. 
In terms of win totals (7.5 on DraftKings), there's a lot of talent around Garoppolo, but at some point, value moves from potential to performance and I'm not as high on the Niners as most.
Carson Wentz (QB, Eagles)
With "injury prone", a term I don't like, I think that having multiple injuries at different areas is very notable. Wentz is coming off an injured spine from the end of last year. From the previous year, he returned from an ACL reconstruction. I don't see how these are related in any way, but your mileage may vary. 
For Wentz this season, there's no reason to believe that the stress reaction in his lumbar spine will recur, absent a recurrence of the circumstances that led to it in the first place, that being a big hit in his lower back.
This is all fixed by a better flak jacket, which exist but are inexplicably little used in the NFL. 
Jackets made of kevlar or impact foam have been around for a decade, but only used after trauma. If I were a QB (or an owner!), I'd probably look like Iron Man out there if possible. Wentz should get a good flak jacket and hope that his line can stay a little healthier this year. If you want to get advanced, Wentz's "injury prone"-ness only comes out late in the season. There's ways to play that smartly. 
Tyler Eifert (TE, Bengals)
Gruesome injuries often have a psychological effect, both for the player that suffered it and for the thought process we have surrounding him.
Eifert has had a pair of those "look away" injuries in the last couple seasons, but the concern for Eifert's ankle is complex. We likely won't get a good look at him in the preseason, but practice reports (and video, please) should be enough to get what we need. 
Eifert's ankle injury involved both bone (fractured) and ligament (sprained, actually ruptured.) It's the latter part that is the most worrisome. Bones heal, but ligaments need to be reconstructed, not repaired. Ankle ligaments are more complex than most, so there's often a loss of mobility, stability, or both.
What we're looking for from Eifert isn't speed, but burst. Is he able to accelerate off the line, separate from coverage, and, here's one you probably haven't thought of, block. If he can't go backwards, he can't be on the field for all downs, which will limit his chances and deception. Look for all of those, though early reports are positive. Ignore anything about Eifert's speed or moving slowly; that's a skill, but not one that Eifert relied on. If he's on the field, he's fast enough for the coaching staff. 
The Bengals are listed at +1800 to win the AFC North Division (DraftKings). 
Eifert has come back from injury before, so he knows how to rehab and maintain the rest of his skills. I'm relatively confident Eifert will come back to being a solid TE, though I'm less confident in his supporting cast. 
Delanie Walker (TE, Titans)
Did you know that the Titans' new offensive coordinator Arthur Smith is the son of the founder of FedEx? Well, Delanie Walker is absolutely, positively going to be back from his ankle injury and firmly in the sights of Marcus Mariota early this season. 
It also helps to know that Smith was the tight ends coach before he was the offensive coordinator, so it shouldn't surprise if Smith's offense gets even more tight end focused than it was under previous OC Matt LaFleur, now onto the head job in Green Bay. 
Walker's ankle injury, a brutal dislocation with fracture and sprains to boot, came in his age-35 season, so he's not young, but age has very little to do with injury returns. Everyone in the NFL is an excellent athlete with a high work ethic; this isn't Bob in Accounting who's fifty pounds overweight and plays squash once a month. The worry after any complex injury is if the puzzle was put back together and that the mobility and stability is there. 
Any deficit for Walker is papered over by the lack of challenge at the position and Walker's size, which he can use to remain valid in the red zone. Walker scored in the preseason game against New England, showing he's likely an early focus. Look for Walker's opportunities to be tied to Mariota's success in this new offense.
Allen Hurns (WR, Dolphins)
Three straight gruesome ankle injuries? Yes, but Hurns might have been the worst of them to see and for him and the Dolphins, timing is everything. 
Hurns suffered that ugly injury in the Wild Card round of the playoffs. That's about five months after Walker's injury, or about five months less healing for a very similar injury. Like the previous two players, Hurns should be able to return from this, but he's at a different point in his rehab and he already has a deep WR corps to deal with in order to win a job. 
He's going to have to show that he's not only healed, but that he's better than players like Kenny Stills and the oft-injured trio of Jakeem Grant, DeVante Parker, and Albert Wilson. Miami's new-look offense may just be shotgunning enough live bodies into the system in hopes that they'll have three or four reasonably healthy options for whoever ends up the QB. If this sounds negative, it is. There's nothing I hate more than uncertainty and Miami is one big bundle of it right now. 
Hurns will need to show speed and cutting ability, plus that he has room to improve on those in just a few weeks. The upside here is that he does that and becomes a good second or third option in the offense unexpectedly. That possibility exists, which means the Dolphins offense could be significantly better than expected, but it's all going to have to come together quickly.
I'll be back next week with a look at the riskiest players coming into the season, then will be here each week to help give you the information advantage that still exists in the injury world. If you'd like to ask any questions, follow @injuryexpert on Twitter. 
Note: The advice above represents the writer's personal view and does not reflect or represent BetQL's stance or interest in any way.