NFL
Will Carroll's Injury Report: Week 9
The NFL injury expert breaks down notable situations in advance of Week 9 action
By Will Carroll - Oct 31, 2019, 2:38pm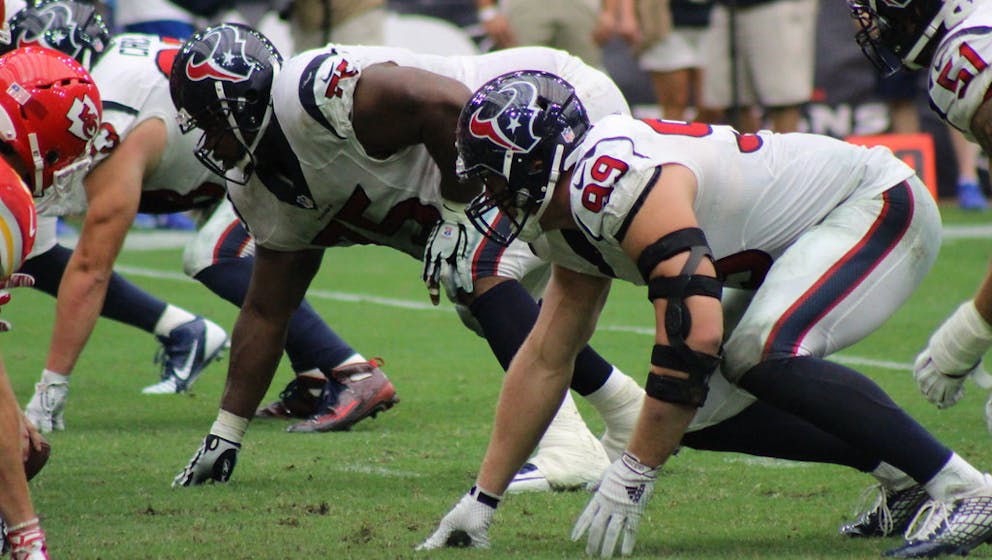 We're at the halfway mark of the NFL season and one of the biggest stories around the NFL is the play of the Patriots. Add in some underlying drama about whether Tom Brady would play somewhere else and I get a question constantly on the radio: how long can Tom Brady play? There's a simple answer to this and it's "however long he wants to." 
Age is more than a number and Brady's aches and pains are likely more than they were a decade ago. Is that enough to keep him out? Not at all, especially considering how little Brady is hit. The thing that hurts players in the NFL is simple: contact, cuts, and effort. The more a player - any player - does any of those things, the more likely that player is to get injured. Big hits cost more than little hits, but not always. Overextending or running too hard often lead to injuries or at least fatigue, which can lead to something later on. 
Knowing these three keys, think back to Tom Brady again. Heck, look at the film and count up how many times he's hit, makes a hard cut, or makes an exceptional effort. It's not many, which is a testament to the offensive game plan and his offensive line. Contrast that to a player like JJ Watt or Patrick Mahomes - more on them in a second - and you'll understand why age has very little to do with the kind of risk Brady faces, this year or five years from now. 
It has nothing to do with avocados or oddly constructed workouts. Brady simply doesn't get hit much and if he moves on, he'll have to think whether or not he'll have the same protections in place, though it's hard to think the offense wouldn't be adjusted immediately around him, the same way it was for Manning. 
That's next year, maybe. There's plenty of injuries around the League this week so let's get to it:
JJ Watt (Edge, HOU)
JJ Watt tore his pectoral muscle — actually, the tendon — and is done for the season. This is an all-too-common injury for linemen on both sides of the ball over the last few years. The forces have increased as speed and size have increased, making that arm-out position a dangerous one for the thin connection of the muscle/tendon in the shoulder. The mechanism is simple, the surgery is simple, but the rehab is anything but. 
Most think of the pectoral as the 'chest muscle' which is correct, but there tears happen in the smallest, weakest part, up near the connection in the shoulder. Watt will have to wait for the muscle to heal around the sutures, then build up the strength again. There's no reason to think he can't come back from this, but with age and a significant injury history, there's lots of worry that he'll see a drop-off. 
Watt's history and family history (at least his brother) is intriguing as well. There's certainly some indication that as athletic and talented as the Watts are, they also might have weaker than expected tissue. There's a lot of ligament and tendon injuries in their history, which could factor into how they heal up as well. It's an unknown, but worth considering, especially for a Texans team that's now down two pass rushers on the year and has no GM or active owner. 
Start optimizing your Week 9 NFL lineups, finding value players and keeping up with injuries in seconds on RotoQL!
Patrick Mahomes (QB, KC)
Patrick Mahomes is targeting Week 10 for his return, but let's look at what we've learned since last week's fun with lax ligaments discussion: nothing. Mahomes is back at practice this week, but as of Thursday, he's not doing any of the things that tax his knee. Granted, most of these things are the kind of instinctive, can't-be-practiced athletic moves that Mahomes does and can't be drilled.
What we have here is some wishcasting by some - the return of the top QB in the game along with a story about how he's a physical freak - and a lack of evidence to balance any of the wishcasting against. Mahomes could come back, as his "if it was the playoffs" comment says, but the risk/reward equation is completely different then. It isn't the playoffs, so Mahomes isn't coming back just yet.
That's not to say Week 10 is locked in stone either. As I said, they've barely tested him and they have a Week 12 bye. Are the Titans and Chargers - or even two wins - worth any sort of risk for Mahomes? That's for the team and Mahomes to answer, but I think what's likely informing all of this is what's been unsaid. I'm believing more and more that Mahomes will have surgery to correct his knee after the season and knows that he "can't do more damage." (He can, plus pain, but nothing that couldn't be corrected during the already planned surgery.) If true, that would balance things. I think between that and Matt Moore's play this week will make the decision for next week.
(One more thing? I think the return of Eric Fisher and Mahomes are more connected than most are considering.) 
David Johnson (RB, ARZ)
Chase Edmonds (RB, ARZ)
The Cardinals traded for Kenyan Drake because they were all the way to "Z" on their running backs. Only Zach Zenner was available after Chase Edmonds strained his hamstring, so the deal for Drake is about depth, not about replacing David Johnson - or even Edmonds. 
As for the injuries, Edmonds has a garden variety hamstring strain, probably a low Grade II that will cost him a couple more weeks. Johnson's a tougher read with his ankle sprain, especially in the short week. He'll be a game time decision with a lean away from playing. Drake then becomes the best option against a very tough defense. The worry here is that Kliiff Kingsbury's offense is pretty complex, especially the pass protections for such a mobile quarterback. There's going to be some loss there, as well as in talent level, so I'm taking points out of the model for the Cardinals on this.
The good news is that both Johnson and Edmonds shouldn't be out more than standard for either of these injuries. Kingsbury has thus far resisted letting Murray do too much with his arm or legs so far, so I doubt he'll over-expose his young and talented quarterback this week in a Thursday game with no expectations.
Find out which team BetQL's Model favors in this matchup and view all of our Week 9 NFL Best Bets!
Christian McCaffrey (RB, CAR)

While the QB situation remains fluid in Carolina, the running back situation is locked down. Christian McCaffrey is one of the most dynamic players in the league, but a report of knee problems this week points to his one possible weakness. McCaffrey's workload and athletic demands, much like Mahomes, make him a real risk to major injury. 
It's not that he's more likely to be injured, it's that he has more exposure. There's also a "mileage" effect where the seasonal and career level workload might wear him down, but there's also a survivor effect that seems to counteract that in special talents. Instead, McCaffrey faces about the equivalent of rolling a specific combination of dice each time he's out. It's not likely in one toss, but it's not a zero risk of coming up snake eyes either. 
Signs of minor inflammation aren't bad and McCaffrey is going to be used normally this week, but it's an indication that he is human. The Panthers medical staff will likely be maintaining him for the rest of the season (and probably has been all along.) What we're looking for here is any sign that it can't be maintained or that there's an underlying cause like a minor meniscus issue.  
Our algorithm already lists the Titans (+3.5) as the best bet against the Panthers in Week 9, so now might be a smart time to place a bet on Tennessee. If news breaks that McCaffrey will be limited on Sunday, the line will undoubtedly move!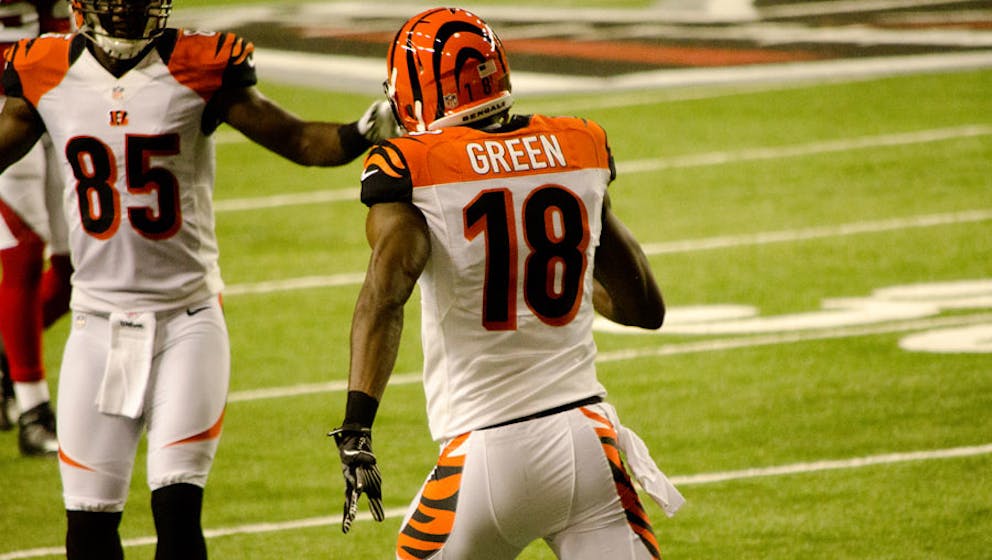 AJ Green (WR, CIN)
AJ Green didn't get traded but he did lose his quarterback. Andy Dalton is getting benched just as Green is getting healthy, so how does that affect both? First, Green won't be back this week, so we'll get an A/B test for (squints) Ryan Finley. Will Finley do enough in Week 9 to even get a shot? Who knows, but Green's return from ankle surgery has been delayed enough that I'm worried it hasn't healed properly and he's being pushed back. That said, they likely would have pushed him much earlier, so this could be just letting Green come back at the long end because the season was lost.
Green is expected to have full-go practices next week but as yet, sources tell me he hasn't tested the ankle at all on the field with hard cuts or stop/starts. Green will be an absolute unknown who could have no speed or ability to separate, or he could be the normal All-Pro level receiver we've seen even when the team has been bad. That uncertainty is enough to keep me from making any changes to a Bengals model, especially adding in the offensive/QB uncertainty.
Looking for a new sportsbook? Get your first DraftKings deposit matched up to $200!
Russell Okung (OT, LAC)
The Chargers are among the most injured teams in the league so far this year, depending on how you calculate it. What's more important to me, by far, is the quality of player lost and how that affects the team. When Drew Brees misses games after a thumb sprain, that's a big deal. It's also a big deal when you lose a rush-stop tackle and Russell Okung's absence would be a huge problem for a team with an older quarterback. 
Okung returned from his vascular issues to strain a calf and it was hard not to connect the two. That said, there's no indication that this is anything more than a standard calf strain. Okung's reported that he didn't think the leg was bad and that he'd be back at practice quickly. That would indicate a low grade strain and perhaps, a conditioning issue over a systemic issue. Neither is good, but everyone would rather have a "normal" injury than one that is part of a bigger problem. Watch to see that Okung is practicing before putting your normal Charger model, especially for the running game, into play. 
Make the most educated bets possible by accessing our NFL Sharp Bets dashboard!
Bumps & Bruises:
Joe Flacco has a disc herniation in his neck, an injury the Broncos know all about given their work with Peyton Manning not too long ago. He could be done for the season because Drew Lock is almost ready, but on it's own, its a six week injury … Drew Brees had no issues with his thumb or grip in his return. Score one for InternalBrace … Let's see - Kyle Allen had a bad game and suddenly, Cam Newton's rehab is in its last stages after a Lisfranc sprain. Makes sense. Expect to see Newton do more in practice next week leading into a probable start, unless Allen looks really good in Week 9 … All indications are that Matt Ryan will be fine after this week's bye. Sprained ankles usually don't have a big effect on pocket passers once healed … With Brees back and looking normal after thumb surgery, the Saints offense needs Alvin Kamara back to his normal self in order to keep momentum for another playoff run. He gets a bye week rest on his ankle … Matt Breida is a true game time decision due to his sprained ankle, but expect the Niners to give Tevin Coleman the bulk of carries regardless. That shouldn't affect the plan or the model much … Adam Thielen is on track to play this week, but hamstring strains for deep receivers are a big recurrence risk. Factor that into your model this week … DeSean Jackson is finally showing some progress after a long recovery from an abdominal injury. There's some question if he had surgery and if not, why not? He probably won't be back until after the Week 10 bye … Frank Clark hasn't been the acquisition that the Chiefs expected. He may be out again this week with his neck issue. 
About Will Carroll
Will Carroll has focused on sports injuries for almost two decades. His work has been featured at ESPN, Sports Illustrated, Baseball Prospectus, and more. He has written two books and won multiple awards. The best way to get questions or comments to him is @injuryexpert on social.