NFL
Will Carroll's Injury Report: Week 12
The NFL injury expert breaks down notable situations in advance of Week 12 action
By Will Carroll - Nov 21, 2019, 7:14pm
It seems odd to start this week's column with a college player, but there's no bigger story than the very draft able and suddenly unknown risk of Tua Tagovailoa. I do want to remind everyone that with next week's holiday (and holiday games), this column will be up on Wednesday rather than Thursday. Follow me on Twitter for any late breaking news or questions on the injury front. So let's get to it:
Tua Tagovailoa (QB, BAMA)
The draft could be thrown into confusion by the traumatic injury to Tua Tagovailoa. His hip has a fracture/dislocation — it's not fracture and dislocation; it's fracture caused by dislocation. Basically, the head of his hip went through the back of his pelvis like Kool Aid Man. This video gives a good overview of what happened. 
The instant comp for any hip injury is Bo Jackson, but that's not a good comp here. Jackson's injury was to the head of the femur. With a fracture to the ball/head, there's often a bad blood supply leading to tissue death (avascular necrosis.) That necessitated a full hip replacement, the only possibility at the time. (Yes, he'd have a different surgery today, but no, he probably wouldn't have been able to continue his football career.) The real comp is Dennis Pitta, who had an identical fracture/dislocation while with the Ravens. He came back, but never really came back to level, having more problems. 
There's been some suggestion that former Alabama player CJ Mosley is a good comp, but Mosley had a simple dislocation, with no fracture. Players have and should come back from those, especially if the damage is limited to the labrum, which can be relatively easily repaired. 
There's a chance - and the level of that chance is very debatable  - that Tagovailoa never plays a down in the NFL. The hip may not hold up. It may allow him to come back, but imagine the equivalent of Dennis Pitta, except a quarterback who is not unlike Kyler Murray or Russell Wilson as a mobile player. Or, there's another comp here - Jaylon Smith. Smith came back after a year off and is now a solid defensive player for the Cowboys, overcoming a drop-foot that was something no one else had come back from. There's always a first.
The question will be who's going to take the risk. Even at the Combine, about three months from now, there will be some level of medical certainty about how Tagovailoa is healing. He won't be doing drills, but the scans and doctor checks, plus the interviews will determine who's going to take a Jaylon Smith gamble. I still don't think Tagovailoa stays in the first round, but a late move, a la Lamar Jackson, could happen. On the second day, Tua will be the biggest story.
BetQL's NCAA Football Model went 183-98-43 across all Week 12 bets (65.1% win, +8.84 average return). Get in the action right now and check out all of our Week 13 best bets!
Tyreek Hill (WR, KC)
Watching Tyreek Hill grab his hamstring and come off the field wasn't good, but it led to about ten minutes of watching one of the best medical staffs around work. Remember this was in Mexico City, so while Azteca is a modern, well-equipped stadium, it wasn't the home facilities of the Chiefs. Still, they were able to get Hill dealt with, including Theraguns and other modalities, in an attempt to get him back in the game. He didn't, but the effort was clear, which told us a lot.
The MRI didn't add much. As I've said before, MRIs tend to be unnecessary. The efforts of the medical staff showed this was a low grade strain and that was confirmed, not discovered, by the imaging. Hill could play this week (if there was a game) at least in a limited fashion, but hamstring injuries and speed players don't go well. The bye allows them to be conservative and a Week 13 return isn't assured. The team clearly needs Hill to get to and make a deep run in the playoffs, so a conservative tack is going to be the default. Without him, the Chiefs lose about two points on my model. 
Mitchell Trubisky (QB, CHI)
There was another hip injury this week, but Mitchell Trubisky's hip pointer was a couple orders of magnitude down from Tagovailoa's. A hip pointer is simply a bruise to the top of the iliac crest, what most think of as the "hip," one on each side. It's a painful injury, but not a debilitating one and seldom a long term concern. It's one that's seen a lot in recreational sports, especially basketball and the brutal sport of ultimate frisbee. 
Again, this is not to downplay Trubisky actually having a painful injury and the talk that it was faked to get him out of a game where he'd melted down. It obviously didn't stop the questioning and the news of a hip pointer leads to almost anyone realizing it just wasn't that serious. He could very likely play this week, but his availability will come down to Matt Nagy, not his hip pointer. 
Get one free week of BetQL VIP access when you claim this MGM offer!
Marlon Mack (RB, IND)
Some injuries are simple. People understand the force a hammer would put on a hand. We've all watched a few too many mafia movies. That's essentially the same thing that happened to Marlon Mack, except it was a helmet, not a hammer. It's largely the same force - a big man running fast - put through a small area - the crown of the helmet - and the bone simply snapped under the load. It broke, it was fixed, and now they'll have to wait.
For it to heal? Not exactly. Players don't have to wait for the bone to fully heal before returning. Doctors will usually release a player at the point the bone has fused properly and is on its way to healing, assuming protection and acknowledging that the same thing could happen again. The big hold up for Mack will be function. In the modern NFL, every play is a strip, punch, and tug on the ball so if Mack can't hold onto the ball, the Colts won't be able to hand it to him. His absence could go for a month, maybe more, depending on that function. Take a couple points off the Colts while he's out, as they simply don't have an adequate backup and can't overuse/re-role Nyheim Hines. 
Read the full preview of the Texans/Colts Thursday Night Football matchup on BetQL!
T.Y. Hilton (WR, IND)
The short week might work against T.Y. Hilton this week in his attempt to return from a calf strain. There's times that a day or two - and certainly not a couple extra hours as some have suggested with flex times - don't make much of a difference in function, but on these border cases like Hilton, every bit of healing counts. If he plays, there is a good amount of recurrence risk as well, so he's a risky basis for any model or fantasy play.
Hilton is a true gametime decision and without Mack, Paris Campbell, or the hint of a return from Devin Funchess, the Colts offense is not just down a few, they're essentially third and fourth string at every skill position aside from quarterback (and Brissett wasn't the intended starter, remember.) If Hilton is in or out will be a huge factor in the offense. I'd imagine Frank Reich had to draw up two plans - one with a deep threat and one that is tight end focused. I don't think it will matter to points, but how they happen will be different.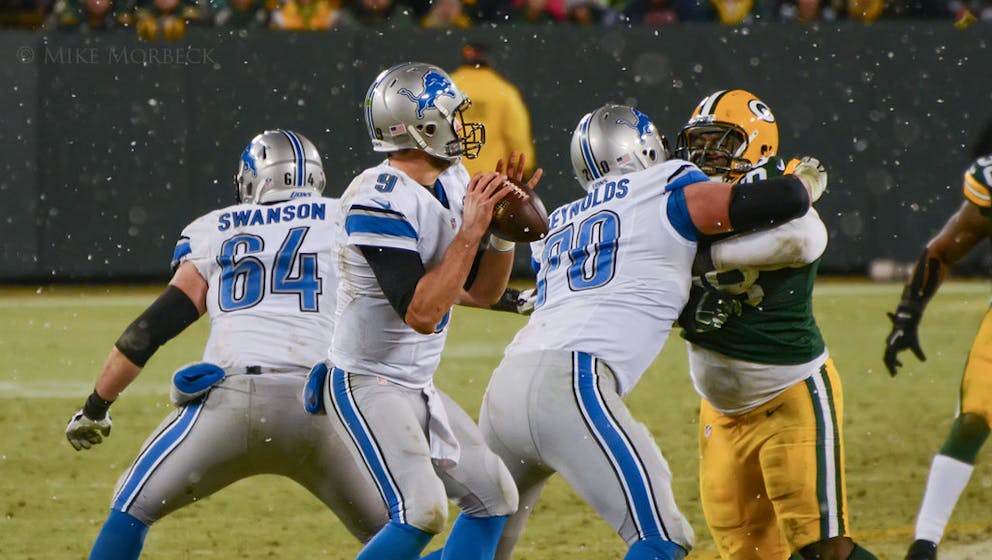 Matthew Stafford (QB, DET)
Matthew Stafford is still out with a fractured spinal process. Man, that alone should be enough - spine injury - but there's been confusion over why his injury is keeping him out when others such as Cam Newton played through it. The answer is that every injury is different. Even "identical" injuries simply aren't. The people are different. The mechanism was different. There's an individual response, healing process, and pain tolerance through the entirety of an injury.
For Stafford, this comes down to pain, but the real limiting factor has been safety. The Lions doctors have not yet cleared him to return. Part of this is long term thinking, with Stafford key to the teams success through at least next season. Stafford is able to do many things, but he's going to have to be cleared before any chance opens for him to get back in the game. While he's out, the Lions are losing six points a game in my model.
The conservative look so far and their playoff status could mean they're willing to let the season wind down with Jeff Driskill. One front office type I spoke to this week mentioned that the Lions may be assessing whether Driskill could be a long term option post-Stafford or whether they'll need to get into a thin QB draft this year or next. There's a lot of top options like Joe Burrow and Trevor Lawrence, but no one feels there's a lot of mid-round talent with the upside to start, though most of those tend to be a bit surprising, like Kirk Cousins or Gardner Minshew.
Looking for a new sportsbook? DraftKings is offering a special promotion for BetQL users. Claim it and enjoy some risk-free bets!
Damien Williams (RB, KC)
As important as Hill is, despite apparent depth at receiver, the running back position in Kansas City seems interchangeable. It's not a role breakdown as many backfields have become, but simply finding anyone with a minimum skill set that can fit into the system. A lot of that is Patrick Mahomes, but it's also a feature of the offense. Losing Damien Williams to fractured ribs for any period of time will hurt, but won't be significant as long as they have others who can step in like Darrel Williams and LeSean McCoy.
Broken ribs are very painful, potentially dangerous, but protectable. It still amazes  me that all players, especially quarterbacks, don't wear advanced rib protectors like the Kevlar ones made by Unequal. (Does Unequal work? Watch this.) Once Williams' ribs get past the fracture and the danger of internal damage, it becomes a pain tolerance issue. It's tough for a running back not to take hits, especially compression hits  that force the spine and ribs to move in sync. There's no real timeline for this because of the tolerance and healing variance, but he should be back on the field during the regular season. 
James Conner (RB, PIT)
James Conner is dealing with something more than what we'd been led to believe. The Steelers didn't lie about Conner's injury - it's his shoulder, technically - but the specifics explain why this is lingering and more problematic than we knew. The suggestion had been that it was bruising and pain, but instead, news came this week that Conner has a significant AC sprain. The acromioclavicular joint (AC) is the inflexible joint between the shoulder and collarbone. Often called a shoulder separation, this kind of sprain is painful and lingering.
Conner is exposing this injury on every run. He can't take a hit to the shoulders without taking some force on that joint. If he falls, arm out or not, there's going to be force on that joint.  This is not only painful, but keeps it from healing. Add in that there's no good way to protect the shoulder with additional padding or bracing and its no wonder Conner has been limited this way. He's not back at practice and though not ruled out, its not looking like he'll play again this week.
Find out if the Steelers or the Bengals are the best bet ATS this week using BetQL's NFL Model!
Bumps & Bruises
Jameis Winston doesn't have an especially high grade ankle sprain, but his base and mobility are key. Part of his strength is his stability, taking hits and  bouncing off. This injury could affect him a lot … Drew Lock hasn't been activated yet, but word is that he'll get at least a start or two to get some idea about whether he's the QB the Broncos need, Elway around or not … Devonta Freeman is still not back to practice. His sprained foot is likely to keep him out or limit him this week. If out, the Falcons seem very content throwing the ball more … Expect Philip Lindsay to play for the Broncos this week despite some dings,  but his very physical style doesn't tend to hold up. When it does, its the special players. I'm not there yet with Lindsay… The combo of knee sprain and concussion will keep Juju Smith-Schuster out this week, which kills the Steelers offense. It's not clear which is the bigger issue, but the big brace seen on Juju this week indicates the knee might be worse than Mike Tomlin is letting on … As serious as Tyler Lockett's shin injury could have been, it wasn't. It was handled and the issues are gone by now. He's not full go at practice, but all signs are he will be available this week and normal, though he'll likely wear something like a soccer shin guard … Brandin Cooks hasn't had the final independent clearance yet, but word is he's on track and all play this weekend … The Pats tend to be a plug-in system, aside from Tom Brady (and there's even some question there.) However, go deep enough and issues are exposed. Mohamed Sanu was supposed to shore up a problematic receiver corps, but a high ankle sprain could keep him out as long as the rest of the regular season … It doesn't look like George Kittle will be ready for the Monday game. There's progress but the team is looking to the playoffs. There's still no clear timeline for his return from ankle and  knee issues … David Njoku is back at practice and looking like the wrist is not an issue. It should be well healed and he could be  pulled off the IR. He'd be a big boost for the Browns and has a great matchup this week for red zone work.