CLE
Browns
Sun 11/29, 6:00 PM
JAX
Jaguars
CLE -6 O/U 49.5
MIA
Dolphins
Sun 11/29, 6:00 PM
NYJ
Jets
MIA -7 O/U 44
ARI
Cardinals
Sun 11/29, 6:00 PM
NE
Patriots
ARI -1 O/U 49
NYG
Giants
Sun 11/29, 6:00 PM
CIN
Bengals
NYG -6 O/U 44
OAK
Raiders
Sun 11/29, 6:00 PM
ATL
Falcons
OAK -3 O/U 54
TEN
Titans
Sun 11/29, 6:00 PM
IND
Colts
IND -3 O/U 51.5
LAC
Chargers
Sun 11/29, 6:00 PM
BUF
Bills
BUF -5 O/U 53
CAR
Panthers
Sun 11/29, 6:00 PM
MIN
Vikings
MIN -3.5 O/U 51
BAL
Ravens
Sun 11/29, 6:15 PM
PIT
Steelers
PIT -4.5 O/U 45
SF
49ers
Sun 11/29, 9:05 PM
LAR
Rams
LAR -6.5 O/U 45
NO
Saints
Sun 11/29, 9:05 PM
DEN
Broncos
NO -6 O/U 43.5
KC
Chiefs
Sun 11/29, 9:25 PM
TB
Buccaneers
KC -3 O/U 56
CHI
Bears
Mon 11/30, 1:20 AM
GB
Packers
GB -8.5 O/U 45
SEA
Seahawks
Tue 12/1, 1:15 AM
PHI
Eagles
SEA -5 O/U 50
DAL
Cowboys
Fri 12/4, 1:20 AM
BAL
Ravens
BAL -7 --
NFL
Will A Change In Scenery Cause Cam Newton To Play More Conservatively?
Tom Brady threw the ball away 40 times in 2019, but Newton's abilities have many wondering if he'll run a similar offensive scheme
By Bryan Zarpentine - Aug 1, 2020, 2:36pm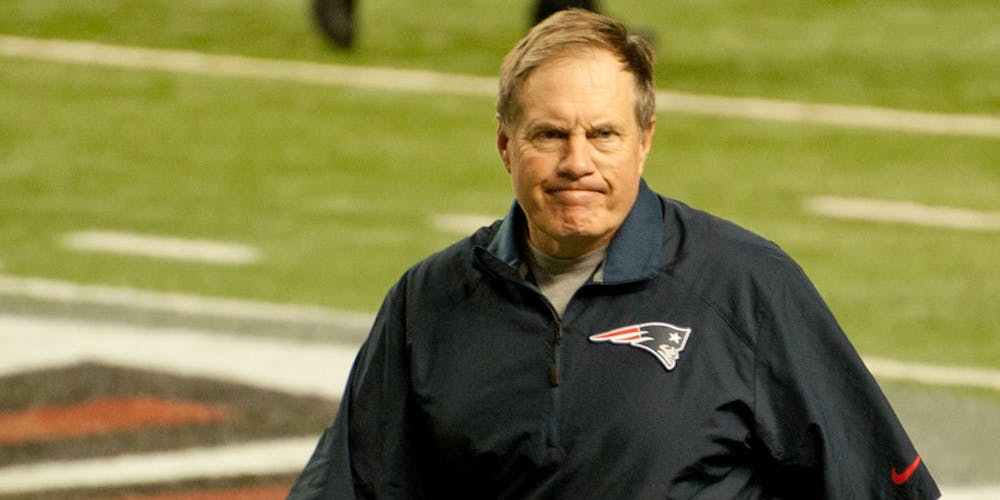 Tom Brady threw the ball away more than any other quarterback last season. Will it be a different story for the New England Patriots this year with Cam Newton leading the offense?
Given his shoulder trouble in recent years and a foot injury that kept him out for most of 2019, it remains to be seen what kind of quarterback Newton will be when he returns.
Newton's passing yards total is marked at 2,950.5 (-110), while his passing touchdowns total is set at 19.5 (-110). Newton is -400 to be the starting quarterback in Week 1 for the Patriots, per DraftKings Sportsbook.
New England's regular-season win totals line stands at 8.5 games. The Patriots are +130 to win the AFC East and are -182 to make the playoffs. Their odds of representing the AFC in the Super Bowl are +1100 and they're +2200 to win it all, per DraftKings Sportsbook.
A More Mobile Offense
There is an endless number of differences between Tom Brady and Cam Newton. The most obvious difference is their level of mobility. Brady is one of the least-mobile quarterbacks in the NFL, and not entirely because of his age. Often, he has little choice but to throw the ball away. That's not the case with Newton, who remains one of the most athletic quarterbacks in the league despite being on the wrong side of 30. His instincts are to run away from trouble and attempt to make a play outside of the pocket, rather than give up and live to play another down. Assuming that continues, it could be the most drastic change the New England Patriots offense undergoes this season.
Like free money? We thought so. We read all the fine print, rated and reviewed all of these awesome offers for you. Get in on the action today by selecting your state below and take advantage of our exclusive deals if you want to bet on Cam Newton and the New England Patriots!
Avoiding Hits
Brady has been sacked fewer than 30 times in seven of the last 11 seasons. His high throw-away rate is due to more than his lack of mobility, it's also a result of his unwillingness to take hits. Again, this is not the case with Newton, who has been sacked at least 33 times per season in all but his last two campaigns, due to injury. Newton will surely be willing to take more sacks than Brady simply because he's more able to absorb hits. In theory, this will result in a less conservative New England offense, although Newton could make plays down the field that Brady didn't because he ended the play and threw the ball out of bounds.
Adopting A New Philosophy?
Of course, there's a lot we don't know when it comes to Newton in New England. Obviously, he'll have to get on the same page with Bill Belichick, but there are still questions about his physical limitations. Will the foot injury that cost him most of 2019 hinder his ability to run and make plays outside the pocket? Could that force him to adopt a more conservative approach? Also, we can't forget that Newton has battled shoulder problems in recent years. Could that lead to Newton being a different, more conservative quarterback in 2020? We should see early in the campaign if Newton plans to run the offense like he did with the Carolina Panthers, or if he adopts Brady's throw-away approach to limit contact.
Find out how you can use BetQL to dominate the NFL when the season begins!