NFL
Buffalo Could Take Giant Leap Forward With Wild Card Win Over Houston
The Bills are in search of their first playoff win since 1995
By Dan Karpuc - Dec 30, 2019, 6:53am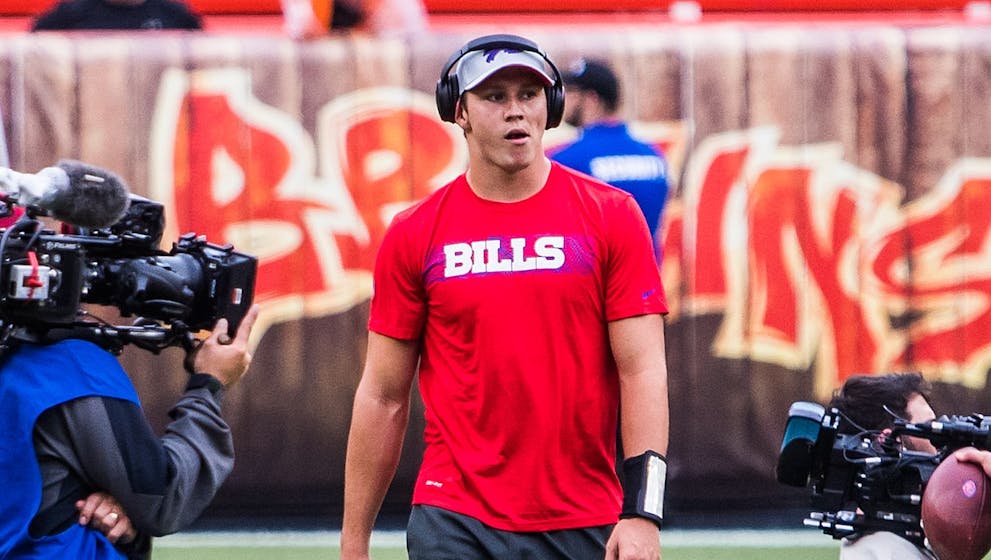 Bills (10-6) at Texans (10-6)
Saturday 1/4, 4:35pm EST
VIEW LIVE ODDS, BETTING DATA & MORE!
The Houston Texans (10-6) will host the Buffalo Bills (10-6) in the Wild Card Round of the AFC Playoffs. 
The Texans enter this matchup with the following records: 10-6 overall, 7-8-1 against the spread, 5-3 at home (3-5 ATS) and 4-2 as favorites (1-5 ATS). 
The Bills enter this matchup with the following records: 10-6 overall, 9-6-1 against the spread, 6-2 on the road (5-2-1 ATS) and 4-2 as underdogs (3-2-1 ATS). 
Scroll down to check out our Bills Texans preview and prediction!
BILLS
The Bills haven't won a playoff game since 1995 and haven't won double-digit games in a season since 1999. Therefore, they were due for a postseason appearance! Buffalo has a legitimately-elite defense and has put it on display all season long. Overall, the Bills rank 23rd in offensive scoring (20.5 points per game) and 2nd in defensive scoring (allowing 16.4 points per contest). Buffalo will have its hands full limiting Deshaun Watson, DeAndre Hopkins and company in this contest, but not only has their defense consistently performed against solid offenses all season, but the team as a whole has only lost two road games. That's usually a recipe for success and is a sign that this defense comes in prepared and ready to adapt in any environment. On the offensive side of the ball, Buffalo has a very concentrated group of players that make up most of their production. Quarterback Josh Allen and wideout John Brown established a clear and strong connection since Week 1 while Cole Beasley emerged as a viable secondary option as the season progressed. Meanwhile, rookie running back Devin Singletary took over for Frank Gore midway through the season and is a proven difference-maker on the ground and in the passing game. As seen in the past, Allen can have turnover issues at times (not on a Jameis Winston level, but it's still worth noting). With the lights shining brightly on him in this matchup, he will have to keep his nerves in check in what will be the most important game of his young career. 
Check out every best bet for the Wild Card Round!
TEXANS
Yes, the Bills have an elite defense. But, as seen when the Texans throttled the Patriots earlier this year, when Watson and this offense is rolling, they're nearly unstoppable. The range of outcomes in this game is predicated on the health of Houston's wide receivers. Will Fuller and Kenny Stills have been dealing with nagging injuries all season long and will likely be questionable all week leading up to kickoff. If they suit up, Houston's offense gets a bump, if not, Buffalo's defense does. Tre'Davious White will likely shadow DeAndre Hopkins, which makes the presence of both Fuller and Stills very crucial. Carlos Hyde has had a resurgent season in Bill O'Brien's offense and will likely see a heavy dose of touches in what should be a gritty battle. Be sure to keep an eye on the status of Houston's skill players before placing a bet on this matchup. Overall, the Texans rank 11th in offensive scoring (24.3 points per game) and 18th in defensive scoring (allowing 23.3 points per contest). 
View our exclusive sportsbook offers and take advantage of some amazing deals!
PREDICTION
As a bettor, you have to decide whether you think Buffalo's elite defense can slow down Watson, Hopkins and Houston's offense. The Bills are the preferred target in a low-scoring affair while the Texans are the preferred target in a high-scoring shootout. It will be fascinating to see how this one plays out!
Subscribe or upgrade your BetQL account to see our full score projection and our model's best bets against the spread, on the moneyline and on the total!