NFL
Evaluating Minnesota's 2020 Outlook Before The Draft
After losing in the NFC's Divisional Round last season, are the Vikings a viable Super Bowl bet at their current odds?
By Nick Ballistreri - Feb 27, 2020, 4:12am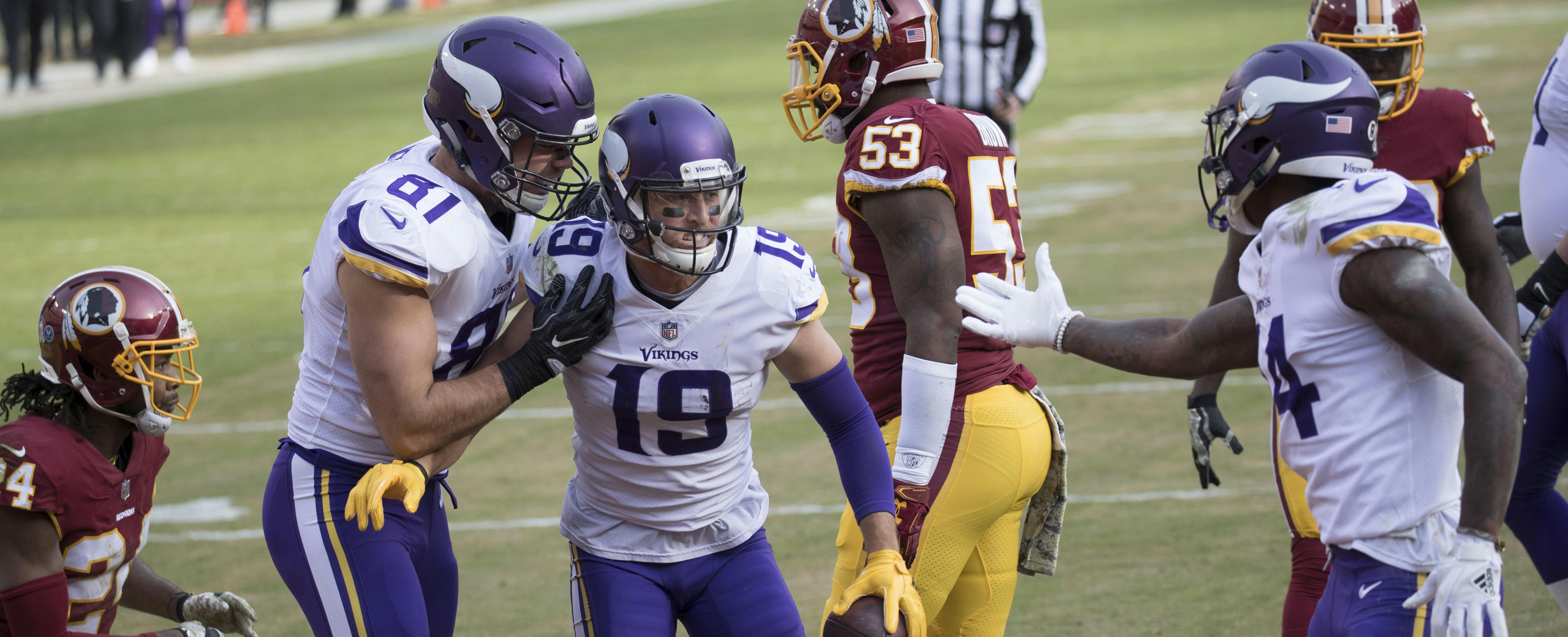 The Minnesota Vikings shocked the world in the 2019 Playoffs, walking into the Mercedes-Benz Superdome as 7.5 point underdogs, only to upset the New Orleans Saints 26-20 in overtime.
While the Vikings finished with an impressive 10-6 regular season record, they lost to the NFC North Champion Green Bay Packers in both of their season meetings, showing they still have plenty of work to do.
With plenty of big free agency decisions looming over the offseason, there's work to do to take the team to the next level.
Our NFL Model went 62-32 (65.96%) across all Vikings bets last season, 9-2 on 1H total bets and 11-5 on 1H spread bets!
The Vikings are a solid Super Bowl bet at their current +2000 odds, per DraftKings Sportsbook.
Revisiting 2019
After regressing to 8-7-1 in the 2018 season, the Vikings made significant improvements in the 2019 season. Getting off to a disappointing 2-2 start to the campaign, the Vikings turned their season around with wins in six of their next seven games, with their only loss coming to the eventual Super-Bowl Champion Kansas City Chiefs. The finished the season with a 10-6 record, finishing with the #6 seed in a stacked NFC Conference. They extended their season with a shocking upset of the New Orleans Saints, in a game that ended on a controversial touchdown pass to Kyle Rudolph in overtime.
While fans and analysts alike will continue to find ways to bash Kirk Cousins, the quarterback proved to be more than serviceable a season ago. Cousins put together one of his most efficient seasons to date, completing 69.1% of his passes and compiling 3,603 yards. His most impressive statistic was his TD:INT ratio, as Cousins threw for 26 touchdowns while cutting down on his interceptions, throwing only six. While 2019 was an impressive season for Cousins, the Vikings found their true identity early in the season, and that was to run the ball behind a talented offensive line with their workhorse, Dalvin Cook. The former Florida State star established himself as one of the best young talents in the game, rushing for 1,135 yards, and may have been in contention for the league leader if he wasn't slowed by injuries at the end of the regular season. Even though Cousins has a one-two punch at wide receiver (Adam Thielen, Stefon Diggs) that would match the best in the league, their success came when they ran the ball successfully.
Reasons For Optimism
While a 10-6 record is nothing to scoff at, it can be argued that the Minnesota Vikings underachieved a year ago. With an 8-3 record going into the final stretch of the season, they failed to finish strong, losing three of their final five games. Injuries had much to do with this, as Thielen was hampered by injuries all season, playing in only 10 contests and being used as a decoy in a few of those. With Thielen back to full strength, and with the Vikings making it publicly clear that Diggs is a huge part of their future, the receiving corps (barring injuries) will be back among the league's best going forward.
The Vikings defense, often a strength of years past, showed holes last season. Their secondary, once a force among the league, struggled to shut down opposing receivers a season ago. Among the secondary, cornerback Trae Waynes and safety Anthony Harris are impending free agents. Waynes, once thought of as one of the brightest young talents in the NFL, took a clear step back a season ago. With his regression happening right before he hits free agency, look for the Vikings to attempt to re-sign him on a team-friendly number on a "prove it" deal. Harris was a key part of the secondary a season ago, compiling six interceptions and anchoring the last wall of defense.
During free agency, expect the Vikings to make a couple moves to shore-up their once dominating defense. Under Mike Zimmer, defense has always been a priority, and looking at the available talent this off-season, it's expected that this defense will be among the league's best once more. 
Conclusion
The Minnesota Vikings are a team, like most, that has some holes to fill going forward. However, looking deeper, their problems can be fixed in one off-season. Turning the attention to the offensive side of the ball, most of the work is done here. They could look to add some depth along the offensive line, as well as a third receiver to complement Thielen and Diggs, but the running back position is set for the coming season, and if Dalvin Cook can stay healthy, they should find much success once more.
Looking at the defense going forward, the work is needed in the secondary, and the team must find a solution on defensive end Everson Griffin's contract. Whether or not they bring back the long-time Viking, the front seven has talent all over, and with some resources being spent on the secondary, they should be able to stop opposing offenses once again. 
This is a very talented team, and one could argue on paper they should compete for a Super Bowl. Cousins has finally gotten the monkey off his back with his first career playoff win, and that should do wonders for his confidence going forward. With their Super Bowl odds currently being listed at +2000, the oddsmakers are giving them a puncher's chance to do just that. If the team can fix it's holes in the secondary over the coming months, and build on their playoff victory, the Minnesota Vikings have value at their current odds.
Our NFL Model went 62-32 (65.96%) across all Vikings bets last season, 9-2 on 1H total bets and 11-5 on 1H spread bets! While the new season is still a few months away, click the button below to unlock today's top in-season bets!