NFL
Titans Embarrass Mayfield, Browns In Cleveland
Tennessee clearly came to play with a purpose in this one
By Brandon Barbour - Sep 10, 2019, 5:53am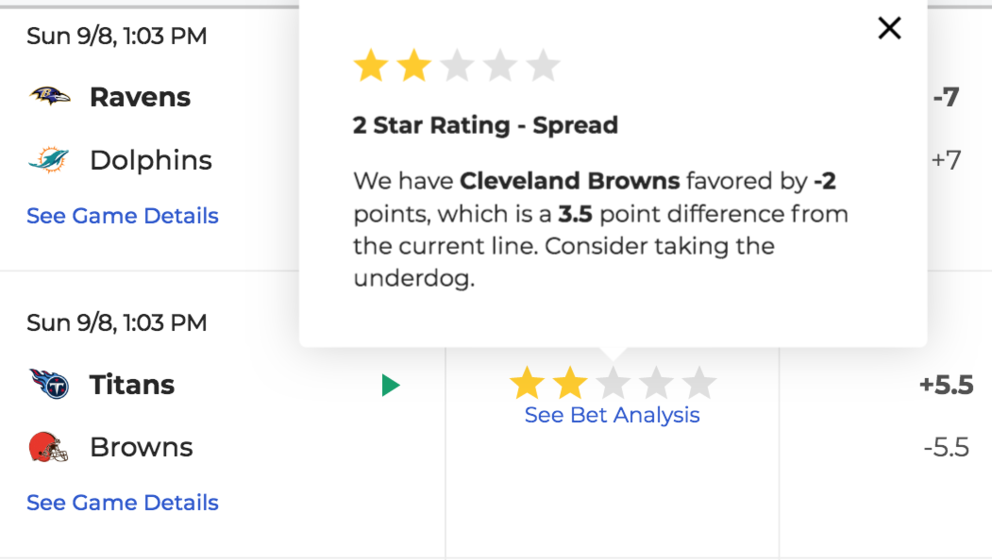 Titans @ Browns
★★ Titans (+5.5)
Outcome: 43-13 Titans 
The consensus line listed the Browns as 5.5-point favorites against a visiting Titans squad; however, BetQL's model labeled the Browns as 2.5 point favorites, making the underdog Titans the better bet. This was in part due to the fact that the Titans are a prolific running team and the Browns allowed 135.2 yards on the ground per game last season, which ranked them fifth-worst in the category in the NFL.
The Tennessee running backs went bonkers against the Browns, as Derrick Henry had a career day. Henry tallied 84 yards on the ground off of 19 carries and punched in a touchdown. He also added a 75-yard reception that resulted in a score. Marcus Mariota added 24 yards on the ground on three rushing attempts as the Titans compiled 133 yards on the ground.
The Titans defense racked up five sacks and three interceptions on Baker Mayfield, harassing him all game. Mariota, Mayfield's counterpart, threw for 248 yards and three touchdowns to compliment their terrific run game.
The Titans took care of business by slapping the Browns by 30 points, crushing the Cleveland faithful that was surging on a high after a terrific 2018 season and stellar offseason that saw them acquire Odell Beckham Jr. Sunday just wasn't their day. BetQL nailed this road underdog despite all of the talking heads' love of the Browns.