NFL
This Stat Shows Why Kyler Murray Is Poised For A Huge 2020 Campaign
After earning Offensive Rookie of the Year honors, the quarterback is looking to take the next step
By Jared Foley - Jul 31, 2020, 4:43pm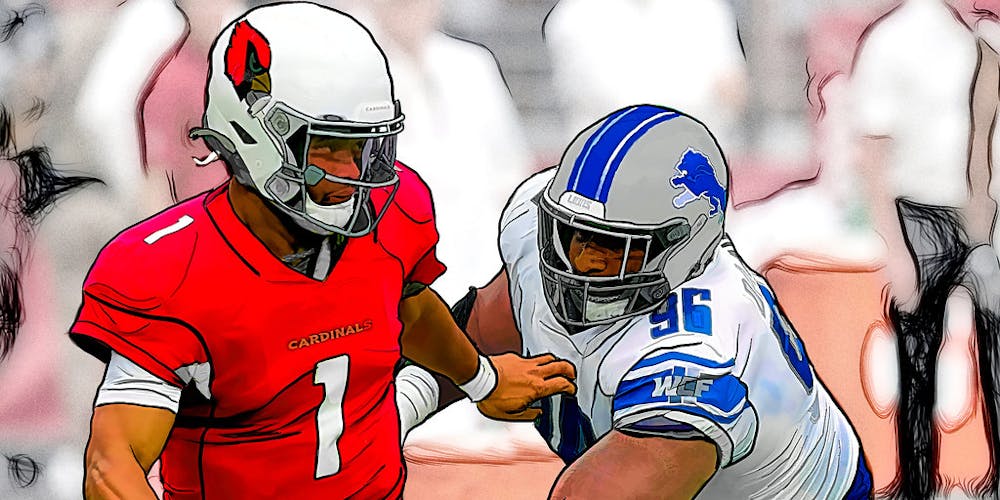 After an impressive Offensive Rookie of the Year campaign for Kyler Murray, the second-year quarterback for the Arizona Cardinals is in prime position for a breakout season in 2020.
The Cardinals retained most of their offensive line and made a couple key additions in the offseason. In 2019, Murray's offensive line provided him an average of just 2.3 seconds before his pocket collapsed, the worst mark in the NFL.
The effects of the DeAndre Hopkins acquisition will ripple through the entire offense and give Murray a new number-one target.
Arizona's regular-season win totals line sits at 7.0 games, per DraftKings Sportsbook. The Cardinals are +255 to make the postseason and are +5000 to win it all.
Kyler Murray's passing yards total sits at 3,850.5 yards (-110), while his passing touchdowns total is 25.5 (-110). Murray's rushing yards total sits at 475.5 yards (-110), per DraftKings Sportsbook.
Offensive Line Improvements
Last season, Kyler Murray was sacked 48 times, which was tied for the most in the NFL in 2019. That being said, around half of those sacks were Murray's fault rather than the line. The Arizona Cardinals only lost their center A.Q. Shipley, but Mason Cole is an experienced backup who can fill the role. The Cardinals also upgraded by drafting offensive tackle Josh Jones out of Houston in the third-round.
This week, Arizona signed former New York Jets offensive tackle Kelvin Beachum to a one-year deal. Beachum can play left or right tackle, and adds depth and security by likely playing understudy to veteran left tackle, D.J. Humphries. Murray was responsible for 23 of his own sacks last year, but in fairness, the line only averaged 2.3 seconds until the pocket collapsed, which tied for the worst in the league. Stability in the offensive line will foster a more familiar relationship between Murray and his offensive line, guaranteeing that this stat will improve. It's impressive that Murray did as well as he did considering the limited time he had to throw. Offseason upgrades have added depth and filled holes that will give Murray more chances to make plays.
Like free money? We thought so. We read all the fine print, rated and reviewed all of these awesome offers for you. Get in on the action today by selecting your state below and take advantage of our exclusive deals if you want to bet on the Kyler Murray and the Arizona Cardinals!
The New Toy
This March, the Houston Texans exchanged wide receiver DeAndre Hopkins and a draft pick for Arizona running back David Johnson and two draft picks. Hopkins is arguably the best receiver in the NFL. At the very least, he's a top-five weapon. In 2019, Hopkins received an 87.8 receiving grade from PFF, which is fifth among wide receivers.
Hopkins has been instrumental in the development of Texans quarterback Deshaun Watson, and will be an excellent weapon for Murray in his second season. Hopkins will take on the number-one role in the Cardinals receiving core, adding to a talented group that already includes Larry Fitzgerald, Christian Kirk, and Andy Isabella. Having two or three receivers who can fill the number-one role will also spread out defenses by making it difficult to put double coverage on Hopkins, or by putting two men on Hopkins and leaving openings for the other receivers and the running game.
Year Two In Kingsbury's System
According to DraftKings Sportsbook, Kyler Murray has +4000 odds to win Offensive Player of the Year. This ties him with Watson and New Orleans Saints legend Drew Brees. Murray is more likely to win than both Aaron Rodgers (+5000) and Cam Newton (+5000). Another point worth noting is that the last two MVPs, Lamar Jackson and Patrick Mahomes, were each second-year quarterbacks when they won the award. Three years ago, Carson Wentz was another second-year quarterback who was poised to win the award, but was injured before he could complete his MVP-caliber season.
The recent success of second-year quarterbacks and the potential that Murray flashed in his Offensive Rookie of the Year campaign have given Vegas enough faith to give the Cardinals quarterback terrific odds. At +4000, his odds would lead to a significant payout if Murray has the breakout season that oddsmakers think he can. If this isn't enough, remember that Christian Kirk and Andy Isabella are only entering their third and second years in the NFL, respectively. They'll continue to grow alongside their young quarterback under the guidance of two top-class veteran wide receivers. The value of consistency in a roster should not be underestimated in an offseason with limited practice time before the campaign begins.
Find out how you can use BetQL to dominate the NFL when the season begins!