NFL
The Transformation Of The Vikings Offense
Kirk Cousins has been unleashed in recent weeks
By Brandon Barbour - Oct 22, 2019, 4:32am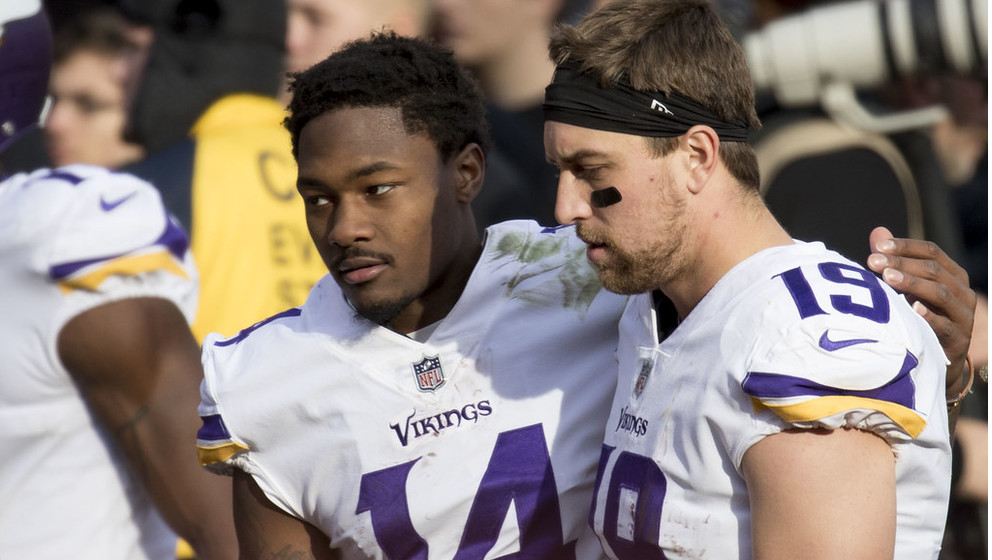 The Minnesota Vikings are averaging 36 points per game over their three-game winning streak.
The Vikings are now 5-2 and trail the Green Bay Packers (6-1) in the NFC North.
Kirk Cousins had a 10:1 TD:INT ratio over that span.
Stefon Diggs and Adam Thielen have combined to catch 10 touchdowns through Week 7. 
Early-Season Struggles
Things weren't going so hot for the Minnesota Vikings early on in the 2019 season. The offense seemed to lack balance and various weapons were being underutilized. They drew a challenging schedule to start the season, but the offense certainly didn't resemble anything from 2018.
Quarterbacks coach Kevin Stefanski earned the offensive coordinator job in the offseason, but got off to a bit of an underwhelming start. Minnesota's defense trampled the Atlanta Falcons at home in Week 1, sacking Matt Ryan four times and intercepting him twice. Kirk Cousins hit Adam Thielen for a touchdown on Minnesota's opening drive and Stefanski pounded the run from there on out. The Vikings won 28-12, all while rushing the ball 38 times and passing just 10.
Week 2 in Green Bay wasn't so nice, as the Packers defense clamped down on the Vikings offense, forcing four turnovers. Stefon Diggs caught a touchdown in the contest, and the score ended up being his only catch on seven targets. Cousins posted a 43.8 completion percentage in the game as Minnesota lost 21-16.
View all Week 8 NFL Best Bets!
Next, the Vikings hosted the Oakland Raiders and took care of business, winning 34-14. The run game was relied on heavily by Minnesota, logging 38 rushing attempts to just 21 passes. They got up early and were able to cruise and run the clock. Unfortunately, this was stalling this offense from becoming what it was last season, but they were in control.
In Week 4, the Vikings visited the Chicago Bears. A brutal environment with a difficult defense gave them fits. Cook failed to run for 100 yards for the first time all year, being held to 35 rushing yards on 14 carries. This forced Cousins to throw 36 passes in the contest for a dismal 233 yards (8.6 yards per reception). Chicago's pass rush played a major factor in this one, forcing three fumbles in the game. Minnesota lost 16-6 and suddenly looked more vulnerable and limited than ever.
At 2-2, the Vikings offense was all out of sorts. They were averaging 183.75 yards through the air per game and 155.25 yards on the ground. Minnesota's pass game needed more balance and collaboration if there's any chance of them having any real success at the end of the season.
Weeks 5-7
Minnesota traveled to New Jersey to battle a Saquon Barkley-less New York Giants squad. Cook had his usual 21 carries for 132 yards (34 rushes for 211 yards as a team), while Cousins completed 22-of-27 passes for 306 passing yards and two touchdowns. This equaled Cousins' first 300-yard game of the season, finally. Minnesota won easily, 28-10.
In Week 6, Minnesota faced another test against the Philadelphia Eagles. The Vikings struggled to run the ball with Alexander Mattison and Cook splitting carries. The team managed 122 yards on 35 rushing attempts. Cousins and the air attack was forced to pick up the slack, but the balance and play call was much improved. Cousins went 22-for-29 passing with 333 yards and four touchdowns. The one interception was the only blemish for the quarterback, as he connected for three touchdowns with Diggs and one score with Thielen. This equaled Diggs' second-straight 100-yard receiving game, and the wideout piled up five scores over the two contests.
Get a 50% deposit bonus up to $500 with your next DraftKings Sportsbook deposit!
Most recently, the Vikings traveled to Detroit to battle with a solid Lions team. Detroit put up some big numbers early, scoring 14 in the first quarter. Matthew Stafford connected with Marvin Jones Jr. for two touchdowns while Cousins hooked up with Thielen for a 25-yard score. Cousins would connect with wide out Olabisi Johnson for a one-yard touchdown to start the second quarter, and then, Cook pounded in an eight-yard rushing score. Stafford and Detroit would respond with a short clock, hitting Jones Jr. for his third touchdown of the game to end the half 21-21.
With little defense to speak of in this one, Cousins would hit fullback C.J. Ham for a 5-yard touchdown early in the third quarter. Detroit would respond with a 46-yard Matt Prater field goal later in the quarter, making it 28-24 in favor of Minnesota. Cousins would cap off his big game with another touchdown pass to tight end Kyle Rudolph late in the fourth quarter. The 15-yard score equalled the quarterback's fourth touchdown of the contest, as he threw one in every quarter.
Stafford would connect with Jones Jr. for his fourth touchdown of the game with about three minutes left and down 35-30, but Minnesota would fend them off and Cook would rush in a touchdown to end the game at 42-30.
The Vikings are now 5-2 and have put together a nice three-game winning streak. Cousins posted his second consecutive 300-yard passing game and owns a 10:1 TD:INT ratio over his last three games. His bare minimum quarterback rating over the win streak sits at 138.4. It appears that this offense has figured things out and looks like the terrifying, well-coached offense that they were previously. Big things are ahead for this unit.
Looking Ahead
With the Vikings relying on Cousins more to move the sticks, production has skyrocketed. Minnesota averaged 6.75 first downs through the air per game over their first four games. That figure has spiked up to 15.66 over their last three games. Their offense is averaging a massive 36 points per game over the three wins on their current streak, and they were averaging 21 over the first four weeks of the season.
Minnesota has a grueling schedule to look forward to, but they'll catch a break in the coming weeks. After they host the Washington Redskins in Week 8 (short week), they'll travel to Kansas City and play a Patrick Mahomes-less Chiefs team. Then, they'll travel to Dallas to play the Cowboys and host the Denver Broncos in Week 11 before their bye.
Start optimizing NFL lineups, finding value players and keeping up with injuries in seconds on RotoQL!
They'll round their season off at the Seattle Seahawks, against the Detroit Lions, at the Los Angeles Chargers, against the Green Bay Packers, and against the Chicago Bears. Despite the quality of opponents, double-digit wins should be attainable if Minnesota's air attack continues at this pace.
The Vikings have a tremendous defense that's allowing just 17.5 points per contest through seven games, good for fifth-best in the league. They have a running back that's averaging 103.5 yards per game on the ground (Cook) with Minnesota ranking third-best in the league in rushing the ball as a whole. Despite the rough start the Vikings air attack endured, they're sixth in points per game at 27.4 (22.5 points per game in 2018).
It's Cousins' second season with the Vikings and the bond between his receivers is growing. Diggs is on pace for his second-straight 1,000-yard receiving season and is on pace for his first double-digit touchdown year. Thielen also had over 1,000 yards last season (1,373) and is on pace for double-digit scores this year as well.
The Minnesota Vikings air attack has been on full display over the past few weeks and their 5-2 record and three-game winning streak shows it. If their passing game can maintain this, then they're absolutely Super Bowl contenders with the rest of the squad being so well-rounded. We may be seeing something special as this team progresses and starts to look like a true force.
You can find all updated NFL point spreads, lines, and odds at BetQL!