ATL
Falcons
Fri 10/30, 12:20 AM
CAR
Panthers
CAR -2.5 O/U 49
IND
Colts
Sun 11/1, 6:00 PM
DET
Lions
IND -2.5 O/U 50
TEN
Titans
Sun 11/1, 6:00 PM
CIN
Bengals
TEN -5.5 O/U 54.5
PIT
Steelers
Sun 11/1, 6:00 PM
BAL
Ravens
BAL -3.5 O/U 46.5
NYJ
Jets
Sun 11/1, 6:00 PM
KC
Chiefs
KC -19.5 O/U 48
NE
Patriots
Sun 11/1, 6:00 PM
BUF
Bills
BUF -3.5 O/U 44
LAR
Rams
Sun 11/1, 6:00 PM
MIA
Dolphins
LAR -4 O/U 46.5
MIN
Vikings
Sun 11/1, 6:00 PM
GB
Packers
GB -6.5 O/U 54.5
OAK
Raiders
Sun 11/1, 6:00 PM
CLE
Browns
CLE -2.5 O/U 54
LAC
Chargers
Sun 11/1, 9:05 PM
DEN
Broncos
LAC -3 O/U 45
SF
49ers
Sun 11/1, 9:25 PM
SEA
Seahawks
SEA -3 O/U 54
NO
Saints
Sun 11/1, 9:25 PM
CHI
Bears
NO -4 O/U 45.5
DAL
Cowboys
Mon 11/2, 1:20 AM
PHI
Eagles
PHI -7.5 O/U 43.5
TB
Buccaneers
Tue 11/3, 1:15 AM
NYG
Giants
TB -10.5 O/U 47
NFL
Steelers vs. Texans Week 3 Preview
Pittsburgh (-200) is favored by 4 points over Houston (+170) with the over/under set at 45 total points
By Nick Ballistreri - Sep 24, 2020, 3:38am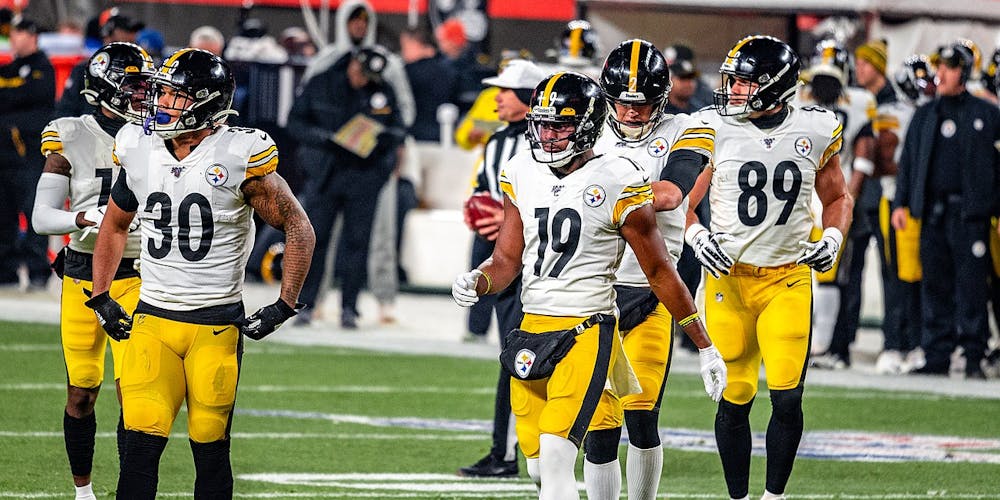 Quick-Hitters
The Houston Texans are in the midst of an incredibly hard schedule and are coming off a 33-16 loss to the Baltimore Ravens.
The Pittsburgh Steelers come into this game at 2-0, but can't be too pleased about their play against the Denver Broncos in their 26-21 victory.
Deshaun Watson has thrown for two touchdowns and two interceptions this season and is looking to improve on his numbers against a stout Pittsburgh defense.
Pittsburgh (-200) is favored over Houston (+170) with the over/under set at 45 total points. The Steelers are 4-point favorites. CLICK HERE FOR LIVE GAME ODDS!

Get all of BetQL's best bets for the upcoming NFL season! Dating back a full calendar year, our five-star (max-value) bets have won 61% of the time!
Time Is Running Out
The Houston Texans are entering dangerous territory. They're 0-2 on the season, and since 1980, only six teams have made the playoffs after falling to 0-3. To say that this is a huge game for them is an understatement, but to be completely honest, this start was expected. The Texans opened their season against arguably the two best teams in the NFL (Kansas City Chiefs and Baltimore Ravens), and while they didn't play particularly well in either, they stayed in the game long enough to have a chance.
Against the Ravens, Deshaun Watson struggled to get anything going down the field. It's evident that the loss of DeAndre Hopkins is looming large for this offense, and after Will Fuller was called upon to replace him, he laid a goose egg. It's imperative for this receiving corps to step up against a very good Pittsburgh Steelers defense, or it could be another long day for Watson and the Texans.
Houston was once again shredded on the ground. After giving up over 100 yards to rookie Clyde Edwards-Helaire, the Ravens ran for over 200 yards. The Steelers have a very good offensive line, and James Conner and Benny Snell form a formidable one-two punch. It'll be interesting to see if this Texans team can show some resistance, or whether they'll get run over again.
If you want to roster any Steelers or Texans players in your DFS lineups this week, be sure to get a 3-day free trial on RotoQL to check out our projections!
Pittsburgh's Underwhelming Victory
Looking at their schedule before the season, the opportunity was there for the Steelers to get off to a hot start. They had matchups with the New York Giants and Denver Broncos, both of whom had second-year quarterbacks. It's a push to say that the Steelers have looked dominant in their two wins, but they got the job done and sit at 2-0.
Against the Broncos, the Steelers knocked out quarterback Drew Lock early. From that point on, it was expected that the Steelers would tee off on Jeff Driskoll and roll to an easy victory. That was not the case, as the Pittsburgh defense allowed Driskoll to pick them apart to the tune of 256 yards and two touchdowns. It was a puzzling performance and they almost allowed the Broncos to steal the game.
Now back at full health with Ben Roethlisberger and Conner playing well, the Steelers like their chances in this game. They have a deep receiving corps and were carried by Diontae Johnson against Denver. Johnson caught eight passes for 92 yards and a touchdown while Conner was the bell-cow. He ran for 106 yards and a touchdown, establishing himself once again as the lead back in this offense.
Against Houston, they'll have to pressure Watson and play better if they get an early lead. While Houston is struggling, a talent like Watson gives them a fighting chance each week. However, if Pittsburgh gets off to an early lead, Conner should be able to eat the clock by running effectively against a porous run defense.
Week 3 Battle
Your thoughts can be assumed here: The Texans have looked horrible and the Steelers are 2-0. This should be an easy pick. However, looking deeper into these teams, Pittsburgh has some flaws that Houston should be able to take advantage of. While the Steelers are a good team, the Texans are coming off games against the Chiefs and Ravens. They should be able to at least handle the Steelers to an extent.
Pittsburgh is favored by four points at home in this game and the point total is set at 45. If the Texans can establish some rhythm offensively, their defense should be able to keep them in the game until the end. If they can do that, you should their chances to cover on the road and potentially keep their season alive in the process.