NFL
Public Bettors, BetQL Community Leaning Towards Seahawks Over Eagles
With so much uncertainty surrounding Philadelphia, Seattle is an attractive option in the Wild Card Round
By Dan Karpuc - Jan 4, 2020, 4:24am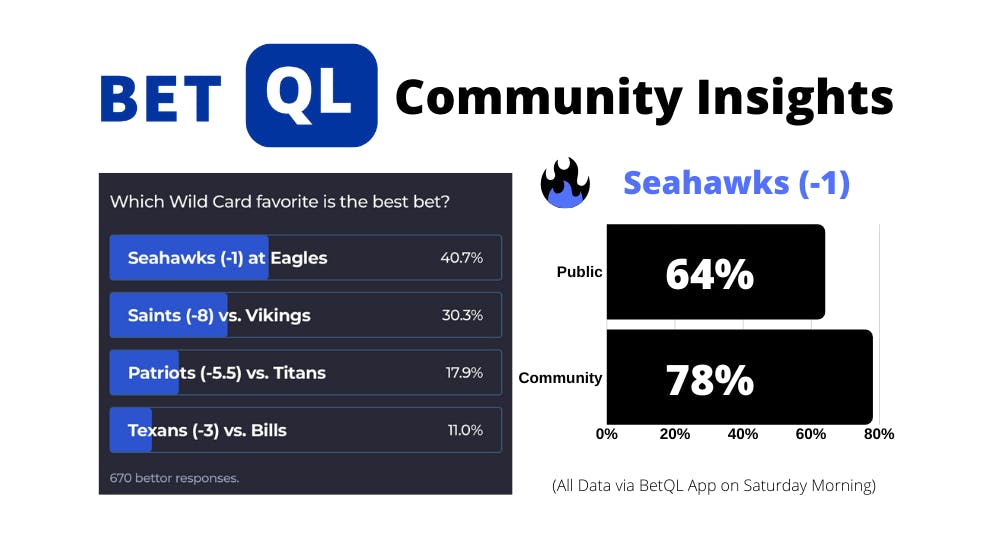 Seahawks (11-5) at Eagles (9-7)
Sunday 1/5, 4:40pm EST
VIEW LIVE ODDS, BETTING DATA & MORE!
The Seattle Seahawks (11-5) travel to take on the Philadelphia Eagles (9-7) in the Wild Card Round of the NFC Playoffs. The Seahawks enter this matchup with the following records: 11-5 overall, 7-8-1 against the spread, 7-1 on the road (5-2 ATS) and 8-3 as a favorite (4-6 ATS). The Eagles enter this matchup with the following records: 9-7 overall, 7-9 against the spread, 5-3 at home (4-4 ATS) and 3-4 as an underdog (3-4 ATS). 
As you can see above, as of Saturday morning, nearly 700 poll votes from the BetQL Community have been cast and the Seahawks (-1) have received 40.7% of the clicks as the most appealing favorite against the spread out of the four Wild Card options.
Public bettors agree, as 64% of them view Seattle as the best bet against the spread in their matchup against Philadelphia. Additionally, 78% of the BetQL Community like the visiting Seahawks, most likely due to all of the health-related uncertainty and general inconsistency on the field that the Eagles have shown all season long.