NFL
Ross Tucker's Week 8 NFL Betting Advice
The former NFL offensive lineman and current broadcaster reveals his favorite Week 8 bet
By Ross Tucker - Oct 24, 2019, 4:34am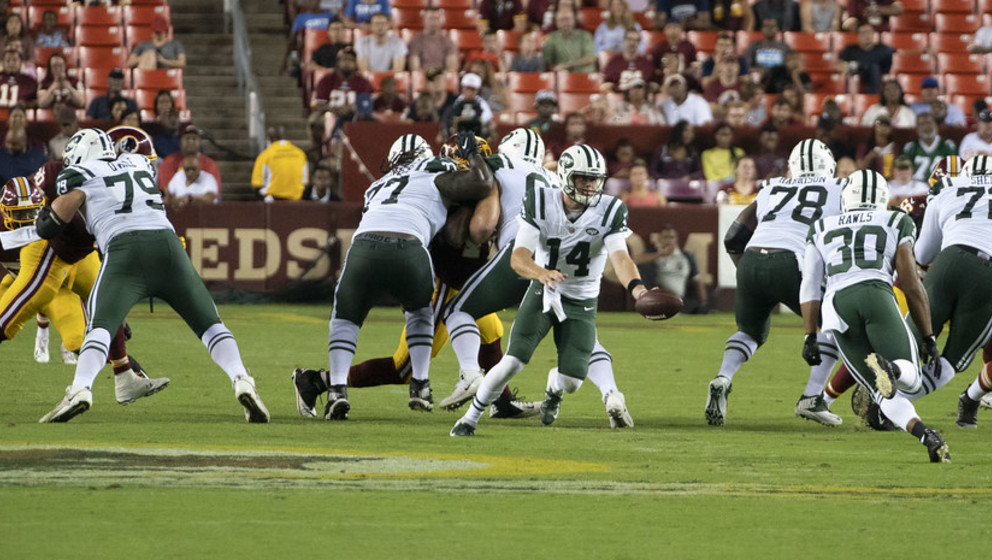 In Week 7, the Ravens came through for me out in Seattle which means I am now 5-2 with my picks, including three straight cashable wins! I'm fired up for some awesome matchups this weekend.
Each week, I will give you a bet or two that I like for that week. Sometimes, it will be pure analysis and observations of the matchups and an edge that I feel I am able to identify. Other times it will be my instincts as a former player. And hopefully a lot of times it will be a combination of both.
That is the case yet again this week.
This week I like the New York Jets getting six points from the Jacksonville Jaguars for three reasons:
The Embarrassment Factor
The Jets were embarrassed on national television on Monday night by the Patriots in a 33-0 game that wasn't even that close. I was in that situation (too many times unfortunately) during my career and I can tell you that there is a palpable sense of urgency the next week. No matter how much money you are getting paid, nobody likes being embarrassed. Plus, you don't get to the NFL level unless you have a certain level of personal pride and my guess is that head coach Adam Gase will appeal to that pride this week for the Jets. And, based on my time with him in both Buffalo and Washington, I can assure you that defensive coordinator Gregg Williams will as well.
The best part about being a player is that unlike the Jets fans that will agonize over the performance all week, the players can actually do something about it and quickly get another chance to make amends for that disgusting display against the Pats and my guess is that they more than make the most of it.  They were too good against the Cowboys the week before to think they'd be as bad as they were against New England again against the Jags.
Make the most educated bets possible by accessing BetQL's NFL Sharp Bets dashboard!
No More Ghosts
A lot was made of the mic'd up comments by Sam Darnold on Monday night that he was "seeing ghosts". Credit the Jets for the nice redirect so that people would focus on ESPN's decision to air those comments instead of the fact that the Jets, you know, got destroyed and were down 24-0 seemingly before the game even started. What Darnold meant by that is that he wasn't seeing things clearly and that was a result of the constant pressure from the Patriots who kept bringing one more defender than the Jets could pick-up and playing cover 0 which is pure man to man behind it. The Jets didn't seem to have any answers for it, and I blame Gase more than anybody else although it's clear that Darnold can not make some of the ill-advised throws off his back foot that he did.
The good news is that the Jets will have a better plan for that defensive strategy this week (or at least you would think they will). I guess we'll find out, but I'm betting they give Darnold some answers and that he rises to the occasion as a result. He showed against the Cowboys that he is a difference-making player for the Jets and my guess is that the Patriots game will serve as a learning experience for him as much as anything else.
Track all Week 8 line movement on BetQL!
Minshew Mania? 
I love Gardner Minshew.  You love Gardner Minshew.  We all have a little bit of Minshew Mania.  How can you not, right? He's cool, he's funny, he's got an awesome mustache, tremendous style, and he's led the Jags to some big wins.
Unfortunately, he's not playing nearly as well recently as he was earlier. He's completed less than 50 percent of his passes the last two games and has thrown only one touchdown pass after throwing six touchdowns the three games prior to that.  That's bad for the Jags and good for your decision to take my advice and bet on the Jets getting the points on Sunday in Jacksonville.
About Ross Tucker 
Ross Tucker played in the NFL for seven years as an offensive lineman after graduating from Princeton University in 2001. As a broadcaster, he works for Radio.com, CBS Sports, and Westwood One.  He also owns and hosts his own podcast network including the Ross Tucker Football Podcast all available at RossTucker.com. Follow him on Twitter and Instagram @RossTuckerNFL.